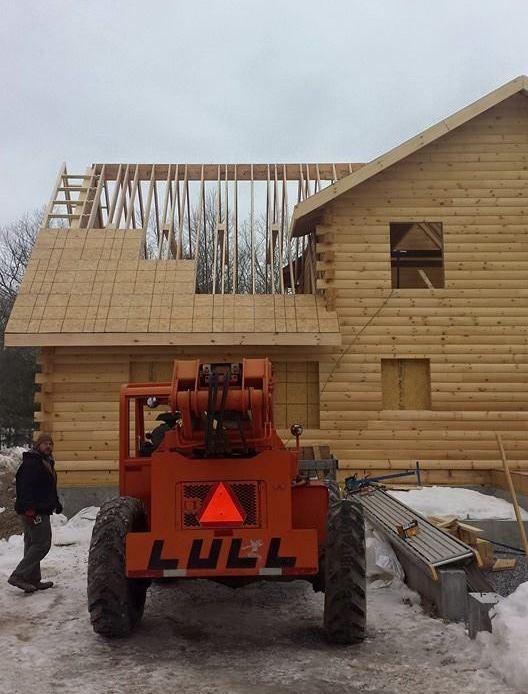 While the main purpose of a roof seems simple – to keep out the rain, cold, and heat – there are many considerations that need to be given to the type of roof system that will be constructed on your dream log home.  Is it strong enough to withstand high winds?  Is it sloped well enough to shed water?  Will it successfully bear snow accumulations? Have the necessary accommodations been made for seismic activity?  If you're more focused on aesthetics, what may be most important to you is: What will my roof and finished ceiling look like?
Today we will delineate Timberhaven's 2×12 Rafter Roof System with cathedral ceiling, exposed collar ties and exposed 6×8 beams.  That sounds fancy, huh?  We wouldn't necessarily call it fancy, but it is a beautiful system.  When it's done, it will look like this…
…but we would like to show you how this system is put together.
Our Rhode Island log home under construction is being built with the 2×12 Rafter Roof System. So we thought this would be the perfect opportunity to show you the step-by-step process.  Last week you saw installation of the rafters and collar ties.  The remaining layers of this solid roof system are assembled next.
2×12 Rafter Roof System – Under Construction
From the outside, atop the rafters the builder installs a layer of sheathing (your choice of OSB, plywood or Advantech). Then synthetic felt paper is laid.  If your roof design includes valleys, your roof will need ice and water shield.  This component would be installed next. The final exterior layer is Tamko 30-year Architectural shingles (color of your choice).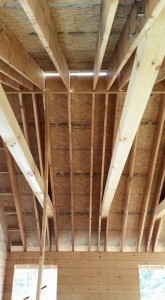 On the underside of the roof deck, StyroVents are installed to provide air flow between the aforementioned sheathing and insulation. The insulation itself is placed secondly. Rolls of R-38 un-faced insulation are placed between the rafters.  Metal wire holds the insulation in place.  A vapor barrier is then applied to the underside of the insulation to prevent air and moisture infiltration.  The last inside layer of the 2×12 rafter roof system consists of White Pine tongue & groove.  In this instance, the homeowner has decided to include 6×8 non-structural decorative beams. These beams are installed lastly.  The entire process looks lik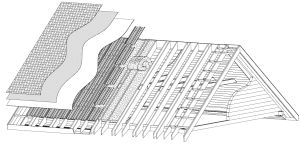 e this…
Materials For Your 2×12 Rafter Roof System
It's important to note that the aforementioned 2×12 rafter roof components – from the rafters and collar ties down to the vapor barrier and lag bolts– are standard materials with your Timberhaven log home package.  Rest assured we will provide the necessary materials to construct a structurally sound and beautiful roof system – it will meet or exceed your local code requirements and prove to be one of the greatest features of your new log home.
https://timberhavenloghomes.com/wp-content/uploads/2015/04/10463953_939292759444094_7615818976759059047_n1.jpg
694
528
Bobbi Landis
https://timberhavenloghomes.com/wp-content/uploads/2017/07/timberhaven-logo.png
Bobbi Landis
2015-05-01 07:30:26
2017-07-31 09:06:09
Log Home 2×12 Rafter Roof System – Under Construction