Manufacturing an Alaskan-Bound Log Home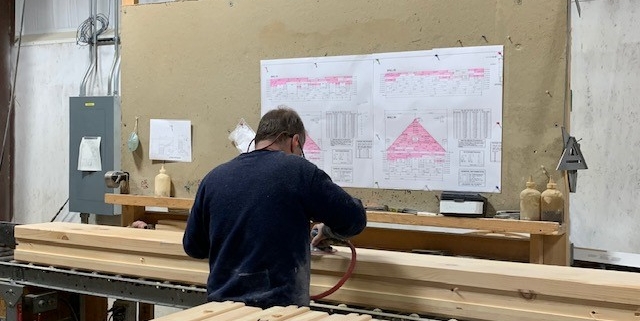 Here at Timberhaven, we are currently manufacturing a log home that will be delivered more than 4,200 miles away in Matanuska County, Alaska, just south of Denali National Park.  Let's checkout the details of this Alaskan-bound log home…
Timberhaven's representative, Stan Dixon of Colchester, IL, scored the sale when he randomly shared a DIY-log-home-construction video to a social media group, Log Cabin Ideas.  The premium-grade White Pine world-renowned Kiln-Dried Engineered Logs caught the attention of the Alaskan buyer.  After learning more about Timberhaven, the homeowner was confident he wanted his home built with this specialty material the Middleburg manufacturer offers.
More about the Alaskan-Bound Log Home
With Stan's assistance, the design team at Timberhaven prepared custom drawings for the 28 x 48 primary residence.  The Alaskan-bound log home will be built with 8×12 Double V-Groove Engineered Logs and are pre-cut with a Dovetail corner assembly.  This is a DIY construction project, and the homeowner is sourcing the commodity materials locally.
Once manufacturing has been finalized, the logs will be palletized for loading directly into a sea container.  On May 21, the sea container will be transported via a semi-trailer truck to Baltimore, MD.  It will then be loaded on a train and transported to Tacoma, WA.  From there, a barge will transport it to Anchorage.  Upon arrival on June 7, the container will be loaded onto another semi and transported 110 miles north to the jobsite.
Homeowners will use their new 2,057 sq ft log cabin as a primary residence. It is designed to feature an open living area with one bedroom and one bath. There are attic trusses throughout the rectangular-shaped design; the homeowners will turn this area into a hobby room once the cabin itself is constructed.
Stan Dixon is making arrangements to visit the AK project this summer.  In fact, he reported, "It is amazing to me that we caught the attention of someone so far away with a simple 3-minute video.  Throughout this process, technology has made communication with the remote clients expeditious and seamless. I'm so thankful for it.   Overall, I am very excited about securing the company's first sale in Alaska and am looking forward to visiting the area – and meeting my clients face-to-face – later this year."
https://timberhavenloghomes.com/wp-content/uploads/2021/04/8.jpg
480
640
Bobbi Landis
https://timberhavenloghomes.com/wp-content/uploads/2017/07/timberhaven-logo.png
Bobbi Landis
2021-04-30 06:39:32
2021-04-28 10:53:59
Manufacturing an Alaskan-Bound Log Home