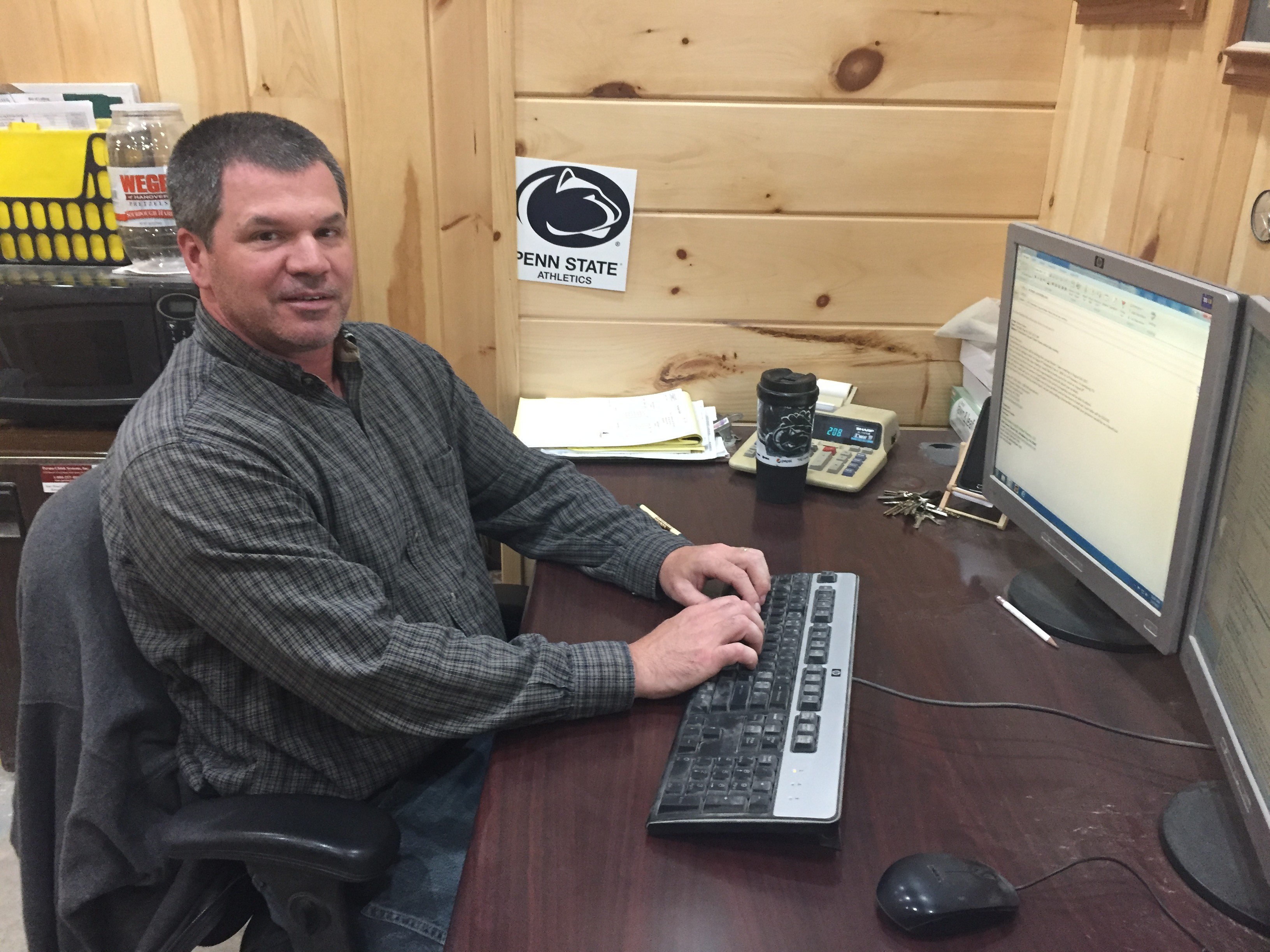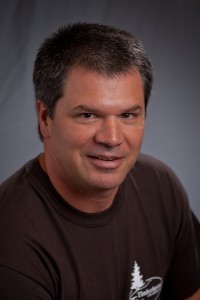 The employees at Timberhaven Log & Timber Homes pour their hearts and souls into everything they do.  From the smallest responsibility to the most complex situations, you will find our staff going to great lengths to exceed your expectations.  Andrew Harter, Timberhaven's purchaser, is no exception to this environment.  In fact, he brings expertise splashed with a side of laughter to the workplace every day.
While his official title may be purchaser, Andrew actually wears a dozen or so various hats.  On any given day, you will find him purchasing products for our log home packages, scheduling work for the planer and laminator, processing retail orders, advising clients about maintenance products and delivery-day techniques, coordinating the home delivery schedule and more.  His plate overflows with responsibilities but he thrives on working in this fast-paced environment.  Andrew says he likes to feel a sense of accomplishment at the day's end, and juggling this workload is conducive to such.  Plus he knows how to have fun along the way.
Andrew Harter: Gettin' it done and having fun along the way!
Intended as a compliment, Andrew is Timberhaven's "one in every crowd."  He composes fictitious survey results and turns them in for review; he rings the bell for service when he comes through the front door, and he uses a nickname for just about everyone.  Sometimes we want to hurt him, but he always makes us laugh.  It is believed that in a past life Andrew was a movie critic.  He has this innate ability to connect every situation to a film, and he recites lines from Ferris Bueller's Day Off and Caddy Shack on a regular basis.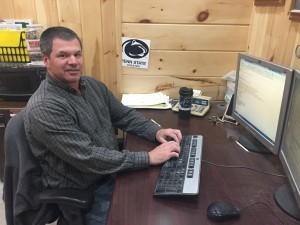 When the Centre county native isn't at work, he is spending quality time with lovely wife, Jennifer, and two vivacious daughters, Anna (16) and Sara (13).  A dog, two cats and several fish also occupy their Mifflinburg abode.  Family-centered activities include gardening, running/exercise, and church youth group.  Andrew can also be found chowing down on BBQ, bacon, pizza, Suzie Wong egg rolls or an original sub from Bonfatto's (an Italian restaurant near his old stompin' ground).
When it's time for this simpleton to relax, he turns to a good book – this could be the latest New York Best Seller or the Bible.  Or he may even chip away at the self-titled, fictional book he's composing.
Andrew Harter: We are here to support YOU!
Andrew's kind heart, sense of humor and 16 years of professional log home experience make him an invaluable asset to our team.  We hope you have the opportunity to get to know him.  For now, he has one piece of advice for anyone considering a Timberhaven home: Our crew will do anything and everything to make your experience a positive one. We say what we mean, and we mean what we say!  The best-laid plans can come unglued – but have no fear, we WILL get you through the process!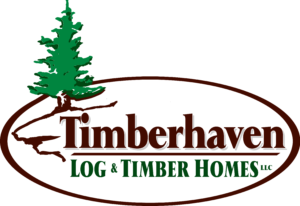 #855-306-5678
info@timberhavenloghomes.com
https://timberhavenloghomes.com/wp-content/uploads/2017/05/IMG_46091.jpg
2448
3264
Bobbi Landis
https://timberhavenloghomes.com/wp-content/uploads/2017/07/timberhaven-logo.png
Bobbi Landis
2017-05-05 07:45:36
2017-08-07 12:35:29
Timberhaven's Employee Spotlight Shines on Andrew Harter