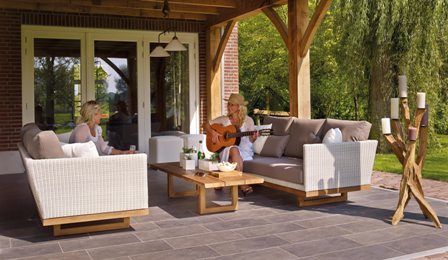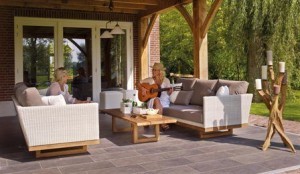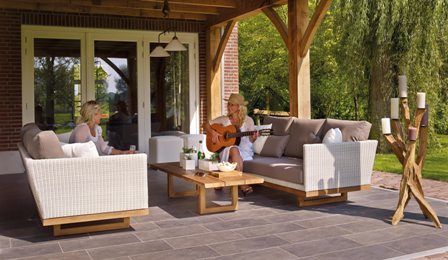 It seems to have taken a while to arrive, but warmer weather is finally here, and, along with it, relaxing evenings in the great outdoors. For many log home homeowners and timber frame homeowners, the backyard is a quiet haven where we retreat to take a break from the world rushing on around us.
Whether your backyard is a literal yard or simply a deck, this space is an extension of you and your home. Last week we encouraged you to get the most out of this space with an outdoor wooden structure (like a pavilion, pergola, gazebo, pool house, etc.). This week we gave thought to some added features and amenities to underscore the better backyard. Here is a list of some of the best ideas for adding a little spice (and comfort) to your outdoor time.
Digital Electric Smoker for Your Better Backyard
For as long as backyards have existed, grilling has been king. However, some of us prefer the succulent flavors and tenderness that can only come from slow-cooking meat in a controlled (and smoky) environment. But one of the stumbling blocks for many would-be culinary artisans is the time and skill required to smoke that brisket to perfection. Fortunately, technology is here to help with your better backyard.
Digital electric smokers allow you to get that perfect temperature and flavor without having to closely monitor a pot of charcoal for eight hours. While specific features vary from model to model, these devices allow you to set your cooking temperature, load it up with real wood chips, and then sit back and relax while the magic happens.
Bistro Lighting for Your Better Backyard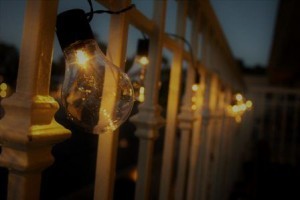 Flood lights may be great for a game of volleyball in the grass, but they aren't known for providing much of a subtle, calming atmosphere. Adding some bistro-inspired lighting can give you that elegant ambiance without blinding you every time you smile at your beloved across the table.
Bistro lighting can be as simple as running strings of low-powered lights through your deck railing or as extravagant as illuminating bushes and stringing complex lighting configurations overhead. But, whatever your choice, the goal is to create a warm, inviting atmosphere without going overboard.
TIP: Many low-power LED lighting options are available to not only give you the perfect lighting balance but conserve energy as well!
Pet Fountains for Your Better Backyard
Some pets love the water; some pets hate it. But all pets enjoy a cool, refreshing drink after running around in the sun. Pet fountains can be a great way to provide your furry ones with a valuable service. From ready-made solutions with simple circulation pumps to more elegant DIY setups, your pets are bound to love you forever if you install one of these in your better backyard.
Cooler Tables for Your Better Backyard
One of the problems with cookouts (or hangouts) is that it's not always convenient to chill your beverages in a spot close to where you're lounging, and plastic ice chests aren't necessarily stylish. That is where cooler tables step in to save the day! These ingenious inventions provide a space down below for chilling your drinks on ice while giving you a place to set them down up above. Plus, a cooler table is a great DIY opportunity to recycle a weathered picnic table, whiskey barrel or stack of old pallets and beats running inside to the fridge or settling for a luke-warm bottle in your hand.  Click the above link for details.
Outdoor Movie Theater for Your Better Backyard
Who doesn't like to kick back and watch a flick from time to time? But, who wants to stay cooped up inside to do it? Outdoor movie theaters are a great way to bring your cinematic passion outside to enjoy with friends and family.
From simple bed sheets to pull-down or inflatable screens, from basic projectors to more expensive setups with surround sound, your options are virtually endless. As technology continues to evolve, the equipment for outdoor theaters is becoming more and more affordable and easy to set up. So, grab your popcorn and favorite beverage (from your cooler table, of course), and sit back and enjoy the show.
A Better Backyard for Your Log Home or Timber Home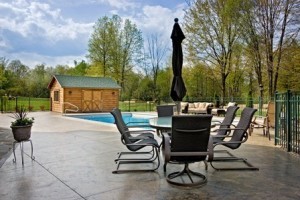 Whatever your personal style or budget, there are many options for making your better backyard a go-to spot for you, your friends, and family (yes, even the four-legged ones). So, get creative and see how you can make these warmer months the most enjoyable you've ever experienced!
To learn more about how Timberhaven Log & Timber Homes can help create a better backyard for you and your family, contact us today.
+1 (855) 306-5678
info@timberhavenloghomes.com
https://timberhavenloghomes.com/wp-content/uploads/2018/04/better-backyard-low-res.jpeg
260
448
Bobbi Landis
https://timberhavenloghomes.com/wp-content/uploads/2017/07/timberhaven-logo.png
Bobbi Landis
2018-06-01 08:20:37
2018-07-19 09:19:04
A Better Backyard for Your Log Home or Timber Home