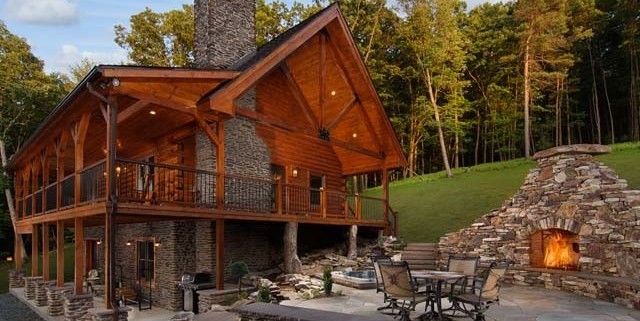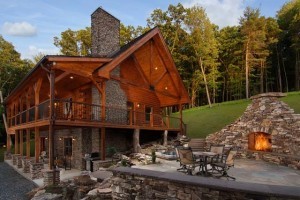 Cabin Living magazine featured an attractive Timberhaven log cabin in its 2017 Ultimate Resource Guide. The showcase featured 8 pages of stunning photography along with George Bierman's personal quest to own a Timberhaven log cabin.
As a wealth manager at Merrill Lynch, a 6-time world title holder in karate, and an avid outdoorsman, George is always on a mission. When he stopped by Timberhaven's office one late Friday afternoon, his approach was no different.
Cabin Living: Customizing a Standard Plan
During his initial consultation, Brad Mercer – a corporate sales rep – worked closely with George to sketch out some modifications to the standard Valley View I design. They incorporated front and side porches, a third entrance at the rear of the home, and relocated the first-floor bathroom for the convenience of future house guests. They also integrated an exposed basement which was ideal for George's Central Pennsylvania family-owned property.
As a result, the modified 1,331 square foot, two-story design features three bedrooms, two full baths plus a finished basement (which yielded nearly 700 sf of usable space). Within a few short weeks, these floor plans were finalized, the deposit was made and the creation of a future Cabin Living feature commenced.
Cabin Living: Only Premium-Grade Material will Suffice
George's stunning log cabin is constructed with Timberhaven's 6×8 D-shaped Engineered Logs. This engineered White Pine material is premium-grade and kiln-dried to an average moisture content of 9%. The Engineered Logs provide virtually no checking and have a refined appearance. Nothing but the best will meet George's expectations for his cabin living experience.
Cabin Living: The Finishing Touches
When it came to the finishing touches, every single detail was carefully considered and executed perfectly.  No exaggeration here.  Just check out the outdoor entertainment area and finished basement.  Outdoor features include a massive curved fireplace, cascading waterfall, and an embedded hot tub.  Inside, the man cave showcases massive stone columns, a wine cellar, a beaver dam, another flowing waterfall and reclaimed barn wood with iron-strapped beams on the ceiling.
Cabin Living: Get more info today!
To check out George's full-blown log cabin photography tour, pick up the Cabin Living 2017 Ultimate Resource Guide at your local bookstore.  If you are interested in reviewing floor plans and package pricing for this versatile log cabin design, simply contact us today.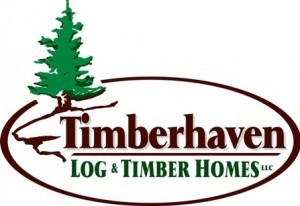 #855-306-5678
info@timberhavenloghomes.com
https://timberhavenloghomes.com/wp-content/uploads/2017/07/Bierman_Home-2943-Edit.jpg
427
640
Bobbi Landis
https://timberhavenloghomes.com/wp-content/uploads/2017/07/timberhaven-logo.png
Bobbi Landis
2017-02-10 10:05:50
2017-07-31 08:38:00
Cabin Living Features Timberhaven Log & Timber Homes