Community Project: Charles Park Pavilion Fundraising Underway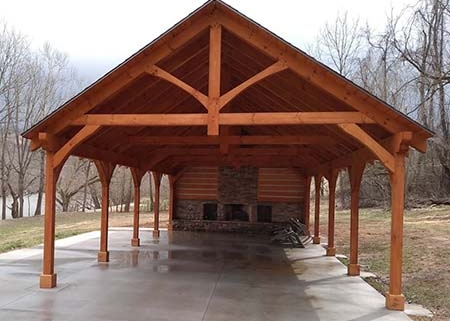 This article is reprinted with permission from Snyder County Times, Middleburg. 
The Middleburg Revitalization Committee (MRC) is committed to enhancing the community.  The organization recently added benches around the lake by the Middleburg Fireman's Carnival Grounds with the support of individuals, businesses, and community groups. The latest undertaking of the Middleburg Revitalization Committee is to erect a pavilion at Charles Park for all to enjoy!
The spacious timber frame pavilion will be a 20'x34' footprint. The pavilion will feature a heavy timber truss and rafter system with a White Pine tongue & groove ceiling. The exposed timber frame trusses with handcrafted arched webb members will be set on posts supported by stone piers facing a scenic view of the lake across the way.
Timberhaven Log & Timber Homes located in Middleburg will provide the design services, the materials, pre-cut timber roof system and deliver the timber frame pavilion to the park construction site. Plygem Stone in Selinsgrove will provide the stone veneer for the support piers.
In 2018, the MRC started working with Lynda Tompkins, the principal of Timberhaven Log & Timber Homes. "Timberhaven is excited to be working with the Revitalization Committee having the opportunity to provide the timber frame pavilion for the community," says Tompkins. The Middleburg Revitalization Committee recently acquired the services of a talented grant writer, Elaine Sautner.  Sautner will assist with the necessary forms to help the committee reach their goal of $25,000 by spring 2020. The committee has already secured approximately $13,000.
The project is tentatively scheduled to begin in May 2020.  Several contractors, a local excavator, block layer, and concrete contractors have already volunteered their services. The committee continues to search for volunteers who can provide the following services: masonry, stone installation, and/or commercial electrical. All are needed in order to successfully complete the project.
Additionally, Timberhaven will provide 2-3 employees who will help erect the pavilion.  Randy Beachel, Production Manager and Kevin Hoover, Tech Consultant will assist with the erection of the timber frame portion of the structure.  Andy Stahl, Snyder County's Adult Probation & community Services Coordinator, will also assist in this project.
If there is anyone interested in volunteering for this project, please contact Brenda Dombrowski at 570-837-1170. To donate funds toward the pavilion project, please make checks payable to Middleburg Revitalization Committee and send to PO Box 184 Middleburg, PA.  The MRC has a 501c3 non-profit classification.
https://timberhavenloghomes.com/wp-content/uploads/2019/06/Timber-Frame-Pavilion-Fireplace.jpg
338
450
Bobbi Landis
https://timberhavenloghomes.com/wp-content/uploads/2017/07/timberhaven-logo.png
Bobbi Landis
2019-12-06 07:08:06
2019-10-21 11:25:20
Community Project: Charles Park Pavilion Fundraising Underway