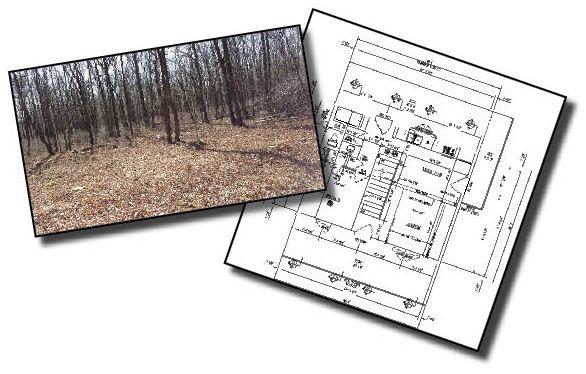 The majority of people who own a custom built log home will tell you they spent years planning for their project. From the initial phase of clipping photos out of magazines and researching on the Internet – to attending log home shows, meeting local reps, and touring log home models – it's a process that takes much time and effort and should not be taken lightly. Perhaps you already have a Cloud account (or a pocket folder) full of dream log home ideas.
Custom Built Log Home: Land And Design Considerations
When it's time to pull the trigger on your custom built log home, you'll want to address Land & Design Considerations before anything else.  So let's start there.
A common mistake is finalizing the design for your custom built log home without ensuring it perfectly complements your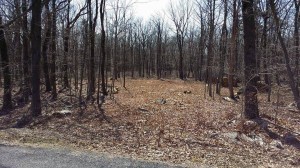 piece of property. Your dream home may include a walk-out basement, but the land you have purchased may make that element next to impossible to achieve, or at least very least an expensive proposition. So…before you get too far along with your custom built log home design, find your dream property first.
When you're ready to think about how the design of your custom built log home will complement your land, walk the property with your representative and give thought to how you envision your dream home being situated. Perhaps you want to take advantage of a passive solar design? Will your property afford you this Southern exposure? Give thought to specific design considerations like square footage, bedroom, and bath requirements. Put plans into action for a well and septic system – this will require a 'perc' test. Most custom built log homes are not erected within range of municipal water and sewage systems. Check to see if this is an option for you.
When our friends, Jack and Bob, went to work on their dream log home venture, they also began with land and design considerations. They purchased a parcel of land in a rural Pennsylvania setting conducive to visitors of the not-so-chatty type…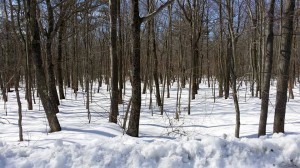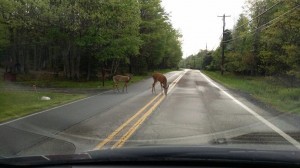 Jack and Bob knew where they wanted their custom built log home to be situated on their property. So
they started by having their land 'perc' tested. Ultimately their plans for a well and septic system were
finalized and approved.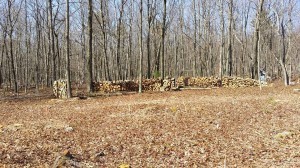 They also wanted to maintain the wooded setting, so they only cleared trees in close proximity to where their home would be erected. Now they have a great supply of firewood to heat their log home with for next fall and winter.
While the couple was working on clearing trees on the property, they were also putting the finishing touches on the design with the staff at Timberhaven. Some of the final modifications included slight window adjustments to maximize views and future expansion plans and increased the size of the front porch posts which reduced the number of posts required which in turn eliminated obstructions of front windows.
Although still in the beginning phases, this project is building momentum and excitement. Next week you will see how the logs for this home were manufactured at the corporate facilities in Lewisburg, Pennsylvania; and the couple will be busy with the installation of their basement system.
https://timberhavenloghomes.com/wp-content/uploads/2014/07/Hubbard-land-and-design.jpg
374
586
Bobbi Landis
https://timberhavenloghomes.com/wp-content/uploads/2017/07/timberhaven-logo.png
Bobbi Landis
2014-07-11 11:46:56
2017-07-31 08:59:54
Custom Built Log Home by Timberhaven – Part 1 – Design & Land Considerations