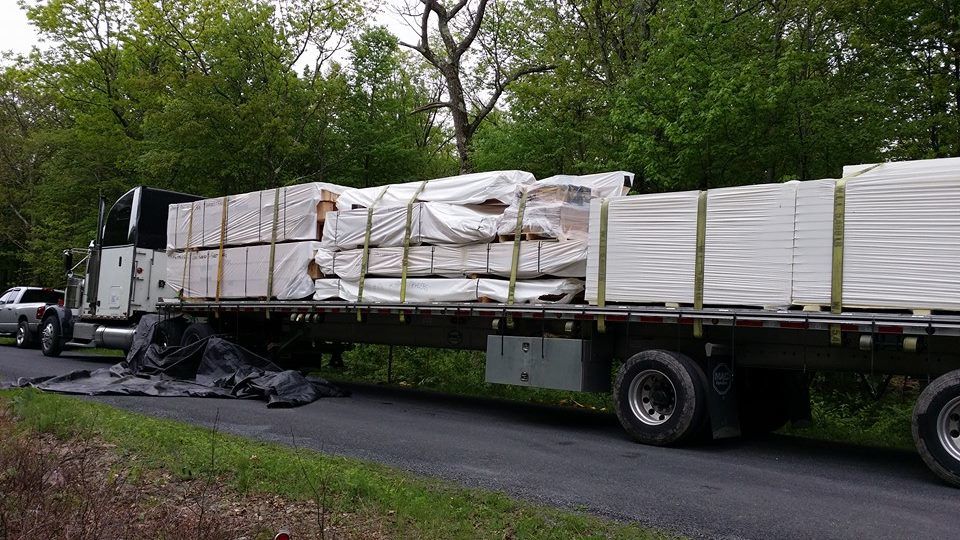 Time after time we hear our log home customers declare that delivery day is one of the most exciting days in their log home venture. Jack and Bob concur. "We were very excited on delivery day. It's been a long-time dream of ours and it's finally coming true. Seeing our custom built log home package on those trucks made us think, 'Wow! We are REALLY building our dream log home.'"
CUSTOM BUILT LOG HOME: DELIVERY DAY PREP
Prior to delivery, great care is taken by the staff at our corporate office to protect the quality of your custom built log home package components and to secure the materials for a safe delivery. In the few days leading up to your pre-scheduled delivery date, the log packs are wrapped in protective plastic and labeled to correspond with the detailed materials list that will be provided for you. This list will tell you exactly what you'll find in each material pack of your log home. This helps builders know which pack they need to open first and alleviates the potential damage of materials in packs that are opened unnecessarily.
After the packs are wrapped and labeled, they are loaded onto a semi trailer. In most instances, more than one truck is needed to haul the first round of materials for your custom built log home. Once all of the packs are loaded, they are secured with ratchet straps and tarped, top to bottom and front to back. Doubly wrapping your log home package illustrates Timberhaven's commitment to protecting your investment.

CUSTOM BUILT LOG HOME: DELIVERY
At the job site, Jack and Bob are anxiously awaiting to hear the sounds of those 18-wheelers coming down the road. Upon arrival, the couple instructs the truck driver to park alongside the road that passes by the property.  They utilize a forklift to unload the trucks and transfer the packs down the driveway to the construction site.
The materials are staged around the foundation of the home so that the couple has easy access to the packs when they're ready for them. To save time and handling material twice, Jack and Bob place the packs in a natural progression of material utilization. In other words, the materials they need first are placed closest to the foundation.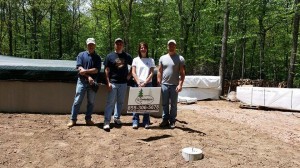 A representative from Timberhaven Log Homes is onsite to oversee the delivery of your custom built log home. The rep will inventory materials, walk you through the necessary paperwork, and ultimately assure the delivery day is seamless and exactly what you had intended it to be. Each step of a custom built log home requires a true investment of time, energy, and coordination but is so worth it when you start to see your plan come to fruition. When asked the question on delivery day, "Would you do it again?" Jack and Bob were quick to reply, "Definitely!!!!!!" So like rockets shot from a canon, the couple immediately got to work on the next phase of their custom built log home project. They're marking the sub-floor for electrical switches and outlets, snapping guidelines for logs, and starting to lay logs.
Subscribe to our blog in the box to the right to watch this couple bring their log home dream to a reality…
https://timberhavenloghomes.com/wp-content/uploads/2014/07/10310117_715697318494343_5682284845602140988_n.jpg
540
960
Bobbi Landis
https://timberhavenloghomes.com/wp-content/uploads/2017/07/timberhaven-logo.png
Bobbi Landis
2014-07-25 08:37:09
2017-07-31 21:13:26
Custom Built Log Home – Part 3 – Delivery Day