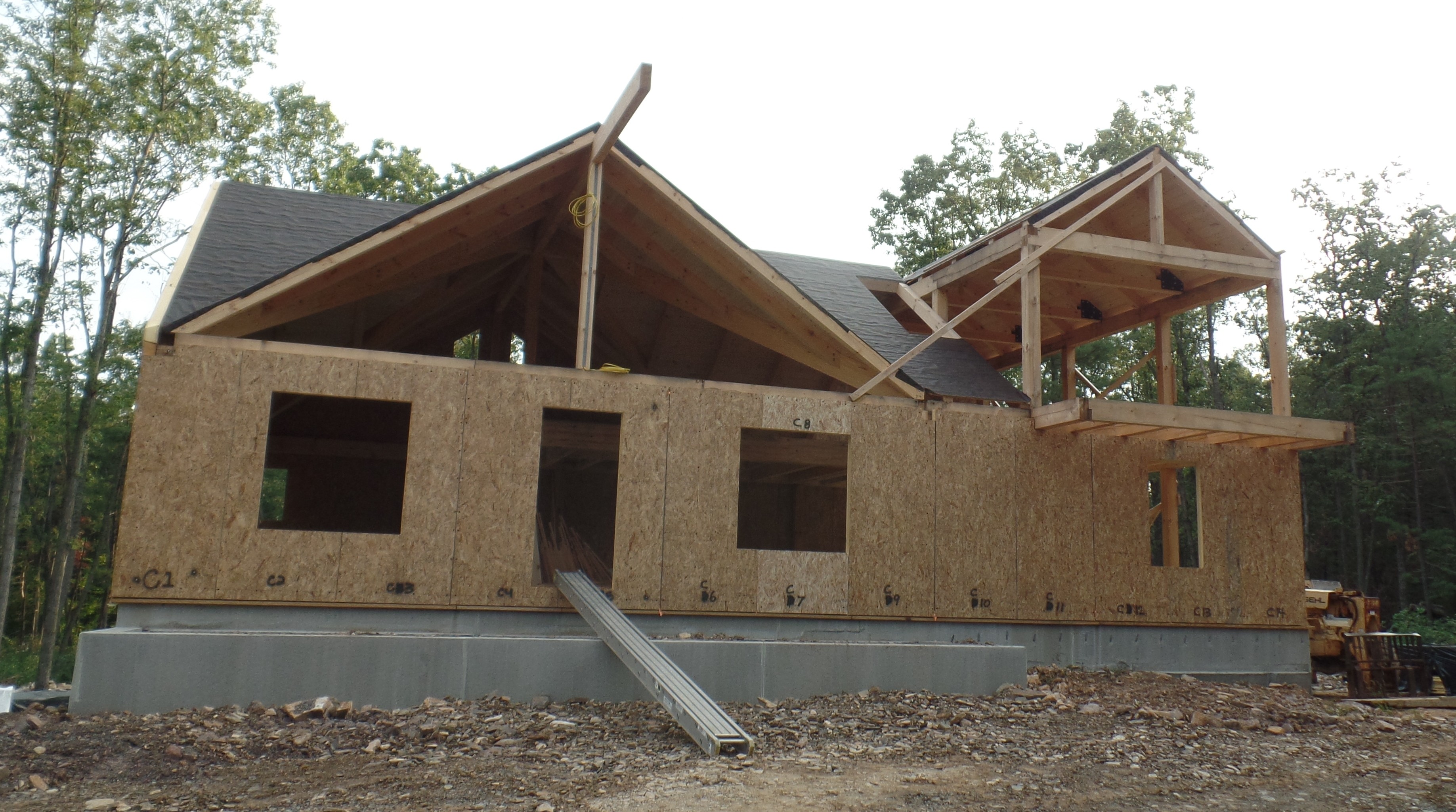 The excitement is culminating as this custom post and beam home continues to take shape. What's next for this project? The walls! I think you'll agree we've seen nothing conventional about this home thus far…we can now include the walls in this category.  Here's why.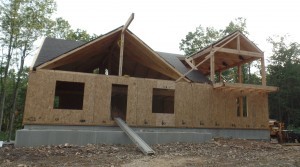 Custom Post and Beam Home: SIPs for Walls
This homeowner has selected SIPs for the walls and roof. If you're familiar with the term, perhaps you're thinking, "Wise choice." If the term SIPs is new to you, allow us to explain what a SIP is and why the homeowner made this selection.
What is a SIP?
SIPs are Structural Insulated Panels (SIPs) that consist of an insulating foam core sandwiched between two structural facings, typically OSB. SIPs are energy efficient and can be purchased in various ranges of R-value based on personal preference and/or local code requirements. (Typically the roof panels are of higher R-value than the wall panels.) The panels are pre-cut to size and include cut-outs for window and door openings.  Additionally, the SIPs are pre-labeled so the builder knows exactly where each panel is to be placed. Similar to how we prepare and organize the materials for our post and beam and log home packages; it's like assembling a giant puzzle only we provide the manual as to where each piece belongs. Do-it-yourselfers and independent builders alike love these features.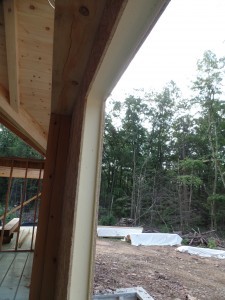 Here is what an actual SIP looks like (right). This particular panel has already been fastened to the custom post and beam frame. Notice the panel's thickness and its rigidity. Below, this group of panels has been untarped and staged. The builder is now ready to fasten these panels to the structure.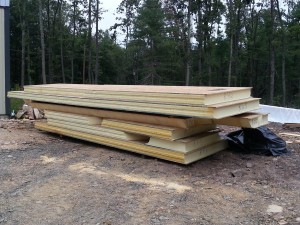 This photo illustrates how each panel is clearly labeled with an alpha-numeric code that coincides with the detailed assembly plans supplied by the SIPs manufacturer.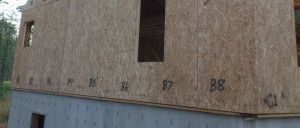 Ultimately, because the panels are pre-assembled in a controlled environment, pre-cut, and pre-labeled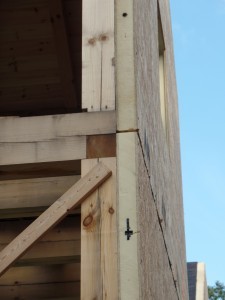 there's no guess-work at the construction site. Hence there is virtually no waste factor. In addition, the process in which the panels are interlocked with one another and fastened to the post and beam frame goes very quickly. For example, the walls for the first floor of this nearly 52' x 32' post and beam home were fastened in less than one day.  This saves the builder a significant amount of time. Time is money, right? This seamless process ultimately saves your wallet in the end.
Custom Post and Beam Home: Finished materials for walls
If you're wondering what types of finished materials can be installed to the exterior and interior of these walls, the answer is rather simple. Any type of material can be applied! The homeowner may choose vinyl or log siding or stone on the exterior and has options to hang drywall or install tongue and groove (for example) on the interior.
Options, options and more options…
The options with a one-of-a-kind post and beam home are endless…the more options you have the more custom your home…the more custom your home the more expression of style. Go ahead….express your style!
https://timberhavenloghomes.com/wp-content/uploads/2014/10/SAM_0662.jpg
2049
3674
Bobbi Landis
https://timberhavenloghomes.com/wp-content/uploads/2017/07/timberhaven-logo.png
Bobbi Landis
2014-10-31 08:10:24
2017-07-31 10:13:28
Custom Post and Beam Home: Under Construction – Part 6