Delivery Day: The First Log Home from New Facility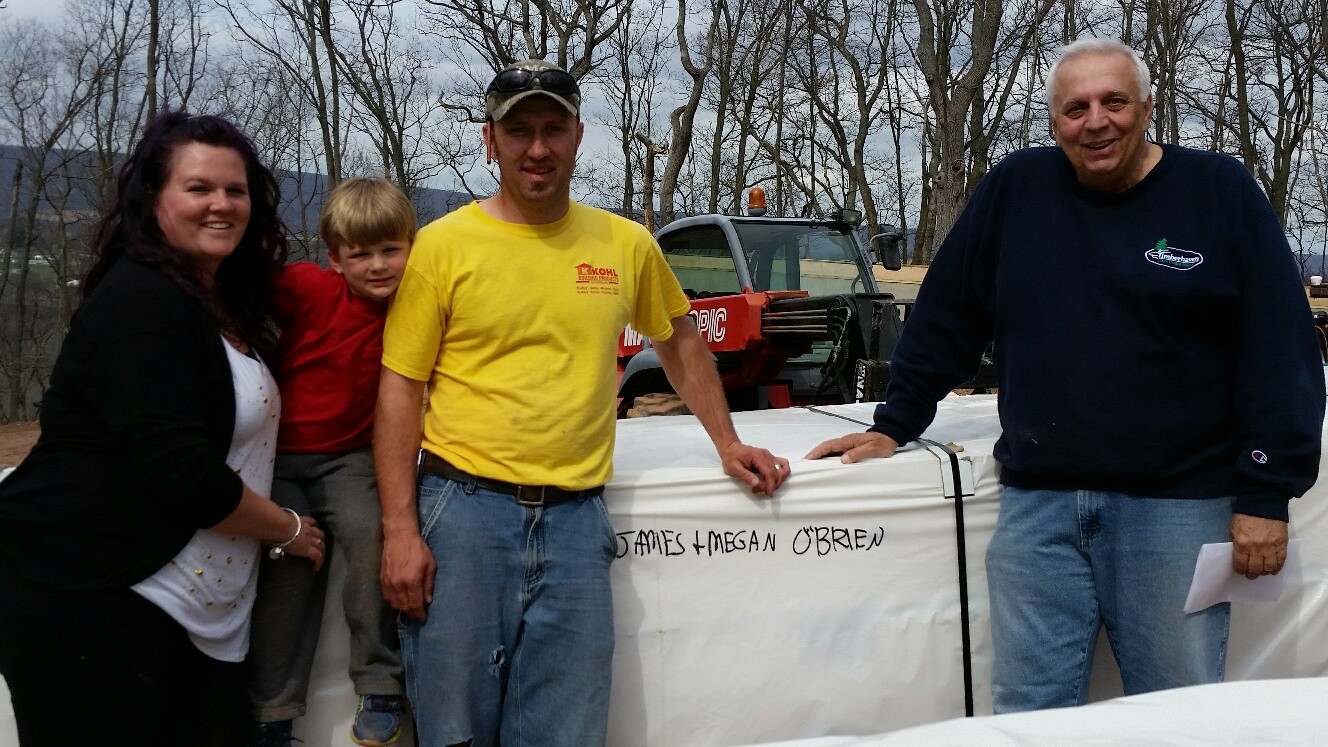 Since the beginning of the year we've been documenting the details of Timberhaven's once-in-a-lifetime relocation process. Thank you for taking the time to follow along. On March 18th, we reported the office staff had settled in and the guys in the shop were making significant progress on finalizing our external storage area, constructing a new break room and display area, plus reassembling and testing our log home manufacturing equipment. Well, so much has been accomplished – with one ultimate mission: To design and deliver YOUR dream log home from OUR dream home. And now….we are ready to do just that!
Preparing for delivery day!
Last week our team worked to manufacture and deliver our very first custom log home from our new facility. Manufacturing custom log homes is nothing new to our staff considering Timberhaven employees have on average 27 years experience in the log home industry; but since this home is the first project from our new facility, it is especially memorable.
The first step in manufacturing a log home made with engineered logs is to laminate the 2x raw material. Once laminated and dried in our radio-frequency dryer, the material is transported to the planer. It is here where the engineered material takes its shape – in this case, a 6×12 profile with Dovetail corners.
After the logs are profiled, our crew follows detailed plans to precisely pre-cut each log to exact length. Each measurement is double checked to verify accuracy; then the log is labeled with an alpha-numeric code that corresponds to detailed engineered drawings.
Dovetail corners are achieved with a chain saw and a jig. The familiar fragrance of White Pine permeates the cut shop during this process.
All other log home components are then pulled from our inventory and wrapped in protective plastic. The specialty logs are also tarped, clearly labeled to correspond with our detailed materials list, then loaded onto a flatbed and delivered to the job site.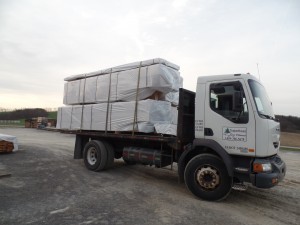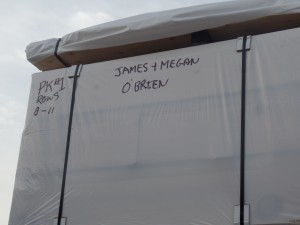 At the job site, the packs are unloaded with a forklift and inventoried by Timberhaven's authorized representative.
Log home dreams do come true!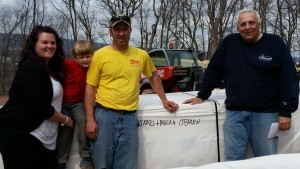 For the Timberhaven gang, delivery day is symbolic for another log home dream that is about to come true. It's also on this day when most homeowners start to feel their dream has finally materialized. Undoubtedly, it is one of the most exciting days for everyone. James and Megan O'Brien and family, we hope you agree. We wholeheartedly look forward to seeing your beautiful custom log home dream become a reality – we couldn't be happier for you.
https://timberhavenloghomes.com/wp-content/uploads/2016/04/20160331_150950_resized.jpg
747
1328
Bobbi Landis
https://timberhavenloghomes.com/wp-content/uploads/2017/07/timberhaven-logo.png
Bobbi Landis
2016-04-08 12:13:33
2018-04-12 08:54:23
Delivery Day: The First Log Home from New Facility