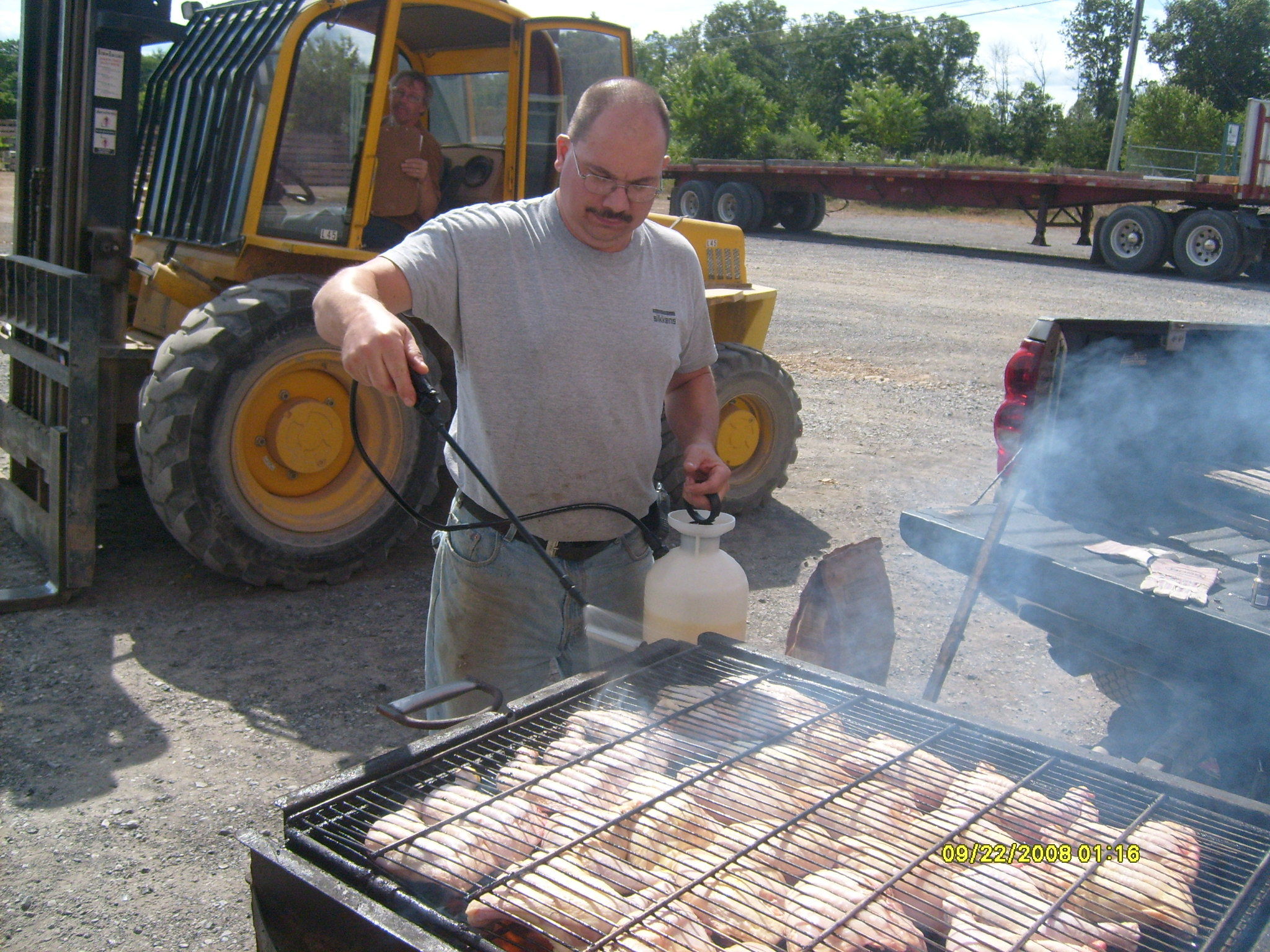 You know the antiquated restaurant down the street that has the best pierogies known to mankind?  Or your favorite flower shop that barely fits a single 72 cu. ft. cooler?  There's a high probability that you don't favor these places simply because of their products….but the people who greet you at the door and thoughtfully prepare what it is you may be after are at the top of the list.
That's how it is here – as Timberhaven Log Homes.  We hear it all the time.  John High, a Timberhaven customer, visited our facilities recently.  He wrote to us afterwards saying, "Thank you so much for the opportunity to visit the birthplace of our log home in Bear Creek and most of all to meet the dedicated staff that helped create our very special house."
Because our employees pour their heart and soul into the products they produce and simultaneously provide unparalleled customer service to each and every single one of our clients, we feel it is important for you to get to know these individuals.  So from time to time we would like to take the opportunity to introduce you to the faces behind Timberhaven Log Homes. The people who make this company what it is by their steadfast dedication and commitment to build upon traditions of Integrity, Innovation, Quality, Value & Service. Today's employee spotlight is on Randy…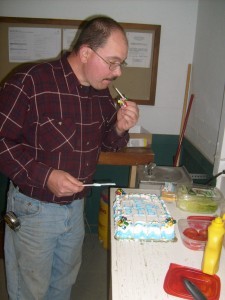 Randy Beachel, Production Manager, family-centered, furniture maker, cabinet constructor, hunter, and dad tells us about working in the log home industry for nearly 20 years. Randy's days are spent on a variety of projects as he works closely with vendors and staff to maintain quality control, deadlines, and budgets.  He's also the source of many laughs throughout the day – there's no doubt he was the class clown growing up.
Where are you from and where did you attend school? I moved around a lot growing up, but we settled in Mifflinburg, PA (Union County) when I was a teenager.  I've lived there ever since.  I studied Carpentry and Advanced Wood Products Manufacturing at SUN Area Technical Institute in New Berlin, PA.
How did you end up in Central PA? I was a preacher's boy.  We came here for his work.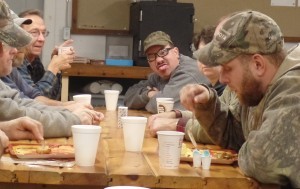 What kinds of hobbies and interests do you have outside of work? I sincerely enjoy spending time with my family.  My wife and children are my real passion.  I also appreciate the opportunity to be creative by building custom furniture pieces and cabinets for people or just for fun.  I'm not as into hunting as I used to be, but I still enjoy the sport.  I like to eat, too.  I'm a steak and potatoes kind of guy, really, but lasagna is also a fav.  I love to have fun and make people laugh, too.
How long have you been in the log home industry?  I've been working with production of log homes for nearly 20 years.  If I said I started working here right out of school you could figure out my age…and then you'd know I was lying. Ha!  I seriously have enjoyed these two decades in the log home industry and can't imagine doing anything else.
I worked for Kuhns Bros. Log Homes for 18 years. The decision Kuhns Bros. owners' made to pursue other interests in 2013, opened up the door for key employees to continue with a new log home company.  Hence Timberhaven was born.  I've been working for them since inception.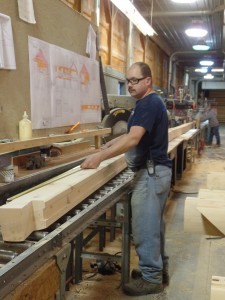 What do you do at Timberhaven Log Homes? I wear a variety of hats and have many responsibilities.  Every day is different.  I spend most of my time working directly with the employees in the cut shop in the production of custom solid or laminated log homes.  I assure the equipment and forklifts are operating properly and coordinate basic preventative maintenance for all of the machinery.  I iron-out the schedule for our employees so they know what they need to do and when they need to do it.  We have log homes to produce for our customers and bridge timbers to prepare for vendors.  I work with Andrew, the Shipping Coordinator, (hopefully you make him stand in the spotlight soon) to prepare any store sales which may consist of anything from Q8 Log Oil to lags to log siding for an entire home. I manage incoming materials, sort those products, stage them, and organize the jobs so that everyone knows what the priorities are.  I help get customer log home bundles wrapped, staged, and loaded on tractor trailer trucks for delivery to the job site.  I oversee the operations for the planer mill, log home cut line, and laminating process.  I also prepare the estimates and coordinate schedules for the bridge timber work.  We often get sales rep display orders and requests to use our 10×20 log booth at trade shows.  All of this has to be organized as well.
What do you enjoy most about work? I love the people here!  This family-centered atmosphere is very heartwarming, and we've got a great group of guys that I get to work with every day.  I couldn't do my job effectively without my team of guys. They always make me look good, and this can be a very challenging thing to do, as all of you now know, I have a face only a mother can love. :-) We all like to be pushed to overcome challenges…and then once we've succeeded (which we always do), we can say, "Hey, look what we did!"  That's a very good feeling.  There's uniqueness in my work.  No two days are the same. The construction side of things and working with wood make it a delight.
The most rewarding aspect, however, is seeing raw materials being transformed into someone's dream log home.  I take pride in knowing that my hands – and the hands of the awesome guys in our shop – were part of someone dream.  It's very rewarding.
https://timberhavenloghomes.com/wp-content/uploads/2015/03/S6300247.jpg
1536
2048
Bobbi Landis
https://timberhavenloghomes.com/wp-content/uploads/2017/07/timberhaven-logo.png
Bobbi Landis
2015-03-13 09:46:51
2017-07-31 09:49:51
Meet the Timberhaven Family: Employee Spotlight on Randy Beachel