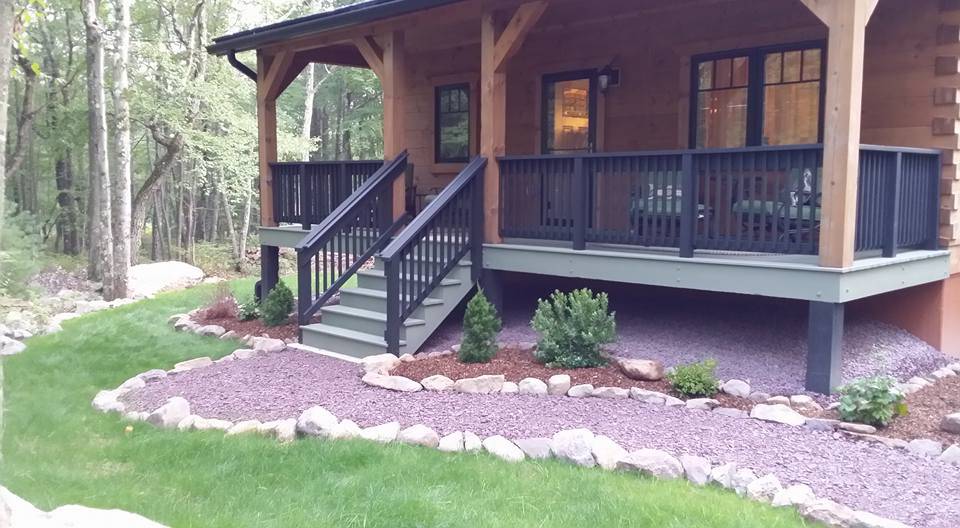 If you seek for ways to expand upon your individuality and unconventional interests, some may label you a nonconformist. Habitually coloring outside the lines and establishing your own ideas, makes life interesting. If this sounds like you, chances are high you'll love what Jack and Bob did to their home. Undoubtedly this home is to the housing marketing what a fingerprint is to human nature. There's no other home like it. It is as unconventional as you can get. And we absolutely love it! Let's take a look at their exterior finishes.
Exterior Finishes: Creating Your Own Style
According to Jack and Bob, from the very beginning they knew they wanted to add some color to the exterior of the house to give it some dimension. We call this POP! They also liked the look of cottage and craftsman style homes, so they focused on creating a log home design and color palate that reflected those styles. The individual style attributes were combined for a one-of-a-kind look. From the accents throughout the interior and exterior of the log home, the final color selections, exterior railings, gutters, slate colored shingles, exterior doors, hardware, storm doors, etc. The home screams a charming cottage-craftsman style.
Exterior Finishes: Execution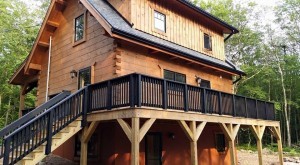 The exterior deck and porch railings plus the support posts were finished with a solid exterior stain. The color is slate, just a shade lighter than a true black. Here you can see the stain going on the rear porch railings.
Jack and Bob were looking for a pop of color on the doors, so they used an exterior paint in light sage for these areas.
The exterior door color set the stage for the deck surface. A solid exterior stain was used in a color that is a few shades darker than the doors. The color is fitting for its nature-inspired surroundings.
If you caught a sneak peak of the foundation wall in the photo above, you may have noticed the introduction of yet another color. Jack and Bob set out to find a color that would tie the pecan stain color of the logs, black railings, sage deck colors, etc. all together. The color also needed to "ground the house and act as a back drop for the landscaping." The exterior concrete paint custom-mixed in a beautiful shade of terracotta does EXACTLY that.
Exterior Finishes: The Look…
According to these DIYers, "Our emotions we high as the finish line came into focus and we thought about closing another chapter in our book."
Next week we will show you how the interior of this home was brought to life with additional dynamic colors, various styles and unique textures. A dream is about to become a reality for this couple….and on behalf of everyone here at Timberhaven, we couldn't be happier for them.
https://timberhavenloghomes.com/wp-content/uploads/2015/10/Landscaping-2.jpg
528
960
Bobbi Landis
https://timberhavenloghomes.com/wp-content/uploads/2017/07/timberhaven-logo.png
Bobbi Landis
2015-10-23 07:33:21
2017-07-31 09:02:13
Exterior Finishes: Porch, Deck and Foundation Wall