2017 Fall Feature Home: Moshannon variation F3, R3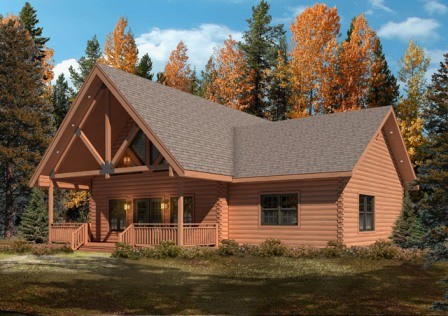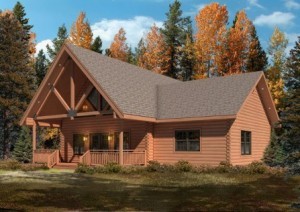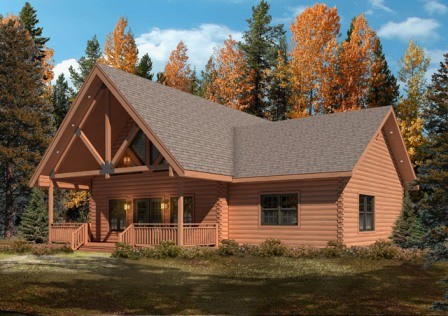 This promotion has expired.  The Moshannon with variations F3, R3 design blends some of our most popular log home features: wide-open living areas, first-floor master bedroom, enough space for the entire family and [even though looks aren't everything] curb appeal.  It is for these reasons Timberhaven Log & Timber Homes chose to feature the Moshannon F3, R3 as its fall feature home.
Open and Spacious Living Areas
The Moshannon F3, R3 features 1,806 square feet of living space, 4 bedrooms and 3 baths.  The combined kitchen and living room are free from interior walls and feature a beautiful cathedral ceiling.  The front of the space offers a picturesque view of the great outdoors just beyond the wall of glass, while an authentic white pine stair system is situated to the rear of this communal space. Two moderately sized bedrooms are located at the back of the first level.  Housed in the right wing of the home is the spacious master bedroom suite complete with walk in closet and lots of natural light.
Located upstairs is the fourth generously-sized bedroom along with a private bath and lots of storage.  If you're an outdoor enthusiast, then you'll need ample storage for your gear.  Whether your props include hiking boots and backpacks or skis and poles, there's plenty of space to organize your equipment.
Curb Appeal
The most notable architectural feature of the Moshannon F3, R3 design is its distinctive front entry.  The porch roof juts forward creating a beautiful varied roofline and an opportunity to showcase a cathedral ceiling and massive King post truss.  Talk about a welcoming, blue-ribbon entry!  This space goes beyond an award-winning front entry though – its spaciousness creates a great place to hangout and savor the outdoors. The weather conditions can be inclement, but you can sit outside with friends and family enjoying the crisp fall air and your favorite pumpkin-flavored snack.
Fall Feature Home: Details about the Package
Because this log home is Timberhaven's feature home and is being offered at a deeply discounted rate, you may  be inclined to think we've included "second-grade" materials or "cut" the materials package to be less inclusive. That's not the case!  The Moshannon F3, R3 log home materials package is the most complete package in the industry and we've included our premium grade logs and nothing but brand-name components.  For example, the log home package includes:
6×8 D kiln-dried Engineered Logs with Mortise & Tenon corner assembly (not Dovetail corners as shown in the above illustration)
Andersen windows, Therma-Tru doors, Schlage locksets, Tamko shingles, insulation, porch material, interior walls, tongue & grove ceiling, exterior preservative plus more.
Precision pre-cut logs & timbers that are pre-sorted and inversely stacked for easy assembly
There's only one Moshannon F3, R3 package available and no modifications can be made to the plan or to the comprehensive package.
See your representative for details or to request a complete materials estimate.
Fall Savings are in the Air
During the months of October – December 2017, one lucky homeowner will have an opportunity to buy this quarterly fall feature home package at $15,285 OFF its retail package cost.  The Moshannon F3, R3 log home package retails for $130,880 (delivery zone 1).  As part of this limited-time, first-come-first served promotion, we will offer one (yes, only one) log home package at a deeply discounted rate of $115,595 (delivery zone 1).  That's a fall savings of $15,285. 
To Learn More…
Give us a call today – or contact your local rep – to learn more about this special, limited-time offer.
#855-306-5678
info@timberhavenloghomes.com
https://timberhavenloghomes.com/wp-content/uploads/2017/09/Moshannon-F3-R3-Low-Res.jpg
316
448
Bobbi Landis
https://timberhavenloghomes.com/wp-content/uploads/2017/07/timberhaven-logo.png
Bobbi Landis
2017-10-05 02:20:04
2021-10-08 16:21:28
2017 Fall Feature Home: Moshannon variation F3, R3