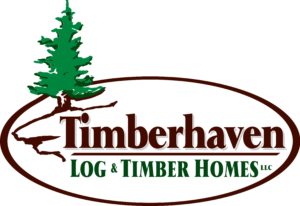 In the "wood-centric" housing market, customers often hear the terms "solid log," "engineered log," and "timber frame" in reference to different home design options.  But, what exactly are they, and what are the differences between them?  Let's explore that just a little bit.
FAQ What are the differences? Kiln-Dried Traditional Solid Log Homes
Solid log typically refers to what is envisioned as a traditional solid log home.  The walls of the home itself are created by stacking layers of logs on top of each other and joining them together to form the structure of the home.  These individual courses of logs are joined together using lag bolts and form both the exterior and interior surfaces of the walls.  The "solid" part refers to the fact that each log used is a single wood timber cut to fit the log profile of your choice and the overall design of the home.
These kiln-dried traditional solid logs remain one of the sturdiest and most reliable building materials in the construction market today. Plus, this material is more rustic in appearance and brings so much character to a home.
FAQ What are the differences? Kiln-Dried Engineered Log Homes
An engineered log home is very similar to a traditional solid log home – courses of logs, held together by lag bolts, are laid on top of each other to form the structure of the home.  However, there is a significant difference in the structure of the log itself.
While a traditional solid log is a single wood timber cut from the heart of a tree, the Engineered Log (sometimes referred to as a "laminated log") is created using several layers of premium kiln-dried wood.  These pieces of 2-by lumber are glued and then pressed together using immense force in a radio-frequency dryer.  Afterwards, these newly-formed logs are milled to the profile of choice and pre-cut in the same fashion as our traditional solid logs.
Some of the benefits of the Engineered Log are:
Lower moisture content than a traditional solid log (since each layer of thinner wood is dried separately)
Virtually no "checking" (cracking)
More refined appearance
Extremely sturdy, superior product
The Engineered Log offers you the option to even have multiple wood species used, thereby creating a different look for both the interior and exterior of the home if you wish.
FAQ What are the differences? Timber Frame Homes
Unlike the traditional solid and engineered log homes where rows of logs are laid on top of each other to form the walls, a timber frame home is built using posts and beams or "timbers" to form the essential skeleton of the home.  Rather than being held together with lag bolts or gusset plates, each timber is precision-crafted to fit together perfectly (almost like a puzzle) and is held together using wooden pegs.  Not only does this require expert craftsmanship, it also provides a very unique and ornate element to the home.
While a solid or engineered log home has exterior walls created completely of logs, the timber frame home is a bit different.  The timbers form the perimeter structural support and visual accent of the home, but the walls in between (the envelope system) can be built using a variety of materials, usually conventionally framed or Structural Insulated Panels (SIP) and finished with log siding, Hardie Board, cedar shake, stone or brick, board and batten, etc.  This makes the timber frame home truly customizable to the customer's taste and budget and provides some visual diversity.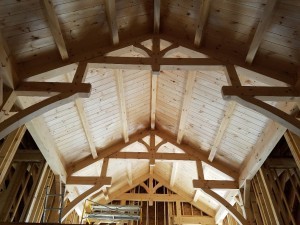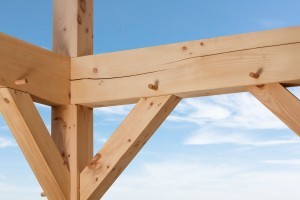 FAQ What are the differences?
Whether your personal preference may be traditional solid logs, Engineered Logs or timber frame, each product line has specific advantages and appeal.  As you're looking to start planning your dream home, be sure to ask your sales representative about all available options and their respective benefits.  After all, it's your home – make sure it's uniquely you.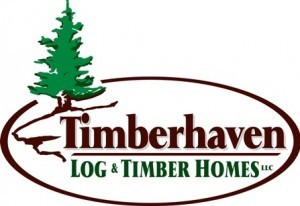 info@timberhavenloghomes.com
#855-306-5678
https://timberhavenloghomes.com/wp-content/uploads/2019/05/Timberhaven-Logo-for-tranquil-log-homes-300x206.png
206
300
Bobbi Landis
https://timberhavenloghomes.com/wp-content/uploads/2017/07/timberhaven-logo.png
Bobbi Landis
2017-07-28 07:53:40
2019-12-31 19:43:23
The Differences Between a Log Home or Timber Frame Home