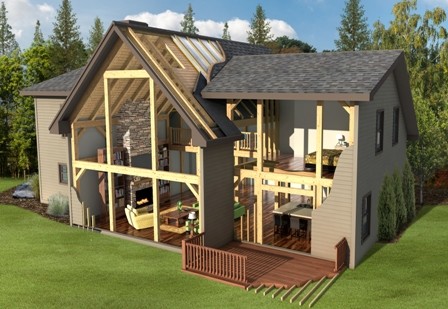 For those who are not familiar with the construction process of a log home or timber frame home, trying to understand all that is included in your package can be a little confusing at times.  We get the question every day, "What all is included in your materials package?"
Timberhaven offers three primary packages for all of our log home and timber frame homes – Log & Timber Package, Weather-Tight Package, and Finish Materials Package.  But, rather than thinking of them as three separate packages, each package builds (no pun intended) on the package before it and offers you complete customizability to meet your budget and construction requirements.
Log & Timber Materials Package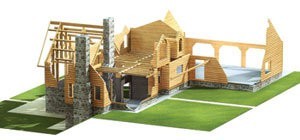 The Log & Timber Materials Package is pretty much as it sounds and provides the basis for all of our log homes and timber frame homes.  Think of it more as the complete skeletal structure of your home.  The materials included allow the home builder to construct the frame and provides all of the necessary beams and joists to erect the shell and are completely customizable to your desired log profile and overall timber frame design.  These specialty logs and timbers are premium grade and customized precisely for you.
Weather-Tight Materials Package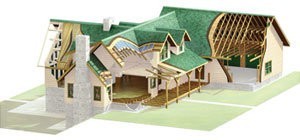 The Weather-Tight Materials Package takes all of the materials included in the Log & Timber Package and builds (okay, that pun was intended) upon it.  In addition to the materials in the previous package, this package includes such items as exterior doors and windows and all their associated hardware, a complete roofing system with trusses and shingles, all exterior trim, and so forth.  As the name implies, this package provides the home builder with all of the necessities to get your log home or timber frame home constructed and sealed from the external elements.
Finish Materials Package
In addition to including all of the materials from the Log & Timber and Weather-Tight materials packages, the Finish Materials Package provides customers with the most complete log home or timber frame home package available on the market.  Materials such as fiberglass insulation, interior doors and hardware, stair systems and railing, loft and deck materials, wooden baseboard, and so much more give customers the advantage of having everything they need delivered from one source.
As with all Timberhaven log and timber frame homes, you have Complete Package Flexibility, meaning your materials package is completely customizable to fit your specific tastes and specifications.  For more information about what's included in our Complete Packages, contact your authorized sales representative today!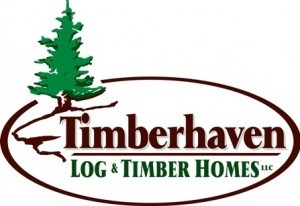 #855-306-5678
info@timberhavenloghomes.com
https://timberhavenloghomes.com/wp-content/uploads/2018/02/Final-Timber-Frame-Cutaway-Low-Res.jpg
309
448
Bobbi Landis
https://timberhavenloghomes.com/wp-content/uploads/2017/07/timberhaven-logo.png
Bobbi Landis
2018-03-15 03:25:33
2018-03-15 07:32:03
FAQ – What's included in your materials packages?