HVAC Options: Log Home Under Construction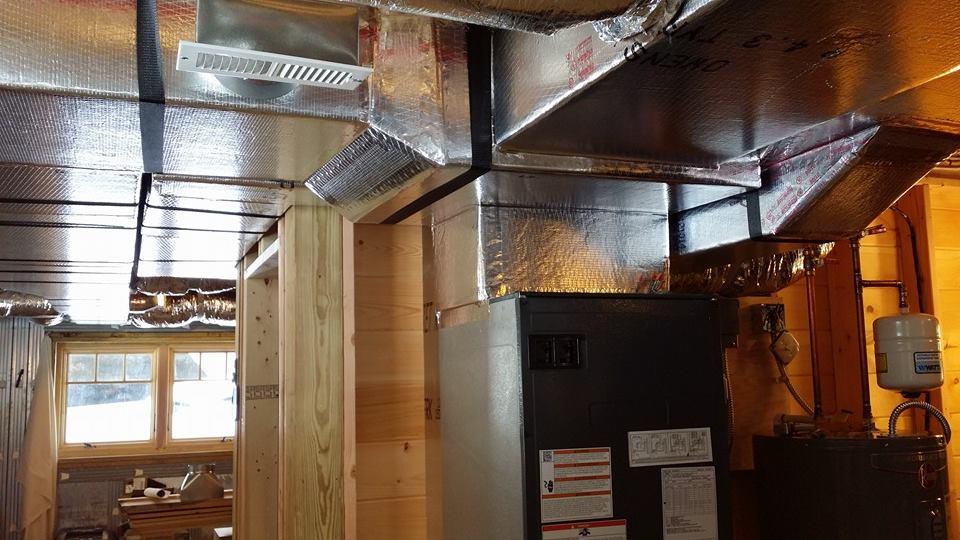 If you're a regular follower of our blog, you know the Rhode Island log home we've been documenting is coming along nicely. The builder has completed his work and the homeowner will be finishing the remainder of that project himself.  Hopefully in a few short months we can show you what the finished dream home looks like.
In the interim, we thought we'd catch up with our friends, Jack and Bob, who are first-time, 'do-it-yourselfers' building their dream log home using Timberhaven's 8×12 engineered logs. (Click here to see their home construction during the beginning phases.) The last time we checked in with Jack and Bob, they were commencing work on the interior of their dream log home. At that time, a brutal Central PA winter was about to set in so getting the heating system in place was imperative.
Log Home Under Construction: HVAC Options
We often hear log home enthusiasts ask, "What type of heating/cooling system can I install in my future log home?" The answer is quite simple but not because of restrictions. The answer is simple because you can install whatever heating/cooling system you desire. Ultimately, you have the same options of someone building a conventional home.  These include (in no particular order):
In-floor Radiant – PEX tubing in the flooring
Geo-Thermal – transfers heat/cool from the ground
Solar – transfers heat from the sun
Hot Water Baseboard –  hot water obtained from a boiler (which is heated by gas, oil or electricity) then conducted through pipes installed at baseboard
Forced Air – powered by gas or propane depending on your location
Jack and Bob selected a forced air heat pump with backup electric heat for their log home. They set the unit in place and prepared to install the necessary ductwork. Starting in the basement, the rigid and flexible ducts are assembled per the duct design prepared by their HVAC Contractor. The process looks like this.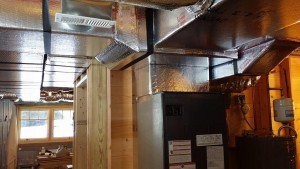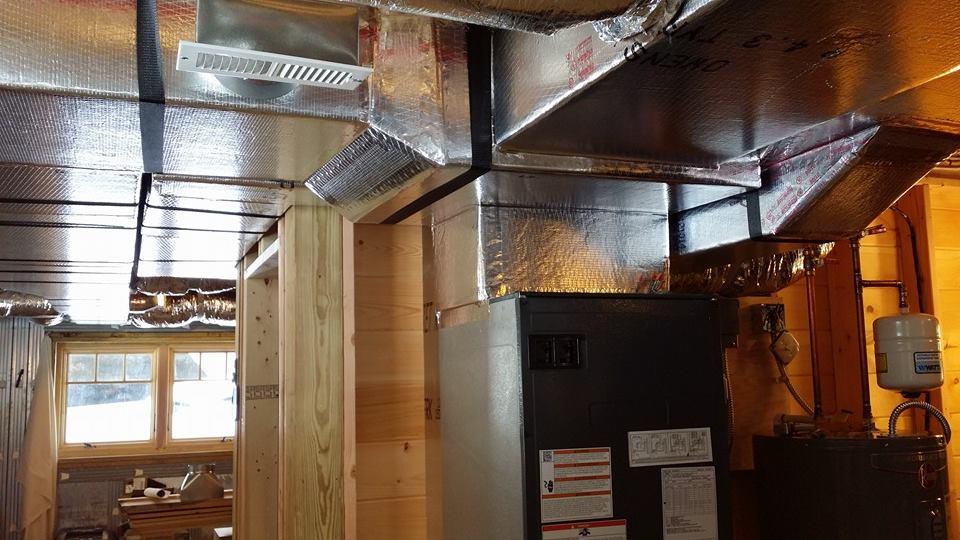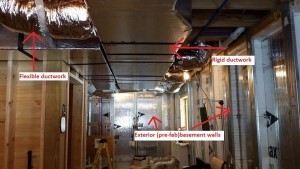 Log Home Under Construction: HVAC Installation
The ductwork is then run throughout each room and each level of the house. A valid question at this point would be, "How will that ductwork be hidden?" That is another very good question.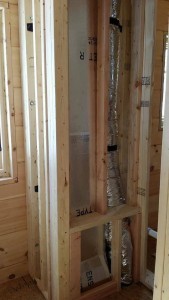 There are various methods used to conceal these necessary components of your heating/cooling system. The installation process follows the same as a conventional stick framed home through the interior walls, floor registers, etc. But there are exceptions contingent on the design of the home.
We often see chases run through closet areas, or framed out to look like a faux post or beam.  If you're constructing a single-level home, you may place your vents directly in the floor.  As you see here, Jack and Bob built a chase to envelope the ductwork that runs from the main level to the second level of their home.  This chase will then be covered with Tongue & Groove to give the "boxed out" area an inconspicuous look.
Space can be maximized by building character into these boxed out areas – like incorporating a window seat into your design. No one would ever know where your ductwork is hidden. Here are some before-and-after examples of this process.
Jack and Bob's home may have a small footprint but it packs a serious punch of character, like the mastery work in hiding ductwork in a window seat. We can't wait to show you what else they have been up to.
https://timberhavenloghomes.com/wp-content/uploads/2015/07/10426341_858415270889213_7983176363591397624_n.jpg
540
960
Bobbi Landis
https://timberhavenloghomes.com/wp-content/uploads/2017/07/timberhaven-logo.png
Bobbi Landis
2015-07-24 09:52:09
2017-08-03 02:03:40
HVAC Options: Log Home Under Construction