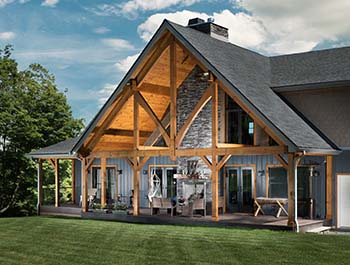 The term hybrid applies to many different things, including cars, plants, and even dogs. But the term applies just as equally to home construction. In fact, there's been a shift within the log and timber frame home industry over the past few years, to a more hybrid mindset, if you will. Now more than ever before, clients seemingly have endless options. As a result, Timberhaven is pleased to introduce our new product line: Hybrid Homes with Timber Accents.
What defines Hybrid Homes?
As its name suggests, a hybrid home blends different types of construction and finish materials into a new style for homeowners who appreciate both simple beauty and dramatic flair. With this combination of building techniques and decorative elements, hybrid homes allow homeowners to get the best of both worlds.  The end result is a home that's as unique as those who reside there.
Timber Accents of the Highest Quality
And so, by integrating timber accents into conventional construction systems, we are able to create the distinct aesthetic feel of a true timber frame home. This blend of decorative elements offers homeowners a cost-effective alternative to achieving the timelessness of timber frame construction. Our timber accents are crafted using premium-grade engineered or traditional solid timbers and beams.  Our premium-grade materials offers superior strength and stability, is the driest and straightest material available in the market, and ultimately affords extraordinary aesthetics for all interior and exterior applications.
Flexible & Stylish Plans for Hybrid Homes
Moreover, with the flexibility and style Timberhaven Hybrid Homes have to offer, your home can become a true extension of you. You can modify any one of our existing log or timber frame plans to fit the Hybrid Home with Timber Accent profile – or – we can provide complete custom design services.  Talk about endless options.
Interior Accents: Create a warm, inviting atmosphere with timber accents that include:
Timber Posts and Beams
Character 'Trees' for Posts
Log Sidings (available in a variety of profiles)
T&G and Shiplap
Stair Systems available in heavy timber, timber pegged, or handcrafted log
Handrail Systems available in traditional square pine (with metal baluster options), milled round pine, or rustic handcrafted log
Trims for windows / doors, walls, and ceiling applications
Custom barn doors (distressed, stained, etc.) with track and hardware in varying style
Exterior Accents: We offer a wide range of exterior timber accents and hybrid materials ranging from minimal to elaborate, which include:
Timber Frame or Post & Beam Porch Systems
Timber Trusses
Timber Gable Accents
Corbels & Faux Hayloft Doors
Decorative Timber Overhangs
Railing Systems
Stone Veneer
Log Sidings (available in a variety of profiles)
Cedar Shakes & Board and Batten
HardieBoard & LP Diamond Kote LP SmartSide
In summary, there's so much more to tell you about our new Hybrid Home product line.  Call us today to find out how we can turn your vision into a reality, or click here to download our new Hybrid Homes with Timber Accents brochure.  We look forward to hearing from you!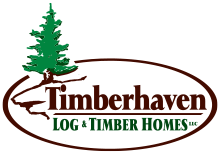 https://timberhavenloghomes.com/wp-content/uploads/2019/08/Hybrid-Home-Exterior-Timber-Frame-Thumbnail.jpg
265
350
Bobbi Landis
https://timberhavenloghomes.com/wp-content/uploads/2017/07/timberhaven-logo.png
Bobbi Landis
2019-08-16 07:04:25
2019-08-15 12:07:12
Introducing: Hybrid Homes with Timber Accents