Special Event: Illinois Log Home Open House Under Construction
Stan Dixon, an authorized representative for Timberhaven Log & Timber Homes, will host a special Open House at a Log Home Under Construction tomorrow, Saturday, September 19th, 2020, from 9-11 AM in Tennessee, IL.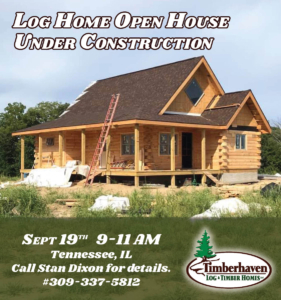 Illinois Log Home Open House: About the Design
A beautiful, one-of-a-kind log home will be showcased during this Illinois log home open house.  It is a Modified Juniata design built with 6×8 D Kiln-Dried Traditional Logs and features Mortise & Tenon corner assemblies.   The log home is 1,217 square feet and has 1 bedroom and 1 bath.  The log home is built on a full basement foundation, constructed with brick-style concrete forms.  This application creates a nice, finished look on the inside and out.
Next, the kitchen area is "bumped out" for definition on the exterior façade and increased in size to enhance interior living space.  There is a charming diamond-shaped window in the living room gable, similar to our standard Clear Creek log home design.
Illinois Log Home Open House: On the Inside
On the inside, the main living is nice and open and incorporates a view of a stunning cathedral ceiling.  There is one spacious bedroom on the first floor, along with one full bath and convenient laundry room.  Upstairs, a generous loft looks over the great room and has an abundance of natural light captured by that diamond-shaped window we referenced earlier.
Furthermore, drywall will be installed on all interior partition walls.  This yields an opportunity to incorporate pops of color that will complement the natural hues of the White Pine log walls.  Tongue & Groove will be installed on the ceilings in the main living areas and bedroom.  This will visually connect the combination of solid log and painted interior walls.
In closing, there is only one way to see how charming this log home really is – come see it for yourself!
Illinois Log Home Open House: Call Today!
Stan Dixon has decades of experience in the log and timber home industry.  He serves Western Illinois, Southeast Iowa, Northeast Missouri and beyond and has assisted dozens of clients with their log home dreams.  Now it's time to get started on yours.
Call Stan Dixon today to confirm your participation: (309) 337-5812 or click here to connect.
Illinois Log Home Open House Under Construction
Saturday, September 19th, 2020
9 – 11 AM
Tennessee, IL
https://timberhavenloghomes.com/wp-content/uploads/2020/09/Illinois-Log-Home-Open-House.jpg
720
960
Bobbi Landis
https://timberhavenloghomes.com/wp-content/uploads/2017/07/timberhaven-logo.png
Bobbi Landis
2020-09-18 10:11:23
2020-09-18 11:22:23
Illinois Log Home Open House Under Construction