Incorporating Wood Materials In Your Renovation or New Home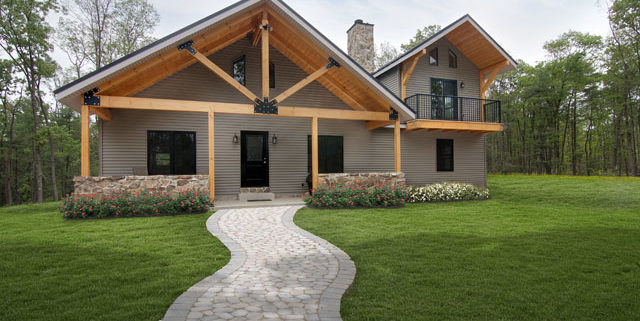 Every day customers are innovatively incorporating wood materials into their homes, be that a renovation project or new construction. The DIY movement and HGTV have not only empowered people to take on their projects, but more importantly inspire them to consider the many aesthetic opportunities that wood can offer. Timberhaven Log & Timber Homes is not only a resource for log homes and timber frame home materials packages but also a resource that focuses on these trending design strategies that incorporate wood components to achieve specific aesthetic design objectives.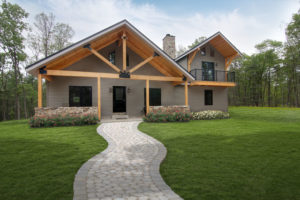 Incorporating Wood Materials: Premium-Quality Components
Timberhaven offers high-quality log and timber components, pre-cut per the design and custom design services as follows:
Premium-grade, kiln-dried Engineered Logs and timbers for refined long lasting stability and beauty
Traditional, kiln-dried logs and timbers for those seeking a more rustic charm
Handcrafted, pre-cut joinery: Steel gusset plates or timber frame joinery with pegs
Incorporating Wood Materials: Interior & Exterior Aesthetic Accents
Timber accents both square stock and round stock for exterior porch areas and gables posts or for interior applications like floor or roof ceilings, even "character trees" as interior or exterior support posts
Log siding accents in a variety of profiles for wall applications
Stair systems available in heavy timber traditional / timber pegged or handcrafted log
Handrail systems available in traditional square stock rails / balusters with 4×4, 6×6, 8×8 posts or rustic handcrafted with round rails / balusters with 6" or 8" round posts. We also offer a round milled version.
Trim accents like 1×8 T&G, 1x trim in varying sizes, etc. for wall and ceiling applications
Barn doors pre-finished as you desire (distressed, stained, etc.) complete with track and hardware in varying styles
Quality kiln-dried White Pine materials that are hard to find!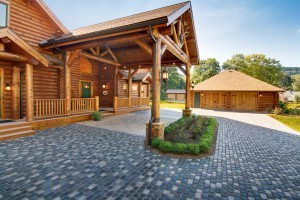 Incorporating Wood Materials: Outdoor Living
Premium grade timber structures and associated custom design services for:
Pavilions and Pergolas
Porticos
Gazebos
Pool Houses and Garden Sheds in a variety of log or log siding profiles and corner extensions
For unique projects outside the scope of conventional, everyday construction practices, look to those with experience and a proven track record of excellence. Timberhaven Log & Timber Homes is committed to that excellence, and we have the years of experience to prove it.  Plus we employ a team of professionals with an employee average of 27 years' experience — from draftsmen and women, timberwrights, woodworkers and more.  Together we design and produce some of the most expressive works of art.
Incorporating Wood Materials: Custom Services
Timberhaven Log & Timber Homes' custom services include:
Engineering and drafting for the aforementioned examples
Handcrafting / timber framing
Woodworking / milling / planing
Incorporating Wood Materials: Specialty Wood Creations Made to Order
The incorporation of wood elements delivers a feel for nature through thoughtful design, and combining these wood accents with conventional material will achieve specific and unique aesthetic design objectives you desire.  So for all savvy buyers seeking innovation: Whether your dream renovation or new construction includes wood accents, Timberhaven is pioneering ingenious design strategies to further expand your options, and we'd love an opportunity to discuss these opportunities with you!
+1 (855) 306-5678
info@timberhavenloghomes.com
https://timberhavenloghomes.com/wp-content/uploads/2017/07/TLH_Hobbins_HD-04-Edit.jpg
427
640
Bobbi Landis
https://timberhavenloghomes.com/wp-content/uploads/2017/07/timberhaven-logo.png
Bobbi Landis
2018-04-27 07:26:06
2019-12-31 19:28:34
Incorporating Wood Materials In Your Renovation or New Home