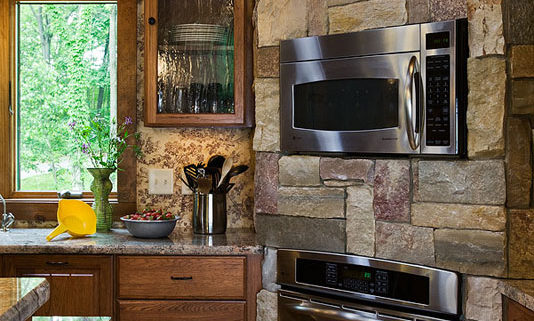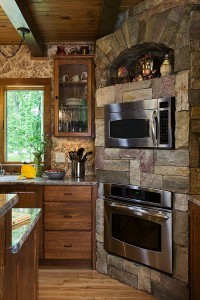 Today's kitchen appliances are versatile!  Enhance your culinary experience in your new Timberhaven log home with innovative kitchen appliances that boast functions and features that save energy and incorporate cutting edge technology.  Refrigerators, ranges and dishwashers handle a multiple range of tasks and provide a plethora of interior combinations to suit your individual cooking, storage and dish sanitation needs.
Refrigerator manufacturers have incorporated tons of technology into their products.  In addition to interior LED lighting, adjustable shelves and racks, programmable temperature controls create specialized zones to keep your food fresh and in optimum storage conditions.  A new laser device can detect bacteria hiding in your leftovers, and a soda stream attachment on the door provides carbonation to suit your personal taste while freeing up storage space and reducing plastic bottle waste.
Convection-steam wall ovens automatically sense the size and amount of food and use digital technology to cook food to perfection while retaining its nutritional value.  Oven LLC touchscreens contain controls for presets, rapid pre-heat; some even have speakers and changeable backdrop scenes.  And yes, your intuitive oven can also be controlled remotely by your smart phone!
Free standing ranges incorporate similar technology in ovens, and sealed or glass top burners provide easier clean up.  Induction cooktops use magnetic power to heat food inside cookware and can instantly increase or reduce the temperature without waiting for an element to heat up or cool down.
The addition of specialized jets for washing sports and baby bottles is an innovation in dishwashers that is long overdue and welcome!  Adjustable and full extension racks make loading and unloading easier, while an additional shallow top rack is perfect for fitting small flat items.  Best of all, some models have dual control systems that use a heavier water spray on the bottom rack and a lighter one on the top rack allowing pots and pans and delicate glassware to share a wash.
Built in coffee stations that can be programmed to prepare everything from a cup of tea to fantastic coffee beverages, and wine services that prolong the quality of open bottles are other innovations in appliances that enhance entertaining and everyday living.
Enjoy the benefits of the latest technology in the kitchen of your new Timberhaven log home by selecting innovative kitchen appliances that best suit your lifestyle!
Sources: www.subzero-wolf.com, www.Thermador.com, www.LG.com, www.samsung.com/Home-Appliances, "A New Refrigerator Laser Can Detect Food Poisoning-Related Bacteria" by Lulu Chang, March 30, 2016
https://timberhavenloghomes.com/wp-content/uploads/2017/07/Eavey14.jpg
800
534
Bobbi Landis
https://timberhavenloghomes.com/wp-content/uploads/2017/07/timberhaven-logo.png
Bobbi Landis
2016-06-10 07:55:23
2017-07-31 10:19:14
Innovative Kitchen Appliances for Your New Log Home