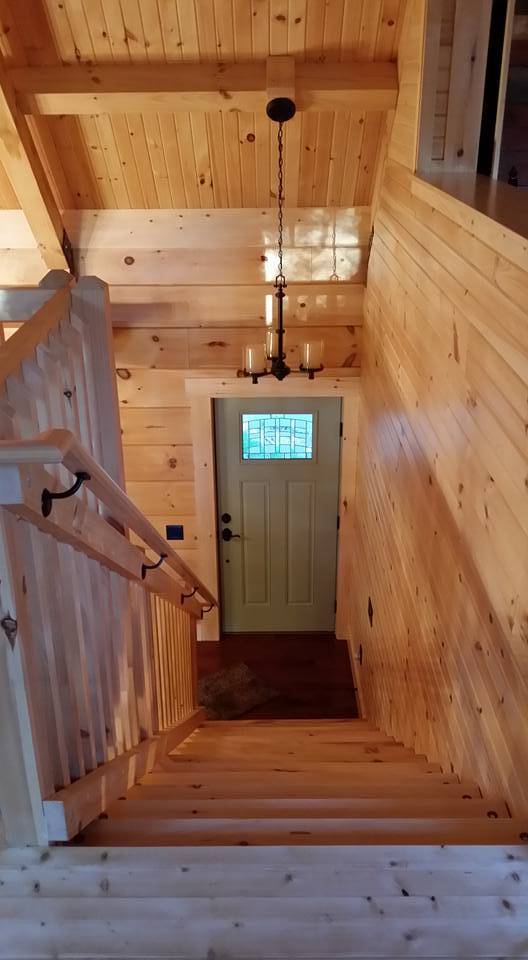 The last time we caught up with our friends, Jack and Bob, they were making significant progress on the interior finishes of their log home. At that point they were installing finished wall coverings, hanging trim, sanding, and applying polyurethane. The place was really starting to come together.
Since that time the dynamic duo has made additional progress and are now *thisclose* to living their dream. Here's a look at what they've checked off their list…
Log Home Under Construction: Interior Doors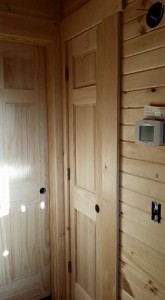 First they installed interior doors. These solid, six-panel-raised , pre-hung, interior doors are standard with every Timberhaven package…even specialty White Pine doors for closets and linen areas are supplied, as you see here (right).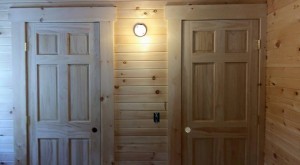 These doors were then trimmed with our 1×6 specialty milled material for a beautiful complementary look. The wider 1×6 trim is used for the 6×12 and 8×12 logs; 1×4 trim would be utilized with a smaller profile log.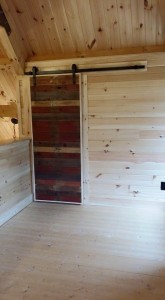 Rustic romance, meet charming home! We love the style this custom, sliding barn door made with recycled wood brings to the loft.
Log Home Under Construction: Exterior Doors
For a touch of class and an additional element of contrast, the inside of the exterior doors were painted Simply Sage. We'd be remiss if we didn't mention the unique glass design with patina-type caming featured on these exterior doors. Simple but elegant. We love this look, too!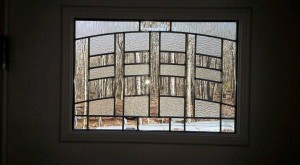 Log Home Under Construction: Flooring Installation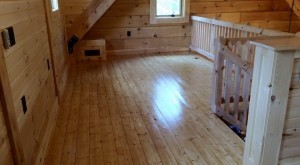 Jack and Bob's second level flooring was installed in one fell swoop when they decided to utilize 2×6 Tongue & Groove on the ceiling of the first floor. Click here for complete details of this option. After sanding and polyurethane, the finished floor looks like this.
Downstairs, in the main living areas, the couple chose to install dark colored hardwood. This rich look contrasts nicely with the natural color of the White Pine log walls. In the bath areas, Jack and Bob installed stylish ceramic tile.
Log Home Under Construction: Lighting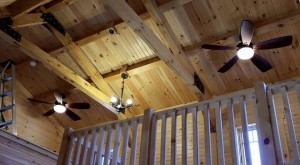 Cathedral ceilings are common in many log home designs and most customers choose to install ceiling light fans in these areas. These products are a great way to light areas and circulate air which helps to increase your comfort and saves energy. The same holds true during winter months when you set your fans to operate in reverse.
From traditional to modern or rustic to ornate, we've seen all types of chandeliers in log homes. A particular style we've seen repeatedly, though, is an antler chandelier like this one. There's no doubt this cascading piece of art will prove to be a conversational piece.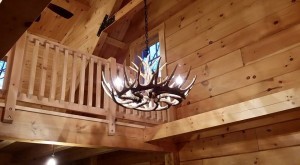 From conversational pieces to conversational places: The Kitchen. This project is up next. Check back next week or subscribe to our blog to follow along…
https://timberhavenloghomes.com/wp-content/uploads/2015/09/11863352_951454381585301_3245855359406983753_n.jpg
960
528
Bobbi Landis
https://timberhavenloghomes.com/wp-content/uploads/2017/07/timberhaven-logo.png
Bobbi Landis
2015-09-11 09:05:56
2017-08-03 02:08:45
Log Home Under Construction: Interior Finishes