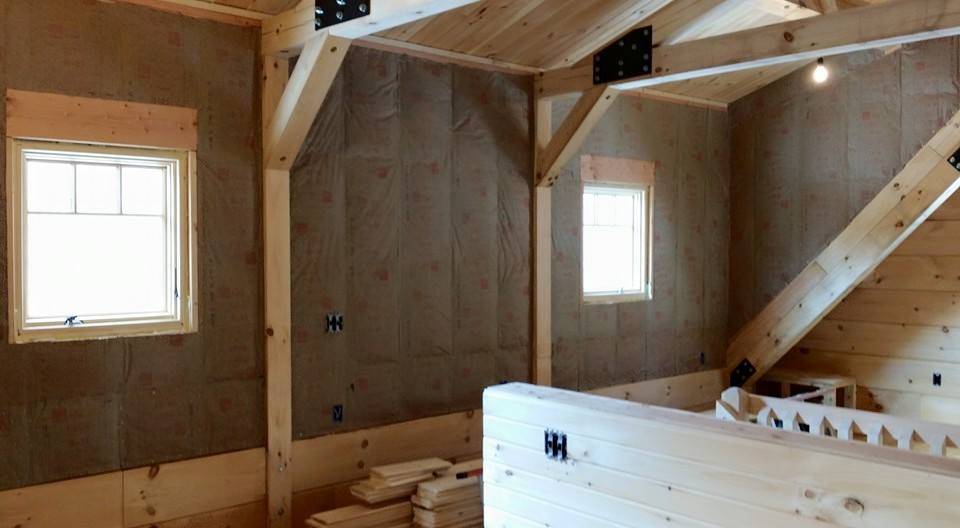 If you're constructing your dream log home and just finished HVAC installation, what's next on your to-do list? For Jack and Bob, it's time to insulate the rear shed dormer and install finished wall coverings.
Interior Wall Coverings: Standard Components
In your standard log home package, Timberhaven will supply the materials you need to complete these projects including framing material for interior walls, insulation, and finished wall coverings consisting of White Pine Tongue & Groove (T&G).
Even in closet areas, hallways, and half walls, etc. Timberhaven will supply enough material to finish these surfaces.
Want to mix it up? 
If you're a fan of color and/or want to break up the White Pine look, use a blend of finished wall coverings like dry wall and paint, stone, wainscot, tiles, etc. Below are some great examples of what it looks like to mix it up. Click for more.
Trim to Complement Interior Wall Coverings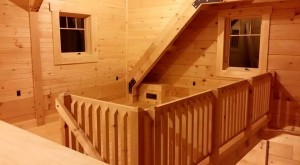 After the walls are completed, the trim is installed.  Generally 1×4 material is supplied for interior window and door trim.  However, for Jack and Bob's log home, Timberhaven supplied 1×6 trim materials because their home is built with larger 8×12 engineered logs.  In comparison to our smaller counterparts, the wider trim better complements this taller log profile.
Sanding and Poly

Sanding of all interior surfaces and applying polyurethane is next. Generally, the sanding-poly process is then repeated.  It's a tedious job, but someone has to do it, right?  Looks like Bob pulled this short straw on this project.
Interior Wall Coverings: The Final Outcome
The sanding and polyurethane process is an important aspect in protecting the longevity of your log home. This technique seals the porous wood surfaces and creates a finished wall surface that is smooth and easy to clean.  Take a minute to imagine rubbing your hand across one of these log walls or timbers.  What do you feel?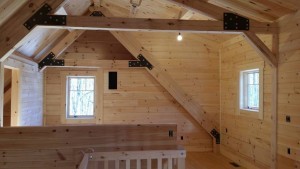 https://timberhavenloghomes.com/wp-content/uploads/2015/07/1461160_868933903170683_4839623731519095047_n.jpg
528
960
Bobbi Landis
https://timberhavenloghomes.com/wp-content/uploads/2017/07/timberhaven-logo.png
Bobbi Landis
2015-07-31 08:47:49
2017-07-31 09:18:22
Interior Wall Coverings: Log Home Under Construction