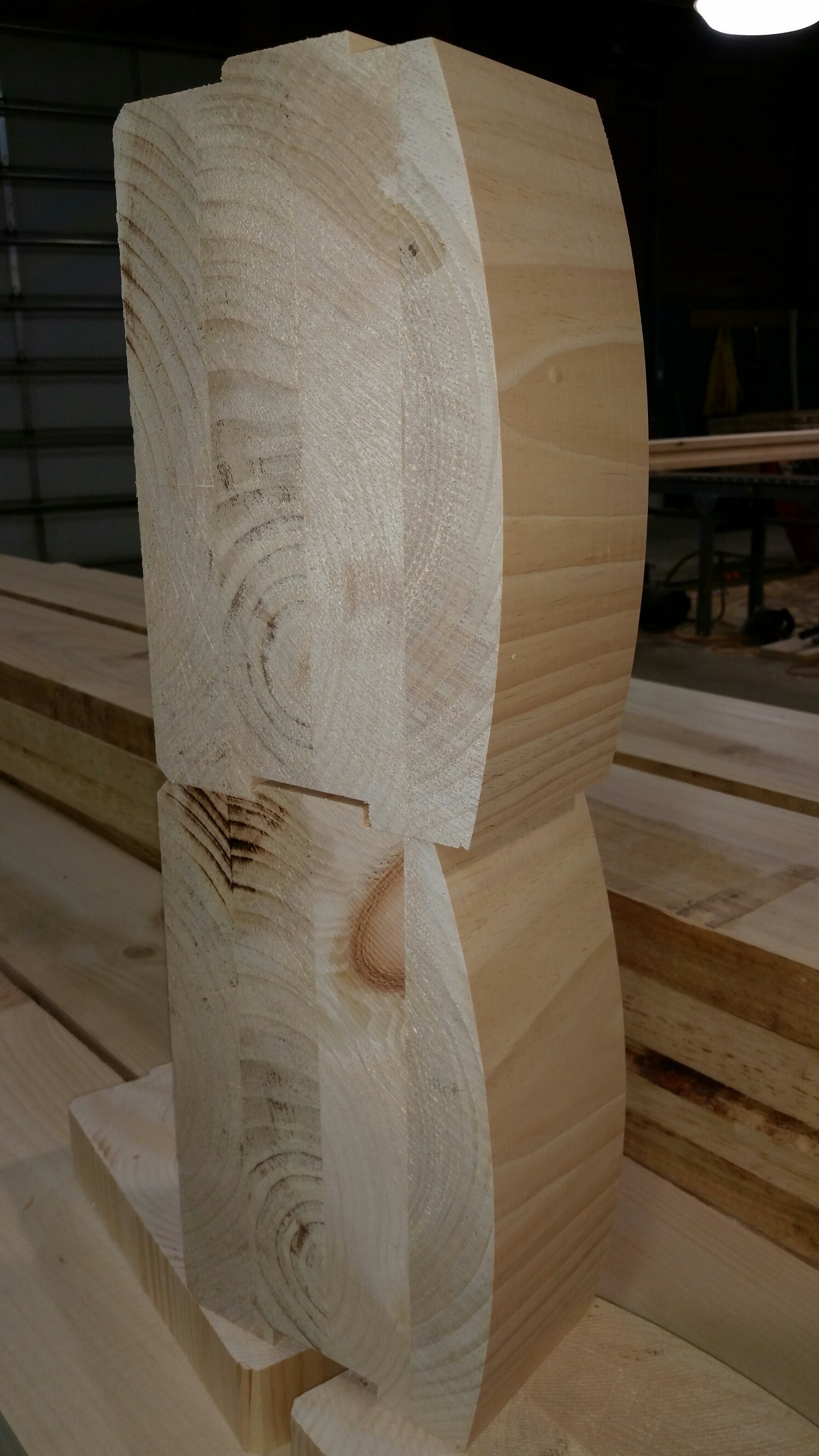 Are you familiar with Tim 'The Toolman' Allen's nonverbal expression of "power" and "strength?" The iconic grunt went hand-in-hand with every souped-up home improvement project Tim performed. An evil eye from his counterpart (either his wife or his business partner) usually followed the grunt, but the fact that 'The Toolman' really could do things bigger and better was evident.
Timberhaven recently manufactured the largest logs in our profile repertoire. When our production manager, Randy, called the office demanding everyone come to the shop RIGHT NOW, we thought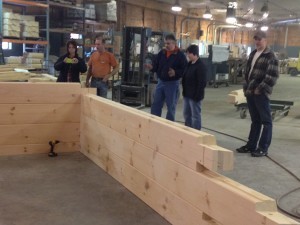 there was an emergency. Turns out he only wanted the entire staff to see the final outcome of his team's 8" x 12" D-shaped laminated logs…and to hear his classic Tim 'The Tool Man' roar. Rightfully so, these logs are stunning – their size, strength, and beauty is undeniable. And Randy isn't the only one mesmerized by the product. Our staff is in awe of the bigger and better logs, too…uuuuuuahhh!
So…what makes these laminated logs so special?
We start with premium White Pine material which is expertly kiln dried to an average moisture content of 9%. The kiln-dried material is then planed down to uniform 2x plies. The high-tech engineering process of gluing and compressing begins. Click here to see the process. Samples of the timbers are tested to ensure their breaking tolerances meet or exceed 1,300 psi as set forth by the industry standards (ASTM D905 and AITC T107). Kevin, our expert technician, will tell you the wood breaks before the glue seal every time!
While the lamination process was in progress, the guys in the planer mill were installing specialized cutting knives that are needed in order to produce the 8" x 12" D log profile. The knives are tested to ensure exact placement. Adjustments are made accordingly and then retested. Once finalized: profile perfection!
 Laminated Logs: 8″ x 12″ D Profile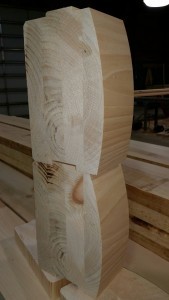 Here's a closer look at the actual 8" x 12" D profile. There's no denying its massive size, but what you should also know about these laminated logs is:
They are strong! Alternating grain of the individual plies during the lamination process provides superior strength and stability. You won't find a stronger, straighter log.
The overall look is refined! There's virtually zip, zero, zilch checking.
The logs are dry! Dried to an average moisture content of 9% to be exact. There is no shrinking or twisting of the logs and no interventions required (like the adjustment of screw jacks) for a home that is going to settle.
You have options! The overall awesomeness of the laminated process allows us to offer additional, larger, log profiles. Hence the NEW 8" x 12" profile line.
The 8" x 12" series is available in the following profiles: Single Notch, Double Notch, Double V-Groove, and D (as illustrated in this article).

Laminated Logs: 8″ x 12″ Corner Options
The logs our professionals produced were cut with Dovetail corners. This unique corner option is growing in popularity but Mortise & Tenon and Trim corner options are also available with this product line.
Laminated Logs: Get your FREE brochure!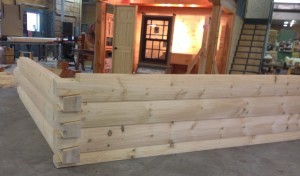 If you are interested in additional information about our special 8″ x 12″ laminated logs, click here to download a FREE copy of our Award-Winning Scientifically Speaking: The Facts About Kiln-Dried Solid & Laminated Logs brochure. Or email info@timberhavenloghomes.com to request a brochure by mail.
https://timberhavenloghomes.com/wp-content/uploads/2015/01/20150120_105204_resized.jpg
2656
1494
Bobbi Landis
https://timberhavenloghomes.com/wp-content/uploads/2017/07/timberhaven-logo.png
Bobbi Landis
2015-01-30 11:00:15
2017-07-30 19:19:33
NEW!!! 8″ x 12″ D-Shaped Laminated Logs