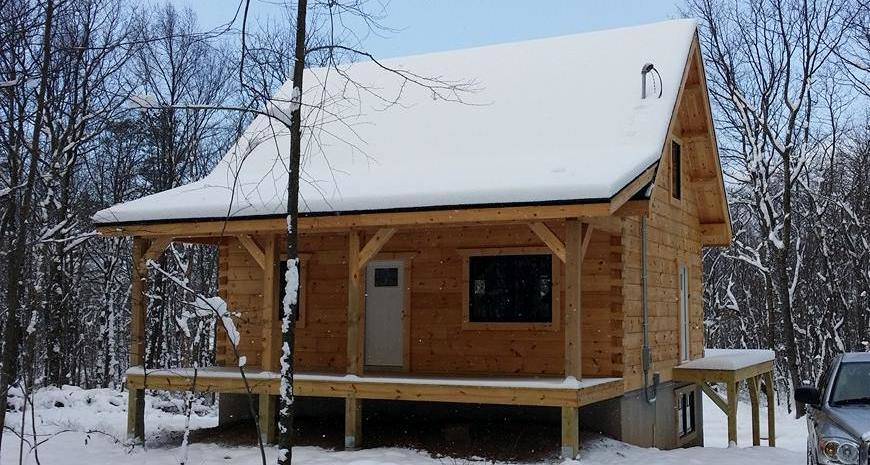 After a few inches of snow, tucked perfectly in its wooded setting, Jack and Bob's log cabin home looks like this.  There's no reason to fret a blizzard, power outage or Arctic temperatures because when you're here, there is no such thing as being "stuck" inside.
When we last caught up with Jack and Bob, they were trying to get their cabin weather-tight with door and window installation. Although time spent constructing this cozy cabin is limited to weekends, these DIYers are making steady progress on their project.  Let's see what they have been up to.
Log Cabin Home: Window and Door Trim
The log cabin homes is now officially weather-tight.  The windows and doors have been installed and trim has been completed. If you were following this blog when Jack and Bob installed their front door, you'll recall the architectural flair they chose to incorporate with the finished door trim.  The decision was made to carry out the same theme with the window trim. Take notice to the roof.  It has also been completed with final shingle installation.
Log Cabin Home: Shed Dormer Completion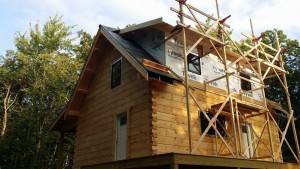 In the rear of the home, much attention has been paid to the humble shed dormer. First, Jack and Bob construct their own scaffolding and working platform. Metal scaffolding is sometimes rented in place of constructing your own.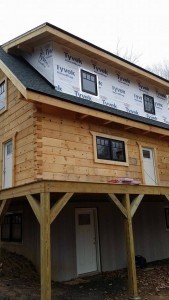 Next, Tyvek house wrap is installed. This weather-resistant barrier prevents water/air infiltration and is applied directly to the sheathing on this conventionally framed area.
Lastly, the board and batten siding is installed. This vertical siding provides a nice contrast with the horizontal solid log cabin walls.  The overhang on this area was also designed just right. The finished outcome is adorable.
Log Cabin Home: Next Phases of Construction…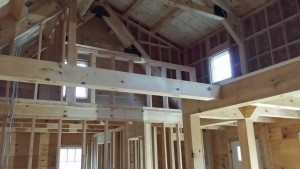 Jack  and Bob made nice progress on the interior of the home as well.  The temporary platforms have been removed, electrical is going in, finished wall coverings are being installed, stairs are being constructed and the list goes on.  Sound exciting?  We think so.  Check back next week as we take a closer look.
https://timberhavenloghomes.com/wp-content/uploads/2015/01/10384915_813488958715178_5234805938217679849_n.jpg
465
870
Bobbi Landis
https://timberhavenloghomes.com/wp-content/uploads/2017/07/timberhaven-logo.png
Bobbi Landis
2015-01-16 09:05:25
2017-08-03 03:26:29
Log Cabin Home – Under Construction: Part 12