A Log Home Builder Goes the Extra Mile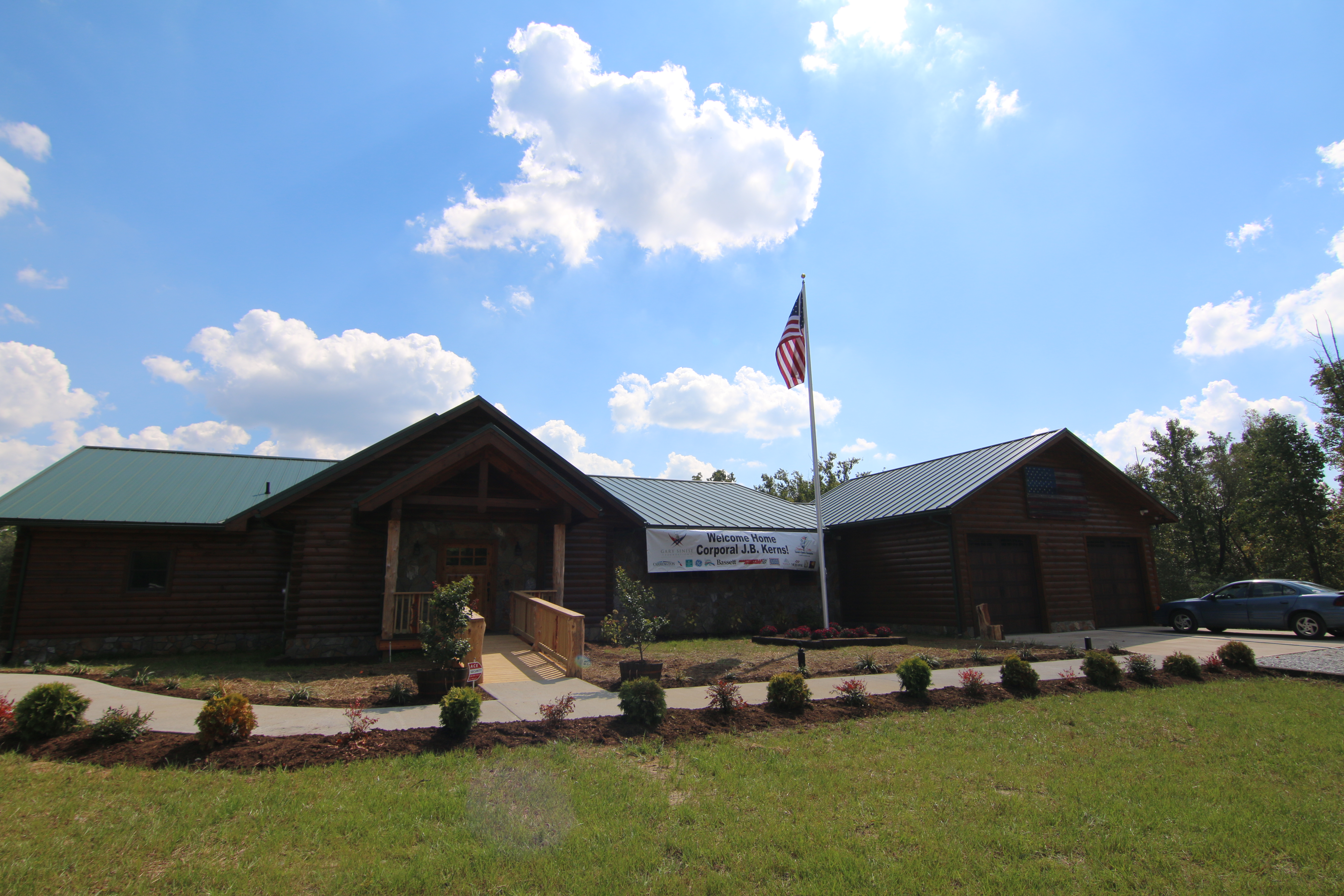 Last week we talked about the importance of hiring a reputable builder to construct your dream log home and explained in great detail what Timberhaven is doing to ensure more quality builders are in the poll.  But because an experienced log home builder may not always be located in close proximity to your building site, hiring one who travels is always an option.  The concept may seem foreign, but these traveling professionals are dedicated to going the extra mile (no pun intended) to make your dream home a reality.  It happens all the time.
For instance, last year a Pennsylvania-based log home builder temporarily relocated to Virginia to build one of our log homes.  Earlier this year, an Indiana builder commuted between his home state and California to construct another one of our custom projects.
Even more recently, Timberhaven's Rhode Island representative, Joe Walsh, connected one of his clients with a builder from Massachusetts, Flury Builders, Inc.  Flury Builders is owned and operated by Paul Flury who also serves as Timberhaven's MA representative.  Joe and Paul are quite the dynamic duo and have collaborated on more than one occasion.  In this particular instance, though, we are excited to have the opportunity to document the joint project.  Let's see what they have been up to.
Log Home Builder: Talk about going the extra mile…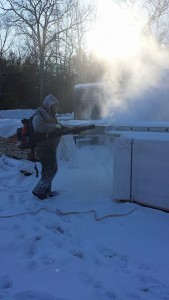 First of all, in addition to the logistics of this build, construction began in the middle of the winter.  Ummm…. We are assuming you do not need a reminder as to what the winters are like in New England?  This photo may sum it up for you, in the event you've forgotten.  But because Timberhaven meticulously wraps every log pack that is transferred from our facility, our materials will not be damaged from nature's elements.  As you can see here, it may be ugly getting to the logs.  But once those packs are unwrapped, you will see nothing but beautiful White Pine logs.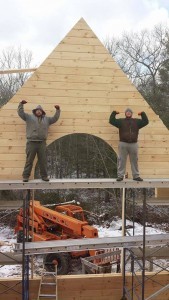 In addition to his own seasoned hands, Paul works alongside his two sons on a daily basis.  Like us, they were born with log homes in their blood.  Needless to say, they enjoy going to work every day – whether it's to build a log home in their backyard or in a different state.  Even more so, they are exhilarated to show off their work on this custom log home.
Thus far they have set the foundation, installed the sub-floor, organized their materials, and staged the logs…the crew is now ready to begin the stacking of the log walls.  Check back next week as we take a closer look.
https://timberhavenloghomes.com/wp-content/uploads/2014/11/IMG_3699.jpg
3648
5472
Bobbi Landis
https://timberhavenloghomes.com/wp-content/uploads/2017/07/timberhaven-logo.png
Bobbi Landis
2015-04-03 11:55:44
2017-07-31 10:11:52
A Log Home Builder Goes the Extra Mile