Log Home Builders – Gearing Up For Construction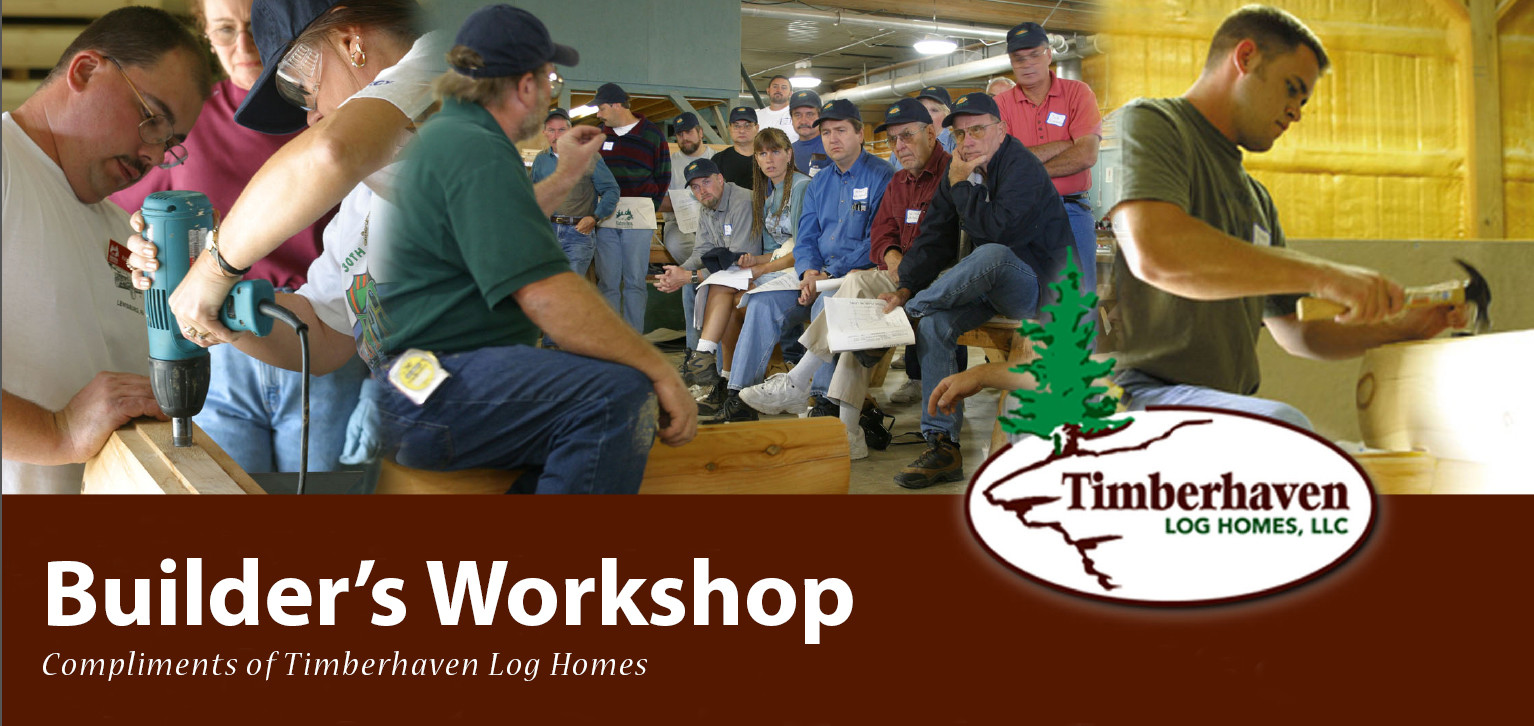 There are several, equally important, phases throughout the quest of realizing your dream log home.
Finding an ideal piece of property
Designing the perfect home
Selecting a manufacture that provides a complete, quality package (and is affordable, too)
Hiring a reputable log home builder who will bring together the aforementioned variables
"Do you have any log home builders in my area?" is a question we are asked during each and every initial conversation.  Timberhaven understands the importance of our customers hiring trustworthy, quality builders.  And it is for that reason we offer training sessions for such builders who want to learn how to build our log homes….the right way!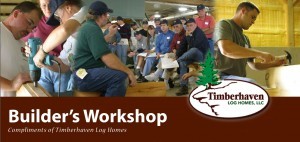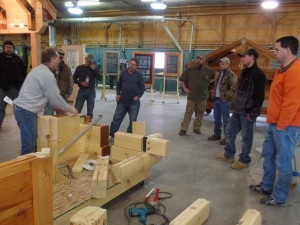 On March 20, Timberhaven hosted its 2nd Annual Builder's Workshop.  Nearly two dozen log home builders from all across Pennsylvania and surrounding states took advantage of this educational seminar.  Whether a new or seasoned builder needing a refresher, the workshop provided an understanding for how our log homes are manufactured and how they should be built.
The group spent the day in our state-of-the-art facilities taking part in many educational sessions and hand-on demonstrations.  First, the log home builders toured the planer mill and cut-line.  They also got to see a demonstration of our laminating and testing processes.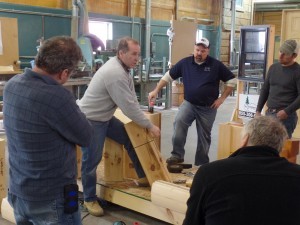 The remainder of the morning was spent reviewing electrical procedures, proper snap-line locations, how to get started laying logs and what steps to follow to assure integral construction as the log walls are stacked.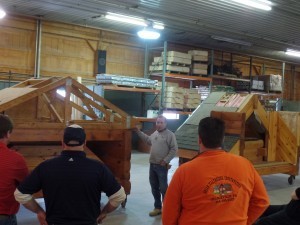 Later the crew learned how to conceal plumbing and install the various stair systems.  They also got an up-close-and-personal look at our various roofing systems including that of the Beam & Purlin, heavy timber rafter roof, and pre-fabricated trusses.  The log home builders were educated about the advantages of each and our recommended methods of installing these systems were demonstrated.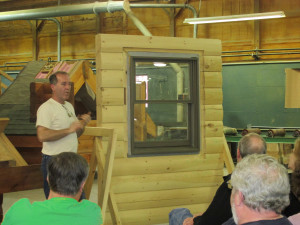 Last, but certainly not least, the group learned how to install doors and windows and were educated about the proper techniques and products used in caring for a custom wood home.  Each log home builder also had an opportunity to get answers to their questions. Moreover, they had an opportunity to get to know our construction experts.  Our team serves as an invaluable resource when builders have questions or difficulties on-site, so it was advantageous for everyone to get to know one another.
What do builders have to say about Timberhaven?
A log home builder from Bloomsburg, PA said, "I have been building log homes exclusively for 18 years. Being the builder for several different log home companies, there are certain aspects of building Timberhaven Log Homes that sets the company apart from others.  I enjoy their attention to detail, quality of material and most of all for supplying a 'complete' log home. I am also excited about the fact that they manufacture their very own laminate logs.  I like working with Timberhaven Log Homes and believe they are the future to finest quality log home."
Another builder said, "In my 27 years in the log home industry, I believe this is the best product on the market. I recommend everyone look into the laminated log and really see what benefits you receive from this product." 
 "Your log home packages are the most complete packages out there. I'm building a log home for a customer who bought their package from a different manufacturer, and I cannot believe all the items that were not supplied," added a third builder. "Now the customer has to pick up the products locally, adding unexpected costs to their overall expenses…and frustrations. You guys really do it right!"
Whether you're a builder or shopping for your own log home, give us the opportunity to show you first-hand what these guys are talking about.  Will you join us on Saturday, May 2nd for our consumer Planning & Construction Workshop?
Click here or contact us today for more information.
info@timberhavenloghomes.com
Toll-free:  855-306-5678
https://timberhavenloghomes.com/wp-content/uploads/2015/03/2015-Builders-Workshop.jpg
726
1534
Bobbi Landis
https://timberhavenloghomes.com/wp-content/uploads/2017/07/timberhaven-logo.png
Bobbi Landis
2015-03-27 09:20:05
2017-07-31 09:49:16
Log Home Builders – Gearing Up For Construction