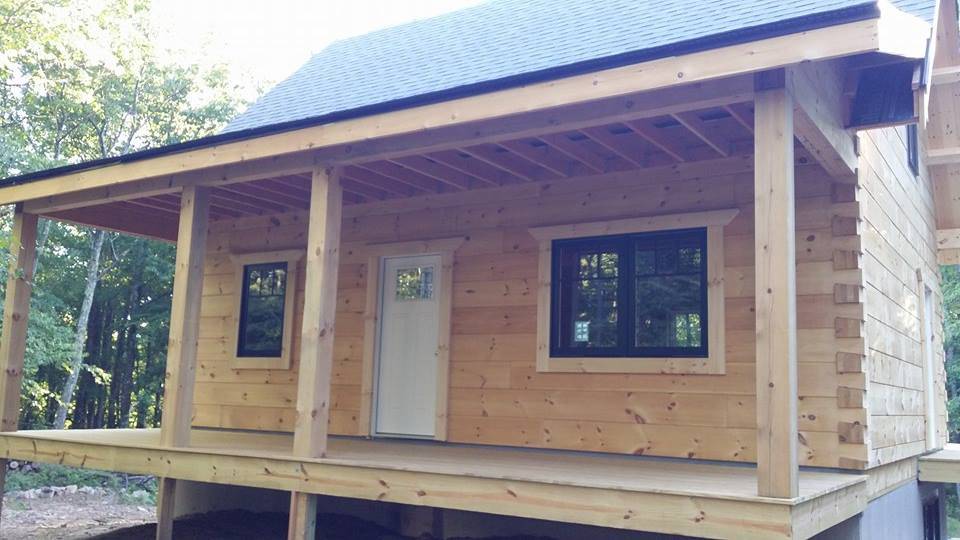 How long will it take to build my log home?  This question does not go unasked by any log home enthusiast.  It is, however, a question that's difficult to answer given the complexities and variations of each customized log home. The end result depends heavily on the builder as well.  Overall though, we have seen log homes reach the weather-tight phase in as little as 2 months and some log homes take up to a year.
Log Home Construction Progress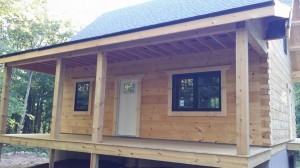 For Jack and Bob, the weather-tight completion phase was reached at approximately 3 months into the project.  Although the couple only worked on their dream log home in their "spare time" and on weekends, they really did make great progress.  Check it out!
On the front of the home, they have installed the final trim.  You saw a few weeks ago how the couple was applying an architectural flair to the face-nailed trim on the door.  Looks like they are carrying out the same theme with the window trim.  We love how this came together.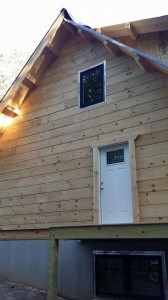 Throughout the sides and rear of the home, the remainder of the windows and doors have been installed.  Some, but not all, of the trim has also been applied. This place is charming.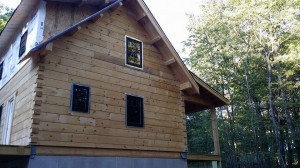 Let's take a closer look at this shed dormer as it looks obviously different than the remainder of the laminated log home.  If you have been following this blog you know the shed dormer is conventionally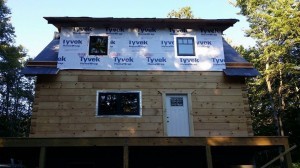 framed and will be complete with Jack and Bob's choice of board & batten application.  Before it can be finished, the couple must apply a vapor barrier between the sheathing and final material.  Timberhaven typically supplies felt paper and log siding for conventionally framed walls, gables, or dormers; but the material used for these areas is a decision you get to make.  In this case, Jack and Bob selected a Tyvek house wrap.
Next on the to-do list is finalizing that rear shed dormer with the board & batten and installing the last of the trim.  After that the guys will take construction indoors where they will be insulating said shed dormer, hanging drywall on interior dormer walls, installing interior trim, etc.
We will check back with the guys from time to time in the near future as they bring their log home project to fruition, but next week we are going to take a look at a "post & beam" project.  Check back for details.
A special thanks…
Jack and Bob:  Thank you for allowing Timberhaven, and other log home enthusiasts like yourselves, the opportunity to share in your experience.  It has been an absolute pleasure to see your beautiful dream log home come together.
https://timberhavenloghomes.com/wp-content/uploads/2014/09/10645316_770162859714455_521086290105252768_n1.jpg
540
960
Bobbi Landis
https://timberhavenloghomes.com/wp-content/uploads/2017/07/timberhaven-logo.png
Bobbi Landis
2014-09-19 09:32:19
2017-07-30 19:15:15
Log Home Construction Progress – Part 11