At last, it's delivery day!  All the years of researching, planning, and decision-making are behind you. As you stand at your construction site, you hear the tractor trailer trucks brake as they turn into your property.  This is the moment you've been waiting for.  A feeling of satisfaction sets in.  You keep hearing the "We-did-it!" mantra in your head.  Life is good.
Log Home Delivery Day: Great Care in Preparing for this Day
The experts at Timberhaven are well aware of the commitments you've made in order to realize this triumph.  Consequently, we use great care to organize and carefully protect the quality of your home's package components and to secure the materials for a safe delivery.
In the few days leading up to your pre-scheduled delivery date, the log packs are wrapped in protective plastic and labeled to correspond with the detailed materials list that will be provided on delivery day. This list outlines exactly what can be found in each material pack. This helps your rep during the inventorying process and helps your builder know which pack he needs to open first and alleviates the potential damage of materials if packs are opened unnecessarily.
After the packs are wrapped and labeled, they are loaded onto a trailer. Usually multiple semis are needed to haul the first round of materials for your custom home. Once all of the packs are loaded, they are secured with ratchet straps and tarped, top to bottom and front to back. Doubly wrapping your log home or timber frame home package illustrates Timberhaven's unwavering commitment to protect your investment.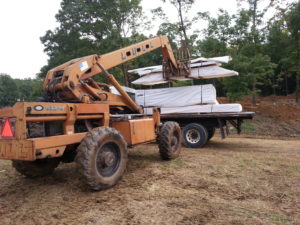 On a day pre-selected by you, your builder and your representative; your log home package will be delivered to your job site.  Using a forklift with a 6000#, 13 ft. minimum lift capacity, your builder will attentively unload and stage the home packs in preparation for construction. Your Timberhaven representative will be there to oversee the entire process, inventory materials as they're unloaded, walk you through the necessary paperwork, and ultimately assure your log home delivery day is seamless and exactly what you had intended it to be.
Log Home Delivery Day: Are you ready for it?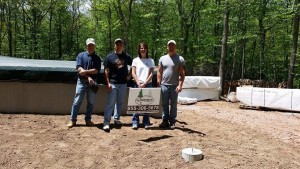 For the Timberhaven gang, delivery day is symbolic for another log home dream that is about to come true. It's also on this day when most homeowners start to feel their plan has finally materialized. Undoubtedly, it is one of the most exciting days for everyone.
This spring there are many families scheduled to take delivery of their Timberhaven home.  To these lucky future homeowners, we congratulate you and thank you for choosing Timberhaven as your custom home supplier!  We look forward to seeing your beautiful home become a reality – we couldn't be happier for you.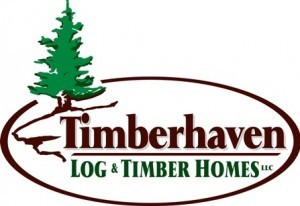 info@timberhavenloghomes.com
#855-306-5678
https://timberhavenloghomes.com/wp-content/uploads/2017/05/10262206_715821611815247_3357147259608705066_n.jpg
540
960
Bobbi Landis
https://timberhavenloghomes.com/wp-content/uploads/2017/07/timberhaven-logo.png
Bobbi Landis
2017-05-19 07:37:03
2017-07-31 09:36:32
Log Home Delivery Day: A Monumental Day for Everyone