Bringing Log Home Dreams to Life: The Lepley Story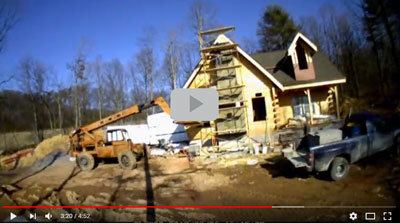 When Carey and Stacy Lepley walked a secluded 40+ acre parcel in rural central Pennsylvania, they knew they'd found the perfect property.  The land, previously owned by Carey's family, featured 2 spring-fed ponds, agricultural fields, lush forests, abundant wildlife and a view to boot. The dream came into focus the moment they purchased this land – and they knew they had to have a log home to go with it!  And so began their story….
The couple came to corporate Sales Manager, Brad Mercer, with pre-drawn plans and a price estimate from another log home company in-hand.  But after learning about Timberhaven's superior products and unparalleled services, Carey and Stacy chose to sacrifice the larger log home plans they started with in order to take advantage of the quality materials and services they've come to appreciate throughout their lifetime.
Log Home Dreams: Under Construction
The couple broke ground a few months later, and Timberhaven documented their construction progress along the way. Click below to watch the construction of this log home.
This cozy and quaint log home is built with 6×8 traditional solid kiln-dried logs with a Mortise and Tenon corner assembly.  A 2×12 conventional rafter roof system is adorned with exposed collar ties and King post truss.  Plus, using many of Timberhaven's standard package components, the log home is complete with Andersen windows, log sided
gables and dormers, 30-year architectural shingles and much more.
Constructed on a poured concrete wall basement foundation, the log home also features a 6 ft concrete topper under the front porch.  This serves as the couple's safe room.  Their log home is heated and cooled with a traditional heat pump but also boasts an outdoor wood-burning furnace which provides heat for the basement via an in-floor radiant heating system.
The final result is a traditional log home design – a modified Sterling-A with 1,687 sq. ft. of living space.  It showcases 3 bedrooms (2 on the main level and 1 upstairs) and 2 bathrooms.
Knowing Carey's future plans to construct a garage at a later date, Brad worked with the design team at Timberhaven to modify the interior layout and exterior façade so that the addition has a seamless look and will not have to be "retrofitted" when it's time to add-on.  Landscaping is on the radar for the near future as well, but until then….
Log Home Dreams: The View
Carey and Stacy have enjoyed central PA's unseasonably warm fall and the view from their new front porch.  This view features a beautiful myriad of color that surrounds their home and yields an opportunity for reflection.  Reflection of one of their most profound accomplishments: bringing their log home dream to fruition.
Many congrats, Carey and Stacy!  We couldn't be happier for you.
Click here for a full photo library.
https://timberhavenloghomes.com/wp-content/uploads/2017/11/Lepley-Timelapse-Graphic2.jpg
223
400
Bobbi Landis
https://timberhavenloghomes.com/wp-content/uploads/2017/07/timberhaven-logo.png
Bobbi Landis
2017-11-03 10:32:47
2017-11-03 11:57:18
Bringing Log Home Dreams to Life: The Lepley Story