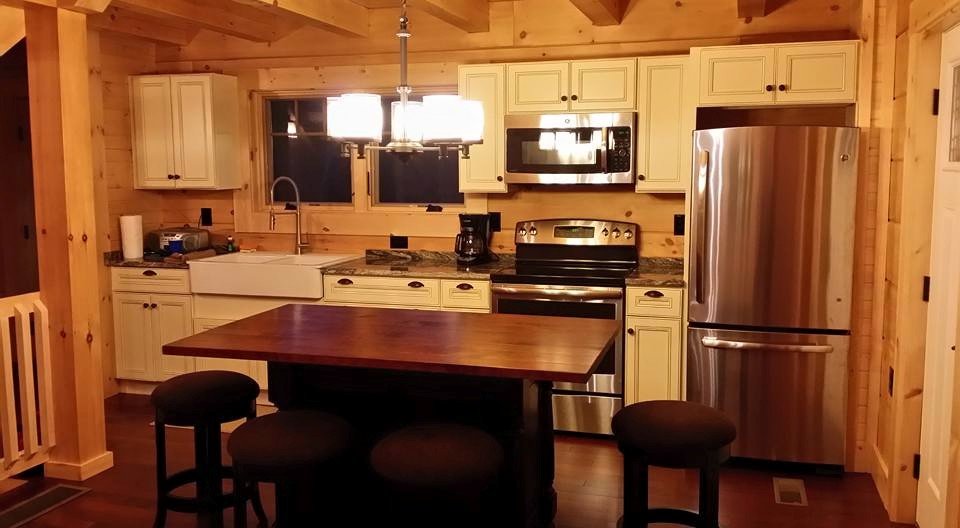 Because every aspect of your dream home should be a true reflection of your personality, close attention must be paid to the details. No project tells more about a person than their kitchen – so special attention should be paid in this area. By mixing styles, finishes, and textures, you can create a look that's fresh and unique – like you. Let's take a look at what Jack and Bob's kitchen tell us about them…
Designing Your Log Home Kitchen
Execution of your dream log home kitchen begins with a design. Timberhaven will include the footprint of the space in your preliminary plans. You will bring these preliminary plans to a local designer or a big box store who will work hand-in-hand with you to develop a kitchen design. For this one space, you'll be making decisions about work flow, functionality, organization, colors, cabinetry and countertops, lighting, flooring, and styling. Phew! Now that's a lot to think about. Thankfully your local Timberhaven rep can lend a hand if you need a second or third opinion.
Jack and Bob took their TLH preliminary plans to their kitchen specialist who helped them bring their kitchen to life. They even had an architectural rendering made of the space to be certain they loved everything about it before they executed the plan. Ultimately the space was designed to look like this.
This single-wall galley or I-shape was the most logical way for Jack and Bob to orient their kitchen given their moderately sized log home with open floor plan.
Executing Your Kitchen Design
The best part of this entire project is executing the plan. Installation of the individual components is next. Since Jack and Bob have fully embraced the "assembly required" label, they couldn't wait to bring the heart of their home to fruition.
First, the duo installs custom cabinets that are finished with a white glaze. It's a sophisticated, high-end look in a small package.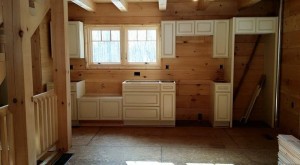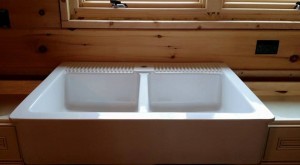 This farmhouse style sink evokes feelings of nostalgia which is fitting for this one-of-a-kind log home. It is installed next. These apron front sinks have gained popularity over the last few years because they are large enough to accommodate stockpots and baking sheets plus they're deep enough to reduce splashing. Sounds like a winner to me!
This Rocky Mountain granite countertop and backsplash was selected because of its color combination. Used to pull together the various components used throughout the log home kitchen, we do not believe any other option would be so complementary.
Hardwood flooring is a very popular choice for our log home owners. Jack and Bob envisioned dark flooring that provided a rich but warm look. The final selection does just that and also contrasts nicely with the pine log walls. This hardwood was installed in the kitchen and main living areas. Looks like another sweet victory.
Like every other aspect in the kitchen, there are dozens of appliance options regarding color, size, performance and cost. Do your homework. There are consumer reviews available online or talk to your kitchen planner about your needs/wants. Ultimately, selecting appliances for your dream home is a decision only you can make.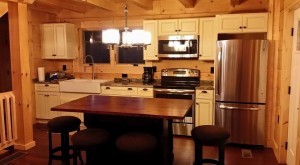 Jack and Bob chose a stainless steel / black combination for their appliances. In addition durability, these units are easy to clean and reflect light nicely. This helps to brighten up the space.
The next addition to the kitchen is this contrasting eat-in island. This gorgeous unit wasn't just brought in for its good looks. It's functional as well yielding additional counter space and storage. An overhead, centrally located contemporary chandelier brings light to the kitchen. All in all, more great choices, guys!
Turning this comfortable home into a comfortably stylish home is next. Decorating may seem like a grudgingly task for some but is a delightful undertaking for others. We believe the latter is true for Jack and Bob. Stay tuned as this log home project nears its final stages of completion…
https://timberhavenloghomes.com/wp-content/uploads/2015/09/11295848_909328252464581_3192956902944654642_n.jpg
528
960
Bobbi Landis
https://timberhavenloghomes.com/wp-content/uploads/2017/07/timberhaven-logo.png
Bobbi Landis
2015-09-25 08:23:33
2017-07-31 10:11:35
Under Construction: Log Home Kitchen – Part 2