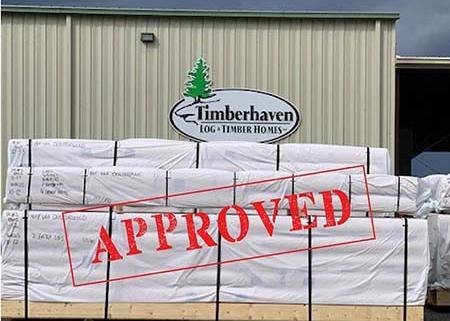 Another Timberhaven log home package is Netherlands-bound!  This 3,000+ square foot package was loaded into 4 international sea containers and transferred to the port of call in Chester, PA.  From there, they were loaded onto a sea vessel and began their 4,000 mile journey to the port in Antwerp, Belgium.  After 14 days at sea, the containers will be delivered to their final destination in Almere, Netherlands.
A log home package of this size and complexity takes experienced professionals and in-depth knowledge to execute.  Modifications were implemented to Timberhaven's standard operating procedures to accommodate this custom international log home project. For example, Timberhaven worked hand-in-hand with the United States Department of Agriculture to ensure we were meeting the strict international regulations set forth by the government. One regulation required a special heat treatment which completely sanitized the logs, timbers and customized heat-treated pallets.  The USDA's inspection and approval of the log home package took place prior to the log home package's departure.
Log Home Package Completeness
The special heat-treated logs were planed, profiled and precision cut for ease of assembly on the Netherlands' jobsite.  Other material package components (like windows, 8 ft. exterior doors (whoa baby – an 8 ft tall door), interior doors, shingles, insulation and hardware) were organized and readied for distribution.  The complete materials package filled 49 over-sized custom pallets.  FORTY-NINE PACKS!  That's a lot of material.  A custom log home of this magnitude has not been shipped internationally in company history.
Rising to the Challenge
Andrew Harter, Timberhaven's Shipping Coordinator noted, "It was exhilarating to overcome the strict USDA regulations and logistical challenges associated with shipping this custom log home package across the ocean. The team worked hard to bring this project to reality; I think everyone appreciates the opportunity to share our specialized products with the international market." Future Netherlands' log home owners followed the progress through live posts on our Facebook page.  The future homeowner commented saying, "We are so happy!"
Here at Timberhaven, we echo his sentiment!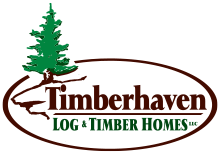 https://timberhavenloghomes.com/wp-content/uploads/2019/04/USDA-Approved.jpg
423
450
Bobbi Landis
https://timberhavenloghomes.com/wp-content/uploads/2017/07/timberhaven-logo.png
Bobbi Landis
2019-05-31 01:35:49
2019-05-31 13:27:56
Netherlands-Bound Log Home Package Departs Timberhaven