Kiln-Dried Log Siding by Timberhaven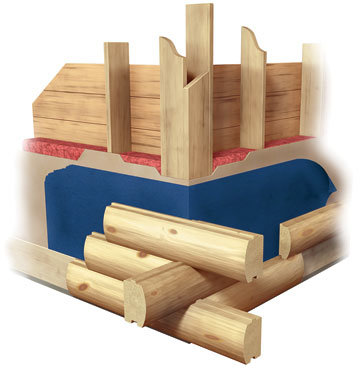 Does your future dream log home include a garage that mirrors the look and feel of your primary residence? Or does your existing conventional home need a face-lift or an addition with some character? Whatever the case may be, did you know you can replicate the look of an authentic log structure by utilizing Timberhaven's kiln-dried log siding?
There are numerous uses for log siding but the aforementioned examples are encountered more frequently than any other. In fact, we receive calls about them every day. So, if you're considering log siding applications, here are some aspects to contemplate:
Log Siding Species: Timberhaven's most popular log siding is kiln-dried (so it doesn't shrink, twist or warp once applied) and manufactured from Eastern White Pine. Other wood species, like Western Red Cedar and White Cedar are also available upon request. White Pine is a strong, durable solution and is more cost effective than cedar.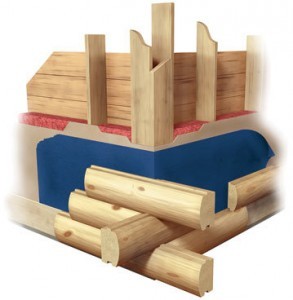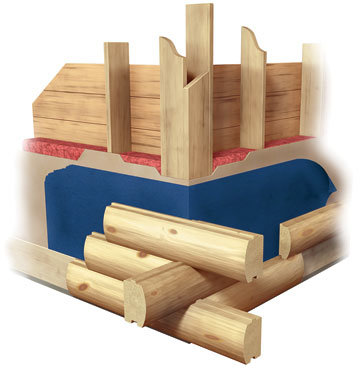 Log siding profiles: As we mentioned previously, in most instances, our solid log or engineered log home customers are looking for siding for their new garage. Because our customers want to duplicate the precise look of their log home, we manufacture log siding profiles and sizes to match our profile repertoire. Click here for a complete list of options. Our most popular log siding options include 2×8 D and 2×12 Flat. A hand-hewn finish gives additional rustic appeal and is available on all siding profiles.
If you're into the larger log look, we can supply half log siding that looks like this (right) once applied.
What about the corners? Timberhaven offers a variety of corner options. These include: Mortise & Tenon (top), Saddlenotch (above, right), and Trim (left). Furthermore, whether you select solid logs or premium engineered logs for your residence, you'll want the siding on your garage or addition to match. And yes, we can produce either solid or engineered corner extensions for you.
How much log siding will I need? Your local representative will help you determine how much lineal feet of siding you need for specific applications. Timberhaven will provide random lengths of siding, usually between 12' – 16' to cover the surfaces. Additionally, we will supply short and long corner pieces of siding (at 27" and 43" lengths) so that the alternating seams do not line up once applied. Moreover, given the various profile options, we also manufacture left and right corners. (If you've ever accidentally slipped your left foot into your right shoe, you'll understand why left and right corners are manufactured differently.)
Log siding application: Once your conventionally-built structure is complete, log siding is secured to the exterior wall. Galvanized nails are shot through the tongue of the siding which is concealed by the next piece of log siding. Corners are applied in the same fashion. When you bring this entire process together, it looks like this.
Kiln-Dried Log Siding by Timberhaven
When it's all said and done, only a log home guru will recognize the fact that your garage or addition was finished with log siding. We give a little fist pump every time we hear, "Really? THAT is log siding on the garage?" Stop by your local rep's model home to see for yourself.
https://timberhavenloghomes.com/wp-content/uploads/2015/07/log-siding.jpg
368
360
Bobbi Landis
https://timberhavenloghomes.com/wp-content/uploads/2017/07/timberhaven-logo.png
Bobbi Landis
2015-07-17 07:27:41
2017-07-31 09:17:19
Kiln-Dried Log Siding by Timberhaven