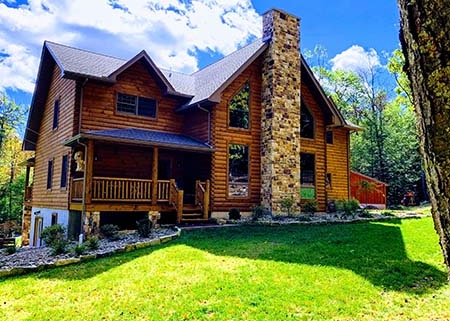 When another log home manufacturer pushed us in the direction of a canned plan and standard kit, we knew it was time to search elsewhere. With a decade's worth of questions and ideas and blueprints in tow (yes, actual blueprints, like from yester-year), we made our way to Timberhaven Log & Timber Homes in Middleburg, PA to meet with Corporate Sales Manager, Brad Mercer.
Brad was patient and extremely knowledgeable.  From that initial meeting, he really took the time to listen to the ideas April and I had to share. Brad answered our many questions, showed us pictures to help us envision, made recommendations about ways to achieve our specific wants and needs, and ultimately served as the catalyst for our dream log home.
As a business owner, I would have a hard time finding three years to service a client without any guarantee of obtaining the sale.  But Brad did this without hesitation.
Lynda Tompkins (business owner) was there to help as well.  From our unique design to the final quality products, we truly feel we got everything we wanted and everything we needed in this home because of Timberhaven.  In fact, people come from all over the place who claim they know someone who knows someone else who told them about our home.  Families have shown up to have their portraits taken on our porch or to see the soaring fireplace that April's dad built. I guess you could say we have an open-door policy for anyone who wants to see what all the fuss is about.  In the end, we will show our home to whomever wants to see it.  After all, it feels good to show off 13 years of planning.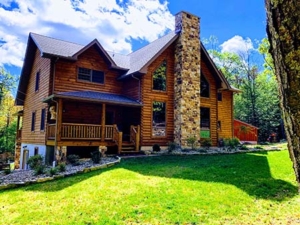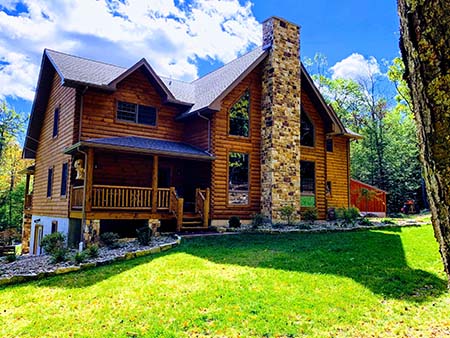 Custom Elements
Over time, we identified quite of list of custom elements we wanted to incorporate into our home.  The first special feature that catches a visitors' eye is the character trees that frame the great room from the front entrance.  Since we both have business to run, neither one of us were able to make the trip to Ohio handpick these custom pieces.  So with Brad's assistance and a little technology, Reed and I chose these two specific trees from a simple picture shared by the supplier.  We could not be happier with our selection.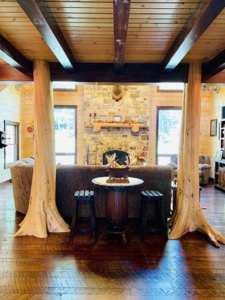 Our home is beautiful, but it is super functional too.  Other custom features include:  Hand-peeled railing and posts, massive Lodgepole Pine rafters in the great room, cabinetry and second oven in the dining room to better accommodate large family gatherings. Other custom elements include an expansive front porch (we love the outdoors), one-of-a-kind barn doors throughout the home, a blue-ribbon front entrance, privately situated office, lots and lots of storage plus so much more.
We built this log home to live in it.  I mean, everyone lives in their home but we really l-i-v-e in ours.  We have two sons who are in and out frequently dragging their hunting gear or muddy footwear after traversing the acreage surrounding the home.  Many of their friends congregate here as well.  They hang out in the spacious loft that is filled with an abundance of natural light, views of the land, trophy mounts and good company.  Tristan, our oldest son, has dreams of owning a log home like ours someday.
Made to Last a Lifetime
Through our 22 years of marriage, Reed and I have built three homes together with this log home being our last.  Building a new home together can be very challenging – mentally and physically especially when you both have OCD. <<insert chuckle here>> But there is no denying now, our marriage was built to withstand the test of time. Like the gold nuggets in our resin river dining room table, our granite counter tops, our Timberhaven log home…we are made to last a lifetime.
Brad Mercer and the team at Timberhaven, thank you again for making our dream home a reality.  We love everything about our new home, and we couldn't be happier with the final outcome.
~Reed and April Henderson, proud owners of a Timberhaven Log Home 
(Watch for the Henderson's log home feature in the Annual Buyer's Guide of Log & Timber Home Living magazine, on sale this fall.)
https://timberhavenloghomes.com/wp-content/uploads/2020/06/Henderson-Log-Home-Exterior.jpg
338
450
Bobbi Landis
https://timberhavenloghomes.com/wp-content/uploads/2017/07/timberhaven-logo.png
Bobbi Landis
2020-06-05 06:55:14
2020-06-05 09:26:07
Made to Last a Lifetime…