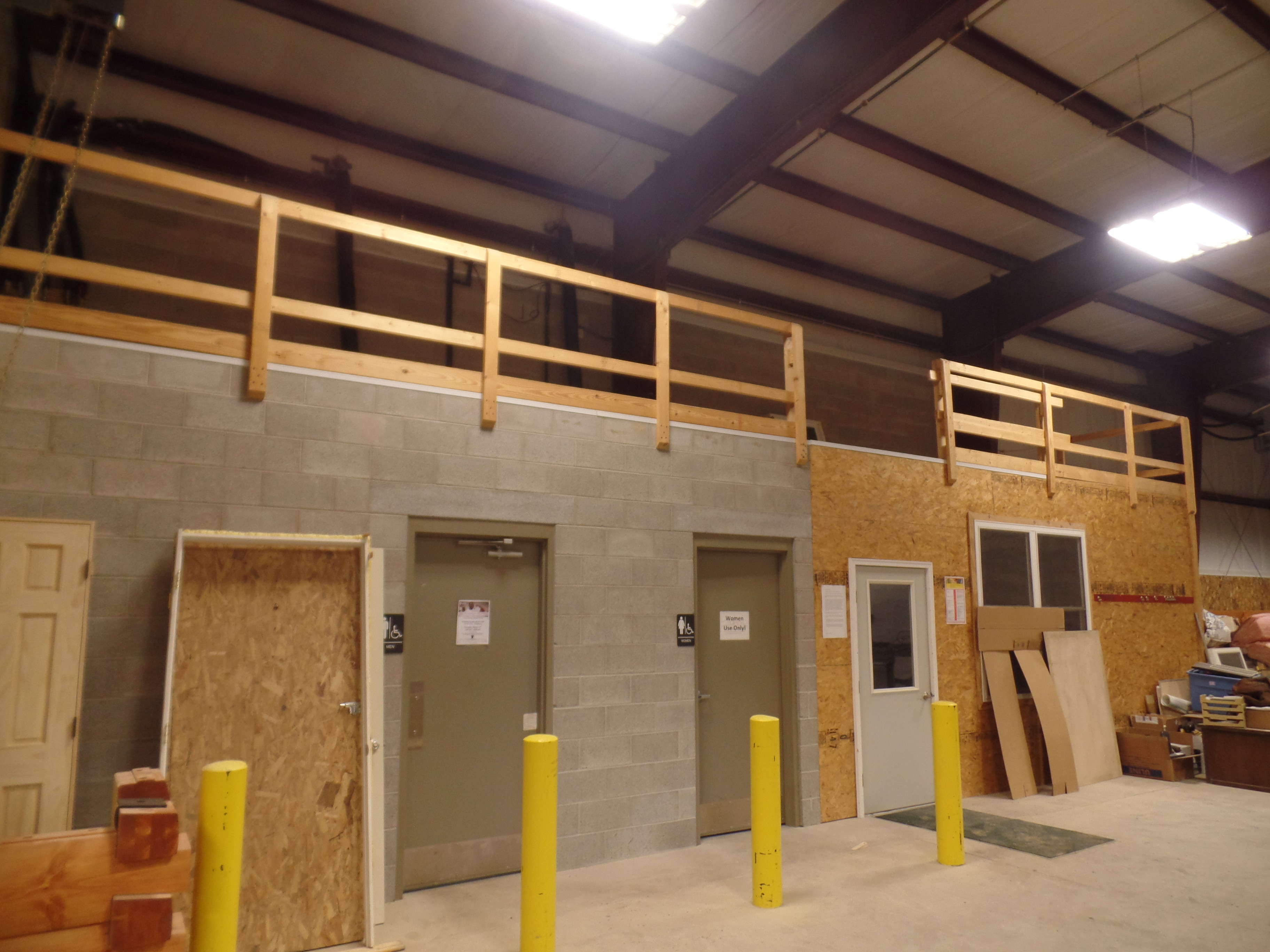 Last week we reported that we have settled in to our new home. But that statement needs to be clarified. The office staff has settled in. The guys in the shop still have much settling to do. They've been working hard and making great progress, but every day is a new challenge. In fact, walking around the facility this morning in an effort to capture updated photography, it was amazing to see the number of projects going on.
In the shop area, multiple interior offices are being constructed for the guys.
The current break area will soon be used for storage and a new lunch room will be constructed on the second level. (Below, left) The cutting heads for our 8-ton planer have been expertly organized for future use. We have quite a selection of them in order to accommodate our wide selection of profile options that includes more than a dozen distinctive profiles and six different sizes. (Below, right)
At the entrance to the manufacturing facility, a log and timber display is being erected. The display will showcase our engineered and traditional solid log materials, complete with loft and beam & purlin roof system. A wall of White Pine Tongue & Groove serves as a beautiful backdrop along with a Therma Tru door from the Classic Craft Rustic Series. It has Oil Rubbed Bronze Hinges, Round Clavos and Strap Hinges. Plus it is finished with a beautiful cedar stain.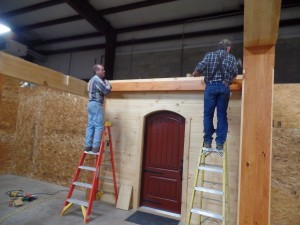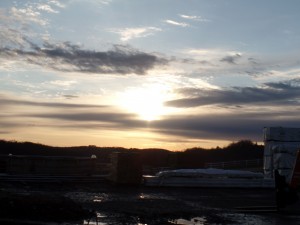 Although spring doesn't officially arrive until Sunday, Mother Nature has blessed us with a taste of unseasonably warm temperatures and sunshine. Check out our beautiful view of the sunrise this morning.
Thankfully the guys aren't distracted by the view. Instead they have taken full advantage of the favorable conditions it provides.
There are two sections of our exterior metal frame storage building that have yet to be erected. Footers have been prepared for these areas and the framework and roof will be established soon.
Logs, timbers, package components, displays, and miscellaneous supplies have been staged along the perimeter of our property. There really is stuff everywhere. But it's all good. The guys have been working hard to organize these materials, and they are making great progress!
To that end, the first load of material being shipped out from our new facility went out this week. How exciting!!! While there is so much going on here at Timberhaven, this delivery of material was the highlight of the week.
Kudos to everyone involved in planning and executing these well-laid plans. It's an incredible feeling seeing it come together so nicely….
https://timberhavenloghomes.com/wp-content/uploads/2016/03/SAM_5678.jpg
2736
3648
Bobbi Landis
https://timberhavenloghomes.com/wp-content/uploads/2017/07/timberhaven-logo.png
Bobbi Landis
2016-03-18 07:30:27
2017-07-31 08:44:37
Timberhaven's shop guys are making great progress…