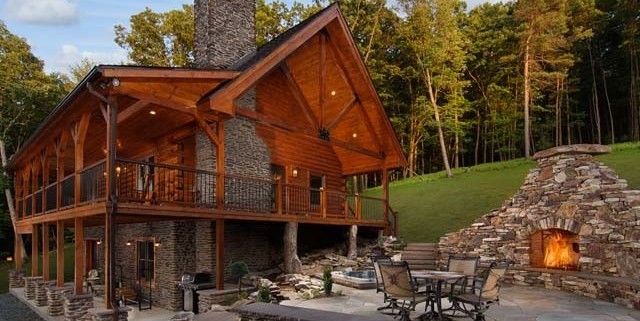 We are elated to unveil our NEW virtual tour of a milled log home, but first:
What is a milled log home? What does one look like?
There are many advantages to building a milled log home. If the uniform log look appeals to you, then that's the first of many benefits to consider. Milled log homes are our specialty, so let's breakdown the characteristics of this systems-built style.
What is a milled log home?
Milled log homes are built from uniform logs that are manufactured using a planer to achieve your desired shape and size.
Milled logs are builder friendly in nature as the logs stack perfectly atop one another. When your logs are additionally precut to their exact length for wall dimensions, door and window openings, rooflines, etc, the logs also butt-against one another in perfect alignment.
Because milled logs are manufactured, there's more control over the style. Timberhaven offers More than a dozen distinctive log profile options – you choose the size, shape AND corner assembly!
The kiln-dried benefits of a milled log home are HUGE!!!
–  Our premium-grade Kiln-Dried Engineered Logs are the driest logs available with an average 9% moisture content. There's virtually no checking plus these logs are longer and stronger than their air-dried counterparts. Engineered Logs offer the most refined appearance.
–  Our Kiln-Dried Traditional Solids Logs are dried to an average moisture content of 19%. They offer the same benefits as their Engineered Logs counterparts (i.e. no shrinking, warping and twisting). They feature a more rustic appearance.
Our milled log homes are manufactured from Eastern White Pine and graded and stamped with the Log & Timber Homes Council Certification for stress grades. Defective logs are graded out by trained inspectors, resulting in only the best kiln-dried logs for your milled log home.
Whether you choose our Premium Engineered Logs or Traditional Solid Logs, both are backed by a Lifetime Warranty against any manufacturing defects!
The benefits of building a milled log home are more than technical in nature. Aesthetically, the look is more refined and many folks innately prefer this style.
What does one look like?
We know, we get it…now you really want to SEE what a milled log home looks like, right? Well, you came to the right place. We are pleased to showcase one of Timberhaven's most popular log homes EVER via this brand-new virtual tour.
This modified Valley View features an abundance of wow-factor in a modest space. The one-and-a-half story home is built with Timberhaven's Premium-Grade, Kiln-Dried Engineered Logs. The logs are shaped in our beloved 6×8 D profile with traditional mortise & tenon corners. The log home features 1,331 sq ft, 3 bedrooms, 2 baths. It's rather easy to see why everyone loves this milled log home. Just click to check it out for yourself.
This log home was winner of the National Association of Home Builders' 2018 Log Home Design award for a log home less than 2,000 square feet. It was featured in Cabin Living magazine, Log Cabin Homes magazine, and was named a Readers' Favorite in Log & Timber Home Living magazine. Did we mention that everyone LOVES this log home? Check out this jaw-dropping weekend getaway today!
https://timberhavenloghomes.com/wp-content/uploads/2017/07/Bierman_Home-2943-Edit.jpg
427
640
Bobbi Landis
https://timberhavenloghomes.com/wp-content/uploads/2017/07/timberhaven-logo.png
Bobbi Landis
2021-03-09 14:38:51
2021-03-09 14:38:51
Milled Log Home: NEW Virtual Tour