New Model Log Home Under Construction in Hartsville, TN: Part 5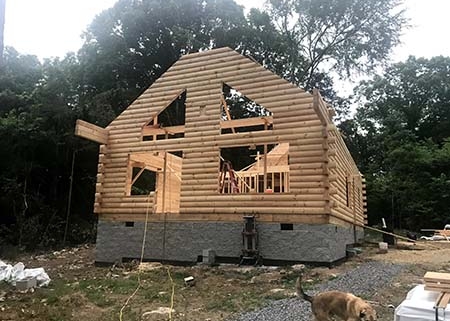 Mary and Philip Girton's new model log home under construction is starting to look like, well, a log house.  Their foundation has been set, their subfloor installed, and logs stacked to square.  Now it's time for interior wall framing, gable installation and roof framing – materials that are all part of the Girton's home package from Timberhaven.
The interior wall framing installation is typical of conventional construction – 2x lumber installed as studs and headers.  "We used our interior walls to hide ducts for our HVAC system and pipes for plumbing." Mary said.  "The walls will be finished with a combination of drywall and T&G."
A front porch is a staple with many of our log homes, and the Girton's model log home is no different.  In order to accommodate the roof for this spacious porch, load-bearing headers are installed. As you can see below, the length of these logs extends beyond the side of the house.  The porch roof will rest on these load-bearing members.
Let's talk about those gables…
Typically, Timberhaven provides a conventionally framed, log-sided gable end; but the Girton's chose to incorporate our Kiln-Dried Premium Grade Engineered Logs in these areas.  This is the same style log used in the first level of their home.  Because our logs are expertly kiln-dried to an average 19% moisture content (for Traditional Solid Logs) or an average 9% moisture content (for a premium-grade Engineered Logs), it's copacetic to stack logs in gable ends/full second-level areas of our log homes.  Some log manufacturers cannot offer this option.  Per Mary, "It was simply our preference to showcase solid logs in the gables since these areas are fully exposed in the loft (rear gable) and in the great room (front gable).  Plus the solid log option is very energy efficient which will help with heating and cooling costs."
As the Engineered Logs are stacked to form the gable ends, you can see how the pre-cutting process yields openings for standard or custom windows as well as the exact angles of the roof pitch.  Extra bracing is used during this construction process in order to protect the log stack from potential damage due to increased winds or other inclement weather conditions.
Once the interior walls and gables are installed, it's time to put the roof on.
The Girton's model log home is designed to feature Timberhaven's standard roof system: a 2×12 rafter roof.  The roof is conventionally framed with 2×12 rafters which will accommodate R-38 rolled insulation.  Every 4 ft, rafters are doubled up where a 6×8 collar tie is to be installed.  The collar ties are sandwiched between these rafters and secured with bolts.  Once finished, these collar ties will be exposed from inside the home, perfectly complementing the beautiful cathedral ceiling and White Pine log walls.  The construction of these specific areas looks like this.
Now that the interior walls, gable ends, and roof framing are in place, the builder is ready to install roof sheathing, windows and doors!  This home will be weather-tight soon…stay tuned.
To schedule a personal tour of this new model log home, call +1 (615) 374-7122 or visit online today gloghomes.com.
https://timberhavenloghomes.com/wp-content/uploads/2020/03/Girton-Part-5-Log-Gables-and-Porch-Headers.jpg
338
450
Bobbi Landis
https://timberhavenloghomes.com/wp-content/uploads/2017/07/timberhaven-logo.png
Bobbi Landis
2020-03-06 07:40:27
2020-03-04 08:40:58
New Model Log Home Under Construction in Hartsville, TN: Part 5