New Model Log Home, Hartsville, TN: Foundation – Part 2

According to Mary and Philip Girton, "Some people don't always enjoy seeing dirt being moved, footers being poured, or the foundation being set.  It doesn't feel like progress even though these are significant parts of building a home.  The foundation is key to the strength of your structure.  Here's how ours came together."
New Model Log Home, Hartsville, TN: Foundation
Timberhaven's log homes and timber frame homes can be built on any type of foundation.  Popular options include: crawlspace, concrete slab, concrete block, poured concrete walls, ICFs, to pre-cast walls (like Superior Walls).  These are all viable options and essentially the choice is yours (unless, of course, water tables or soil conditions restrict certain options).
Mary and Philip Girton's new model log home will be built in Hartsville, Tennessee – an area conducive for a crawlspace foundation which was the couple's ultimate preference.
The block walls of the crawlspace are erected on poured concrete footers.  The Girton's chose a block that features a split face – meaning the exterior face of the block is texturized.  The product is made to resemble a hand-chiseled effect yielding a nice, finished look.  Unlike typical exposed block walls, these blocks won't require a stone-veneer or other finish application.
Vents are built into the crawlspace.  These vents can be opened/closed based on the weather conditions throughout the year.  The columns in the center of this crawlspace will support the floor framing.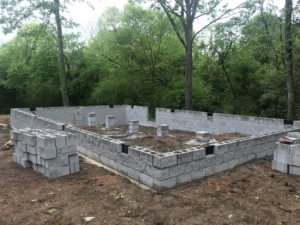 The materials used to prepare and set Mary and Philip's crawlspace foundation were not included in their home package from Timberhaven.  The same holds true for any log home or timber frame home package – the foundation is not included.  Timberhaven will, however, provide detailed foundation drawings customized per the specs of your dream home and foundation type.
Mary and Philip, along with their builder, work closely together regarding time frames so that once the foundation is complete, they are ready to take delivery of their materials packages.
New Model Log Home, Hartsville, TN: Materials Packages
Speaking of materials packages, all Timberhaven's materials packages start from the sill seal and go up from there.  So the seal, sill plate, girder beams, floor joists, perimeter box and sub floor (AdvanTech) you see being installed next – these items were included in the Girton's materials package and they'll be included in your package, too.
Mary and Philip's new 1.5 story model log home is nestled in a bend in the Cumberland River on a quiet, 5-acre wooded parcel which perfectly complements their log home.  We hope you will follow along as we document Hartsville, Tennessee's newest model log home. We also encourage you to SAVE THE DATE…
New Model Log Home: Grand Opening
SAVE THE DATE for the Girton's GRAND OPENING
Sunday, February 23, 2020 from 1 – 3 PM
Call for directions or to schedule a personal tour. +1 (615) 374-7122
https://timberhavenloghomes.com/wp-content/uploads/2020/02/Crawl-Space-Foundation-Sill-Plate-Model-Log-Home.jpg
937
1249
Bobbi Landis
https://timberhavenloghomes.com/wp-content/uploads/2017/07/timberhaven-logo.png
Bobbi Landis
2020-02-07 10:00:47
2020-02-07 10:00:47
New Model Log Home, Hartsville, TN: Foundation – Part 2