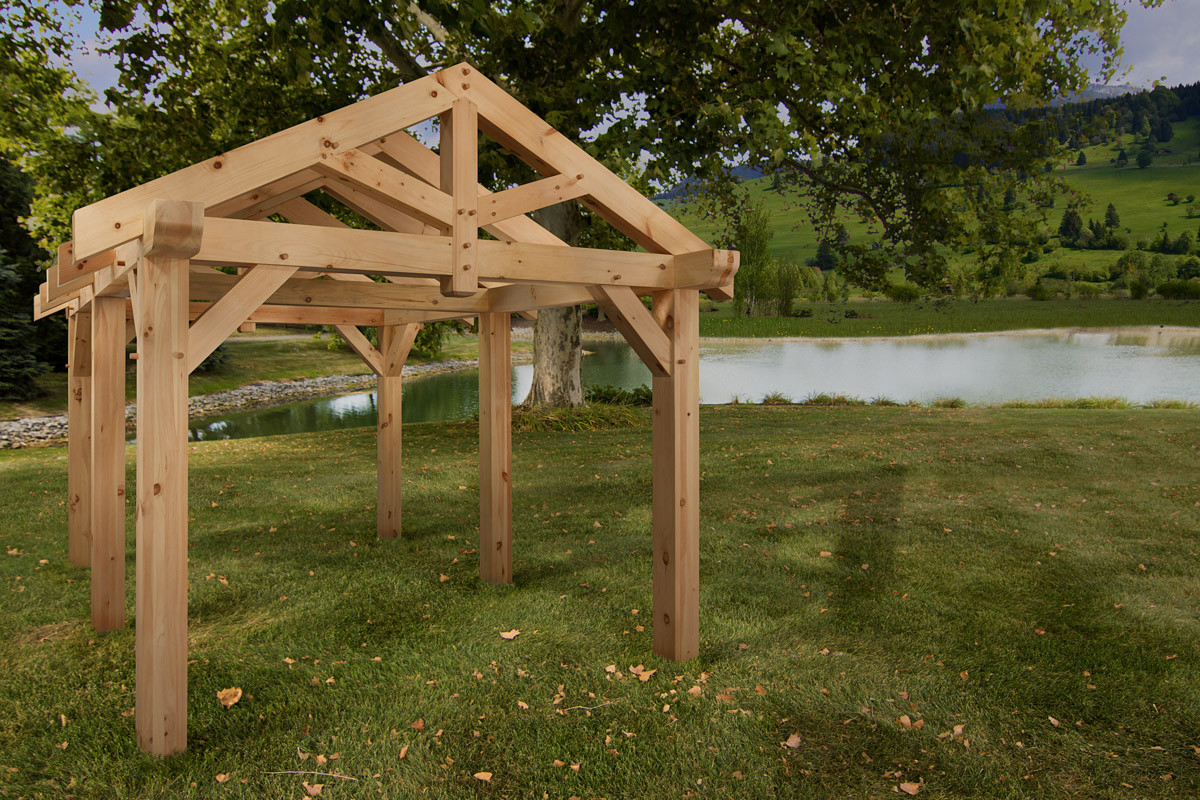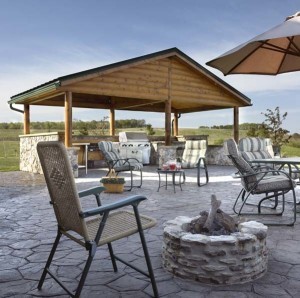 The log home lifestyle is about more than the coziness of your home – it is as much about taking in the refreshing beauty of the outdoors as it is about snuggling under a warm blanket by a fireplace.
With warm weather upon us and summer just around the corner, many are planning cookouts, anticipating family gatherings, or looking forward to a quiet evening around a campfire.  We can think of no better setting in which to do this than under your own outdoor wooden structure.
A structure can be a huge asset to your outdoor living space by not only adding visual appeal and symmetry but by increasing functionality and providing shelter during inclement weather.  When we think of complimentary outdoor structures, we are typically referring to pavilions, gazebos, and pergolas.
Outdoor Wooden Structures: Pavilions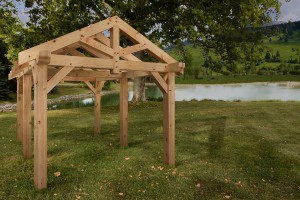 Often the largest of the three pavilions are designed for entertaining medium to large groups of people.  These structures have a standard roof and are supported by outer columns or posts, sort of like a small house with no walls.  Designs can be simple or ornate, ranging from brick columns and a shingle roof to elaborate timber framing and decorative metal roofing.  With virtually-limitless options inside, pavilions can house seating and dining areas, an outdoor kitchen, or a combination of all.
Outdoor Wooden Structures: Gazebos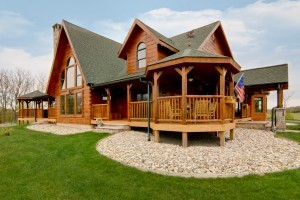 Although frequently seen in parks and gardens, gazebos are also used to break up the straight lines of a home by introducing a new shape to the landscape.  Octagonal in shape, gazebos are often meant to shelter smaller groups of people.  Typically constructed of outer beams supporting the roof structure, like pavilions, the design options can vary greatly depending on your taste and budget.  Inside, these structures offer a variety of options to fit your needs.  You can have perimeter seating to allow for an open floor space, add a central table for a large wrap-around booth environment, or they can be used to house an outdoor kitchen.  If desired, they can also simply be left open for a flexible gathering place or tied into additional outdoor living areas like this one.
Outdoor Wooden Structures: Pergolas
Dating as far back as ancient Egypt, these unique structures often conjure images of Tuscan vineyards or seaside verandas, but they are applicable for most any home.  What sets these apart from the other structures are their flat, open roofs.  Supported by large, outer columns, the roof of a pergola is open, joined together by beams and wooden cross sections to form an airy grid opening to the beautiful skies above.  This framework is sometimes used to allow vines and natural vegetation to grow over forming an earthy canopy, while other times perhaps a cloth is used to provide additional shade.  Some homeowners opt to simply leave the roof open to enjoy the natural beauty.  Beneath this unique framework, the space is yours to arrange and design as you see fit.  Tables and chairs, a beautiful outdoor kitchen, or perhaps even an enclosed fire pit can help to make this a perfect place to relax and entertain.
Outdoor Wooden Structures: We can make it happen!
Whatever your dreams may be for your outdoor living space, your Timberhaven sales rep along with the engineering and production staff can make it happen.  Our log and timber frame offerings can make any dream come true.  The only thing left for you to do is start dreaming.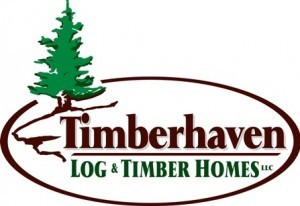 info@timberhavenloghomes.com
#855-306-5678
https://timberhavenloghomes.com/wp-content/uploads/2016/09/Pavilion-in-setting.jpg
427
640
Bobbi Landis
https://timberhavenloghomes.com/wp-content/uploads/2017/07/timberhaven-logo.png
Bobbi Landis
2017-05-26 07:33:57
2017-07-31 09:25:05
Outdoor Wooden Structures: Enjoy the Great Outdoors