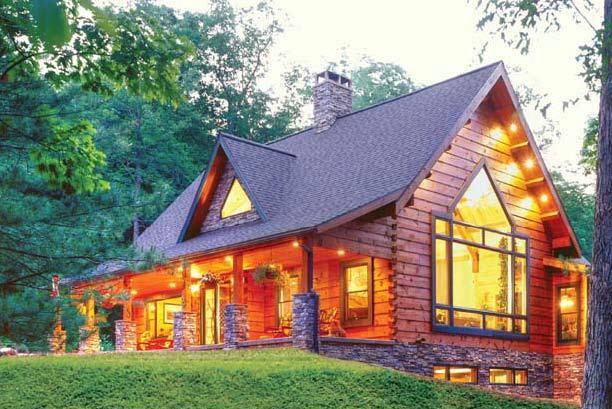 At Timberhaven Log Homes, we want you to be comprehensively prepared for every step of the log home process.  Most importantly, we want your project to be exactly what you want it to be – perfection.  When your log home is complete we want you to have no "buts."  I love my Timberhaven log home but…
To eliminate those buts, Timberhaven has professional staff and experienced local representatives in place to walk you through the log home process. Meet our team.

Previous Timberhaven customers can also serve as resources as their experiences have proven to be invaluable.  Jack and Bob, for instance, are acting as their own contractor.  They have taken great pride in their work and are enthralled with their overall log home experience.  The guys have gained a tremendous amount of knowledge and would like to share their experience with the other log home do-it-yourselfers out there.  Here's what they would like you to know…
PLANNING
First and most importantly – plan, plan, plan!  There is no such thing as over planning.  There may be some hiccups, but you will learn from them and will be able to keep moving forward.  Don't ever give up.  Remember: This is your dream log home.
HOMEWORK
Do your homework!  Meet with financial institutions (if needed) and check with the municipality you plan to build in to see if they will permit you to be your own builder.  We visited dozens of log home shows, construction workshops and the manufacturing facilities as well before we made our final decision.  The investment of time to learn and understand the process was so worth it.  We are so thankful we did our homework.
EXPERIENCE
Timberhaven has made assembly of their log packages as streamlined as possible, so experience isn't necessarily a "must" but it's definitely a huge plus having prior home construction knowledge/experience.  If you don't have experience or a construction background, lean on some savvy family members and friends.  You'll be surprised at the amount of help you get when you offer free food and cold drinks.
TIME and RESOURCES
Things sometimes seem to take longer than planned.  Make sure you have the time and energy to dedicate every spare moment to building your home.  Be sure to line up good help as mentioned earlier.  If you plan on hiring various subcontractors, talk to your local Timberhaven rep about which local builders have log home experience.  Do your homework and research – make certain you're hiring the right people.
GOOD and BAD DAYS
You will have to come to realization that you will have those occasional bad days when building your first log home.  You might feel frustrated, but don't!  It will all come together in the end. 
IT'S SO WORTH IT
Building your dream log home is no small feat; rest assured it will be an experience of a lifetime.  It seems as though since we have had the opportunity to build the home ourselves (versus having hired a contractor) it has given us a greater feeling of accomplishment and a stronger connection to the house.  We can't wait to live here and could not be happier with our decision to build this log home!
Many thanks to Jack and Bob for sharing this insight.  Next week we'll take another look at their progress.  The guys are working on final trim applications and that conventionally framed shed dormer.  Stay tuned.
https://timberhavenloghomes.com/wp-content/uploads/2017/07/photo-2.jpg
409
612
Bobbi Landis
https://timberhavenloghomes.com/wp-content/uploads/2017/07/timberhaven-logo.png
Bobbi Landis
2014-09-12 10:01:53
2017-07-31 10:21:23
Planning: Log Home Construction – Part 10