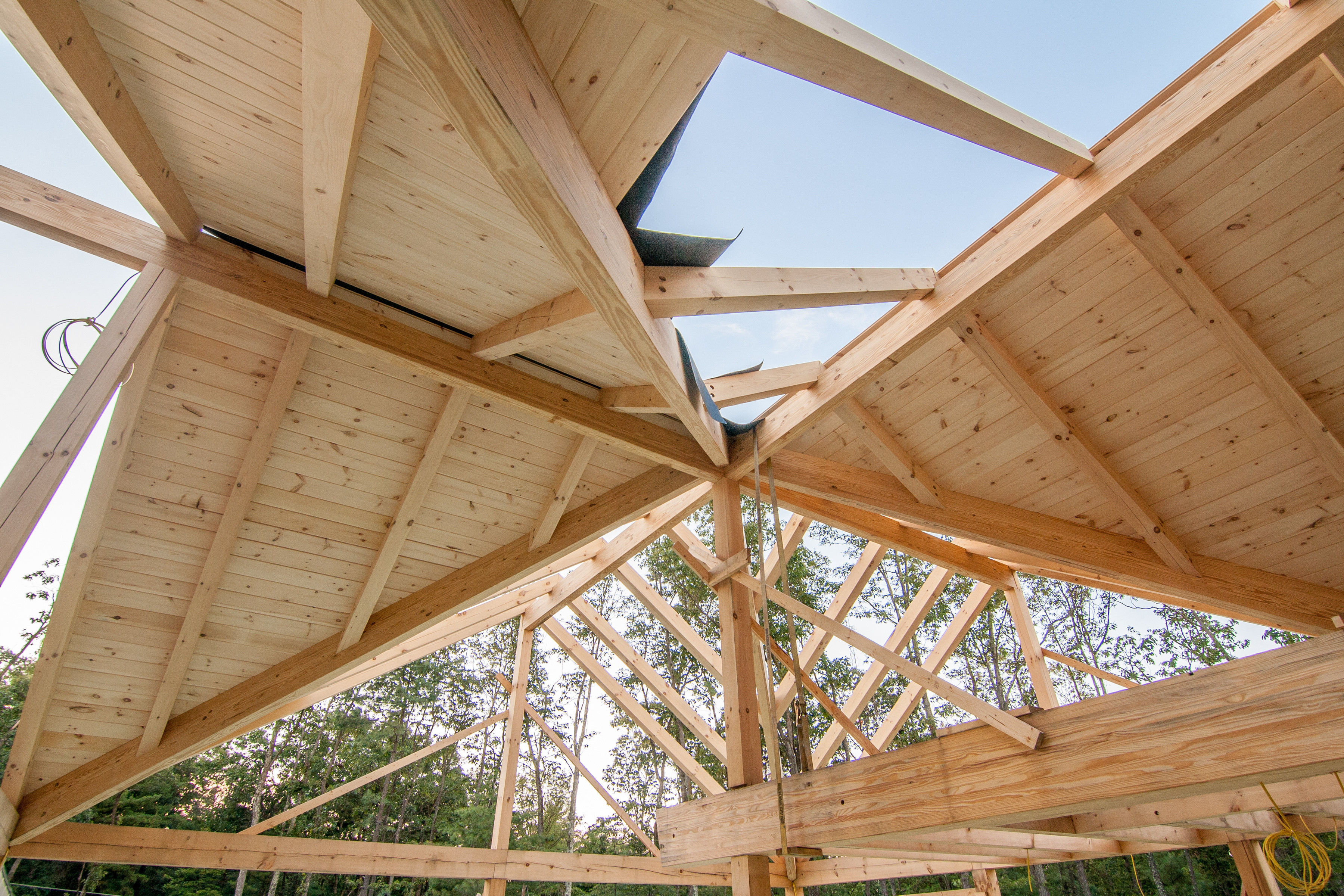 The setting for this lovely post and beam home is on a mountain top in Central Pennsylvania. The construction site is not far from Timberhaven's headquarters; hence we visit the jobsite just about every day. When post and beam homes and log homes are "in your blood," it's what you do to witness the erection of a custom built home. It is a process that is like no other and definitely one you don't want to miss.  Even for seasoned log experts, the process never gets stale. Let's take a look at what the post and beam crew has been up to this week.
Post and Beam Homes: Ceiling Prep Work
We encourage our homeowners to give advanced thought as to how they want to finish their heavy timber roofing members and tongue and groove ceiling. For example, some homeowners want contrasting coloration. In those instances, it is best to apply the stain to the heavy timbers before your tongue and groove is set.  Even if you aren't notorious for coloring outside the lines, staining these components before they have been assembled is a wise choice.
Here are two examples of contrasting ceiling members: One illustrates dark walnut colored beams with a lighter stained tongue and groove finish. The other represents stained beams with a natural tongue and groove finish.
The reverse of contrasting ceiling components is maintaining the natural coloration of the exposed heavy timbers and the tongue and groove. That is precisely how the homeowner of this particular post and beam home will finish their ceiling. Once constructed, all the builder has to do is spray polyurethane.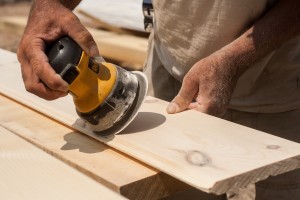 No matter how you plan to finish your ceiling, sanding and staining are simpler tasks to complete while on the ground working from a sawhorse versus working off of scaffolding. Do your prep work! Give thought to what elements you envision including on your interior ceiling finish. Click for additional design ideas.
Post and Beam Homes: Interior Ceiling Finish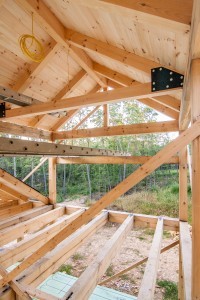 Last week we examined the construction of two separate – and very different – roof systems of this one-of-a-kind post and beam home. The next step is to nail the freshly sanded 1" x 8" tongue and groove boards to the heavy timbers. This tongue and groove is the first layer of roofing material being applied to the structural frame so it serves as the interior ceiling finish. Wow – it sure is beautiful!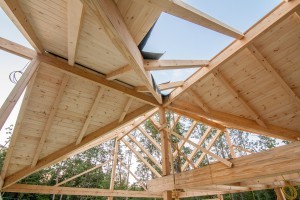 After the ceiling is laid on both of the roof areas, #15 felt paper is applied to the tongue and groove. Until the remainder of the roof is constructed, this felt paper provides a layer of protection from nature's elements thus maintaining the true beauty of the tongue and groove.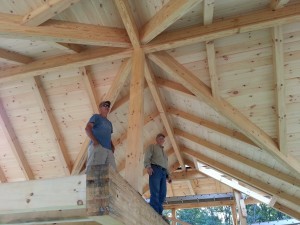 As each phase of construction is completed, we get a better glimpse of what this home is going to look like when it's finalized. Remember the focal point we referenced last week? Well, here's a better look at it.  This ceiling is really unlike any other. Even the builders are in awe…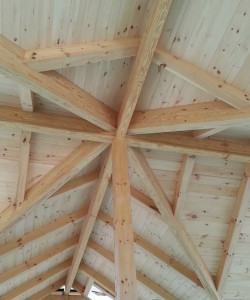 If you think we're a little excited about this project, you're right! We do what we do because it's our passion….and we absolutely love assisting post and beam and log home customers in realizing their dreams. We welcome the opportunity to discuss your own personal dream home.  Call or visit us online to get started!
Toll-free: 855-306-5678  www.timberhavenloghomes.com
https://timberhavenloghomes.com/wp-content/uploads/2014/10/TLH_Timberframe-0030.jpg
2400
3600
Bobbi Landis
https://timberhavenloghomes.com/wp-content/uploads/2017/07/timberhaven-logo.png
Bobbi Landis
2014-10-24 09:39:03
2017-07-31 10:06:52
Post and Beam Homes: Under Construction – Part 5