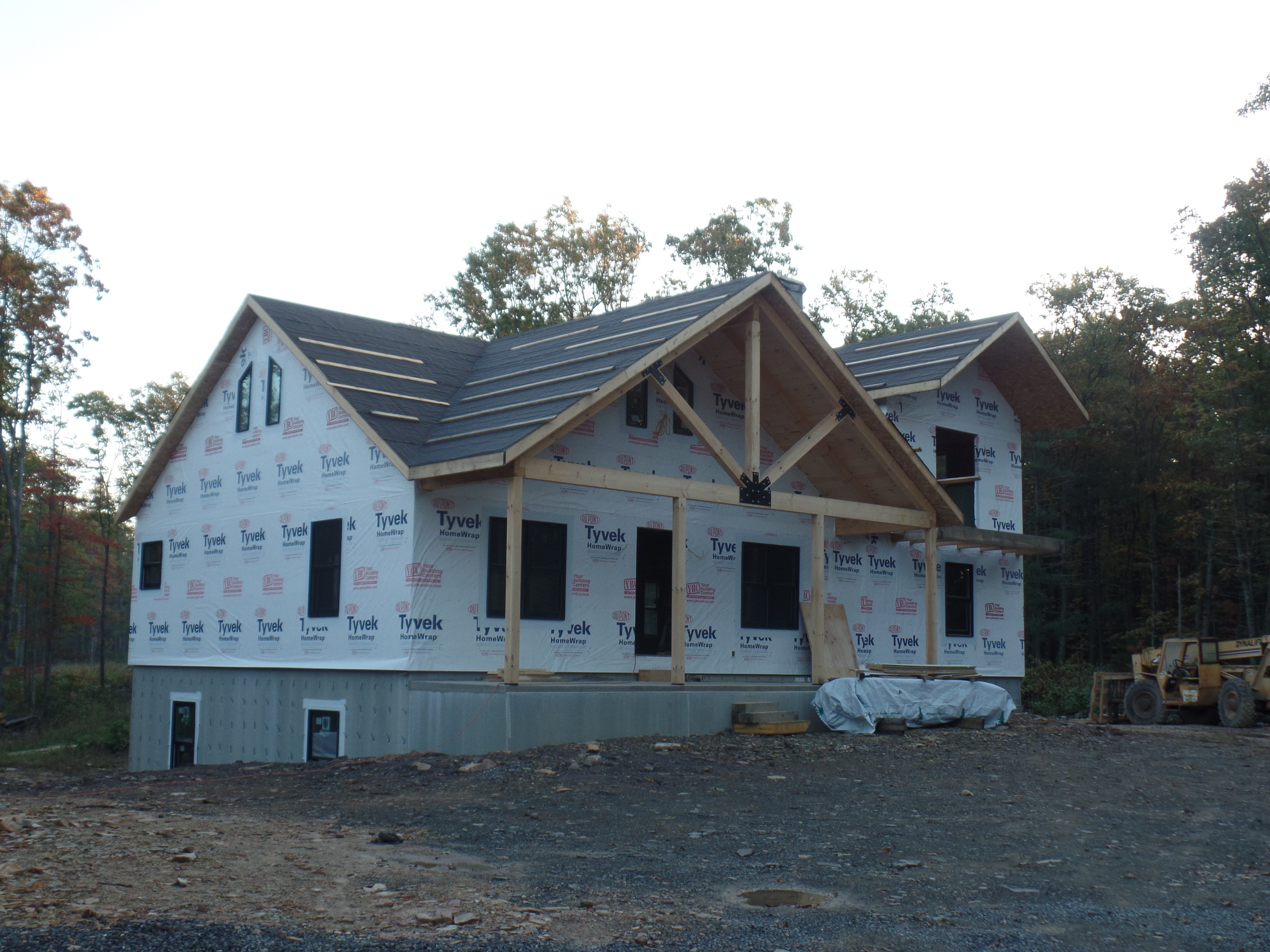 The last time we visited our post and beam wood home, wow factors were being constructed: the heavy timbered post and beam porch and the massive, centrally located fireplace. Whether simply pulling into the drive or walking through the front door, it will not be possible to overlook these elements.
Next up with this custom project is window installation. Albeit the windows have potential for being overlooked on occasion, they are a critical component to the home's efficiency. The winters in Central Pennsylvania can be long and hard, so the builder's next step is to get this post and beam wood home buttoned up before inclement conditions set in.
Timberhaven goes the extra mile to assure your logs and timbers are top quality, and we firmly believe the additional components of your dream home should be on par. Hence only name-brand components are standard with every log home or post and beam wood home package. In regards to windows and doors, our repertoire includes Andersen 200 Series or Andersen 400 Series or Weather Shield Windows and Therma-Tru Doors.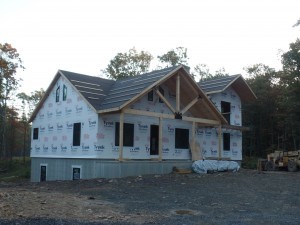 As you can see, the windows and doors have now been installed. This homeowner chose black windows which will complement the black metal roof nicely. The main door on the rear side of the home was intentionally not installed so that the builder and his crew can enter and exit without impediment and there's no risk in damaging the door as materials are transferred in and out.
A synthetic wrap is also installed on the home. This wrap provides a water barrier between the outer cladding of the structure and the SIPs. It allows water vapor to pass but restricts air infiltration. This is another very important element in maintaining the energy efficiency of the home.
Post and Beam Wood Home: Speaking of energy efficiency….
The concept of modern hydronic in-floor heating systems didn't exist when the post and beam construction style was initiated centuries ago. However, few homes go without such amenities today. This post and beam wood home falls into that category.
As you can see here, the PEX (cross-linked PolyEthylene) tubing is being laid in the grooves of the Warmboard sub-floor. Through a separate heating unit that will be installed for this system, heated water will flow through the PEX tubing keeping the floors a consistent, desired temperature.
Even though at this point the home is virtually weather-tight, there is still a lot of work to be finalized. The next items on the project to-do list consist of installing the stairs, roughing in plumbing and electrical, and framing the interior basement walls. While these projects progress on the interior of the home, additional crews get to work on installing the final exterior applications – the roof, siding, and stone. This custom post and beam wood home is coming together nicely, and we can't wait to show you more next week.
https://timberhavenloghomes.com/wp-content/uploads/2014/12/SAM_1231.jpg
2736
3648
Bobbi Landis
https://timberhavenloghomes.com/wp-content/uploads/2017/07/timberhaven-logo.png
Bobbi Landis
2014-12-05 12:52:28
2017-08-03 02:13:04
Post and Beam Wood Home – Under Construction: Part 10