Post and Beam – Under Construction: Part 13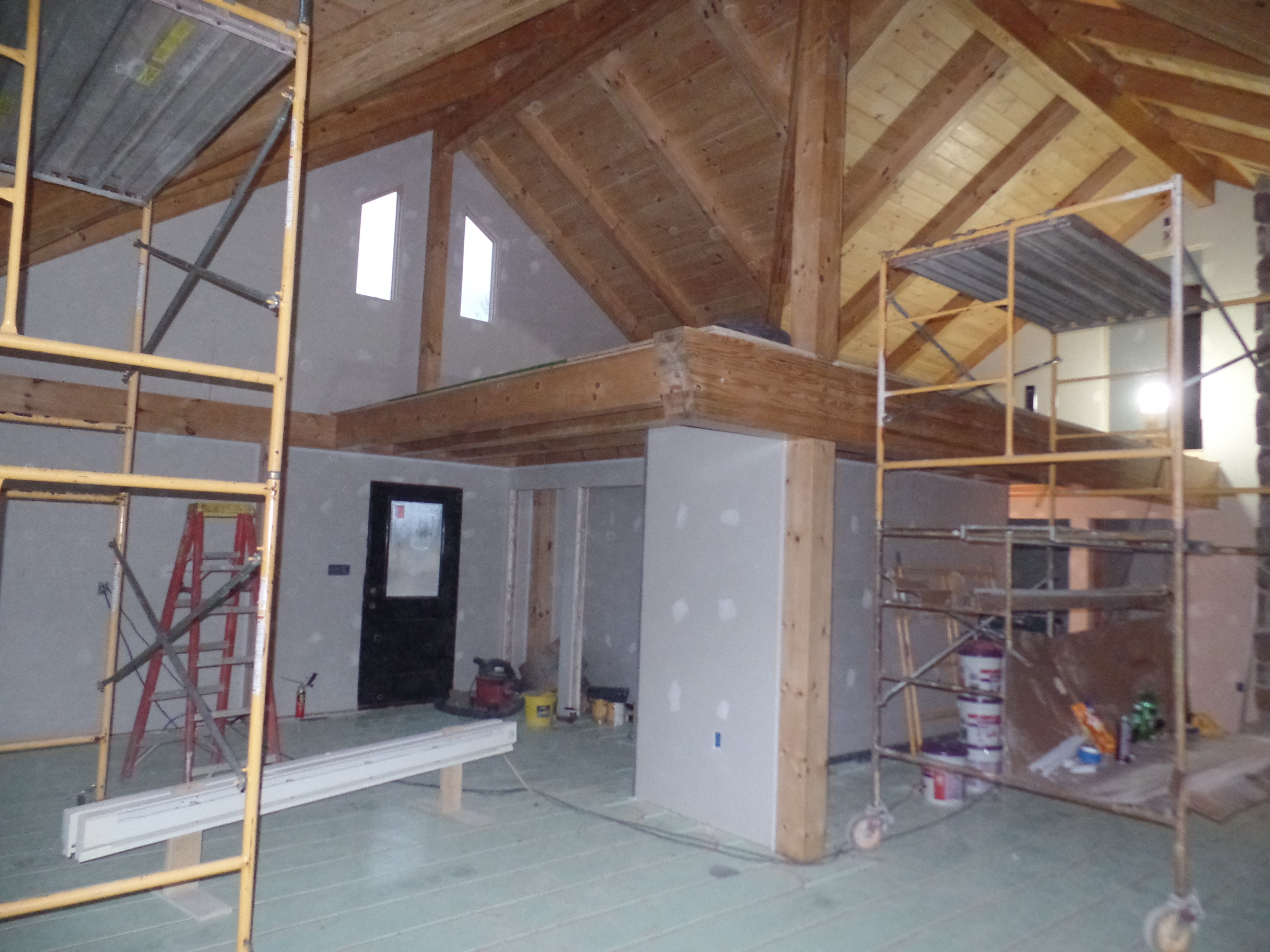 Happy New Year! We hope yours is off to a splendid start. We came across a recent study that reported nearly half of Americans will make a New Year's Resolution but only 8% will actually be successful in achieving their goal. Among the Top 10 list of popular resolutions is helping others in their dreams. This particular resolution resonates with us as our primary goal is to do just that…help YOU realize your dreams.
In 2015 the post and beam project we've been documenting will come to an end and one jubilant couple will learn to live life to its fullest in their new post and beam dream home. Construction crews continue to make progress on the interior of the home, so let's take a look at what they have accomplished.
Post and Beam: Drywall Installation
While not long ago, this space appeared as posts and beams – a skeleton of the structure. Now it is taking shape into a beautiful custom home. With the installation of drywall, the rooms are coming to life and are dimensional, and the unique architectural characteristics of the home are emphasized.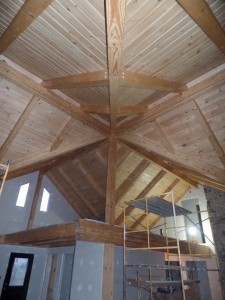 This floor plan design defines "wide open." When you walk through the front door and see the space between the great room/kitchen and the 2nd floor loft…it is absolutely breathtaking. And that ceiling…we still cannot get enough of it.
While other final wall coverings options include tongue and groove, stone, etc; at this homeowners' discretion, drywall is being used as the interior wall finish throughout the entire home.
Post and Beam: Master Suite Progression
The master bedroom suite undoubtedly will prove to be a safe haven for the homeowner. Amenities included in this retreat are the lovely cathedral rafter roof, sliding doors which lead to a private cantilevered balcony, a Jacuzzi jetted tub, and a shower surround with built-in seat which has most recently been installed. Nice!
Ceramic tile walk-in showers are popular choices among Timberhaven customers, but an all-in-one unit like this one is also a popular selection.
Post and Beam: Look at that fireplace!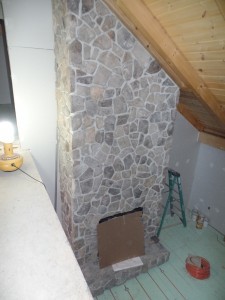 And finally….the massive stone fireplace is finished. Talk about a focal point. Wow! As you learned a few weeks ago, stone for the exterior foundation walls and front porch was procured from the homeowners' property in Central PA. Crews used the same local stone on this fireplace. Notice the use of light (almost white) mortar in this final application? It creates a completely different look than the final application on the exterior of the home. The completed look coincides nicely with the wide-open feel the homeowners are successfully achieving.
From the loft, you have an up-close and personal look at the one-of-a-kind roof and the custom hearth below. Do you think there's a better seat in the house?
https://timberhavenloghomes.com/wp-content/uploads/2015/01/SAM_2129.jpg
2736
3648
Bobbi Landis
https://timberhavenloghomes.com/wp-content/uploads/2017/07/timberhaven-logo.png
Bobbi Landis
2015-01-09 10:42:00
2017-08-02 23:39:08
Post and Beam – Under Construction: Part 13