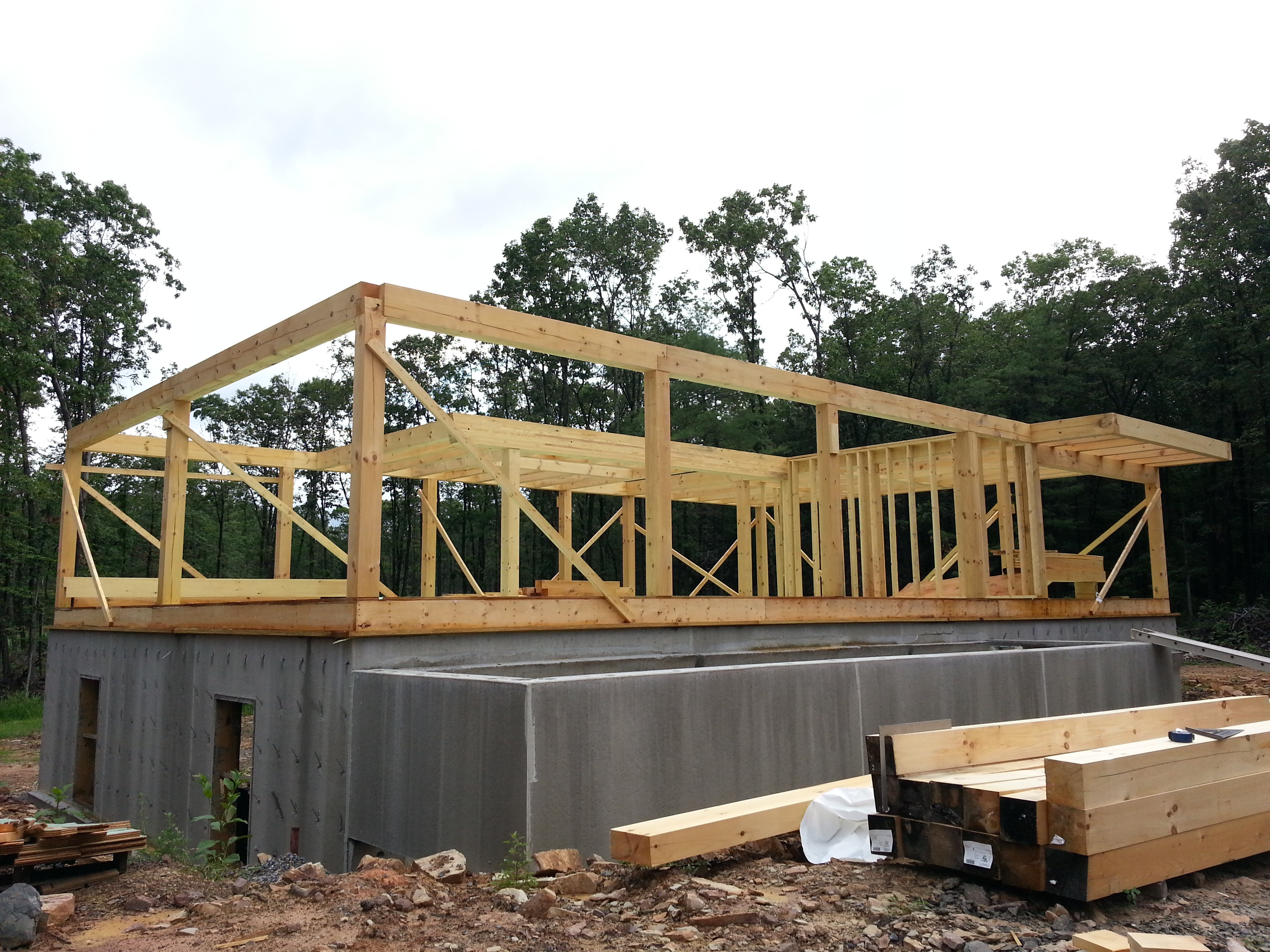 Log homes and post and beam projects are as unique as the homeowners who occupy the space.  If you envision your dream home having characteristics like no other, then check out our latest project.
Post and Beam Construction – Foundation
Similarly to a log home, a post and beam home can be constructed on any type of foundation: poured walls, insulated concrete forms (ICF), concrete block or pre-cast walls.  This particular post and beam home is constructed on pre-cast walls by Superior Walls.
The type of foundation used for your dream post and beam home is contingent upon your personal preference, and ultimately the decision is yours to make.  Timberhaven Log Homes will produce a set of detailed foundation plans for your contractor once your decision is finalized, but we encourage you to investigate soil bearing conditions, slope of the building lot, and state/local regulations before you make final arrangements.
Post and Beam Construction – Sub-floor
Here you can see the sub-floor has been constructed and the floor joists are in place.  In Timberhaven's standard package, sheathing (either OSB, plywood, or Advantech) is supplied.  For this particular project, the customer chose in-floor radiant heating – Warmboard specifically – so that application is being applied here instead of the standard sheathing.
Post and Beam Construction – The frame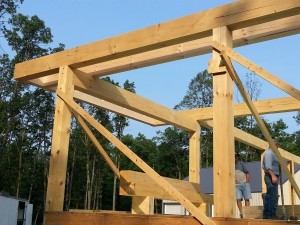 The kiln-dried White Pine heavy timbers make a beautiful frame.  The posts and beams are coming together very nicely.
Last week we talked about the joinery of these posts and beams – first with compound cuts and then lags.  If you're new to the blog and would like to review those specifics, click here.
In addition to the large posts and beams, you can see that 2" x 4"s are nailed to the posts for temporary bracing purposes during these beginning phases of construction.
We mentioned compound cuts…the construction team is putting a large circular saw to work here.  There's not much use for the little one that is put to the side for this heavy timber project. Looks like fun.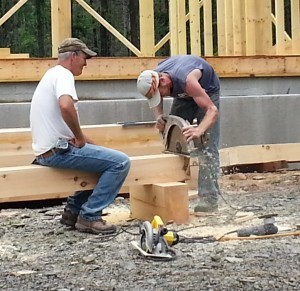 Post and Beam Construction – Customization
As with a Timberhaven log home, a post and beam project does not have to be a standard cookie-cutter home with four generic walls and a roof.  Let's take a look at this cantilever, for example.
A cantilever is a long projecting beam(s) fixed only at one end.  The cantilever constructed here will support a 2nd level balcony.  Check out the length of those beams in the photo to the left.  Wow!
Once this cantilever is fully constructed, it will look like this.
Post and Beam Construction – First floor framing
Here the first level post and beam frame has been fully constructed.  You will also see in the photo to the right, the loft joists are in place.  Their job is to support the second floor.  See the opening in the middle of that photo?  That's for the stairs.
Check back next week…
With multiple compound cuts, it takes great skill and patience to erect a post and beam frame.  Thankfully, this crew is up to the challenge and the project is certainly off to a fantastic start.
Check back next week as we take a closer look at glu-lam placement and watch assembly of the second floor framework.  This is very exciting!
https://timberhavenloghomes.com/wp-content/uploads/2014/10/20140728_091753.jpg
2448
3264
Bobbi Landis
https://timberhavenloghomes.com/wp-content/uploads/2017/07/timberhaven-logo.png
Bobbi Landis
2014-10-03 11:11:35
2017-08-03 02:14:53
Post and Beam Construction – Part 2