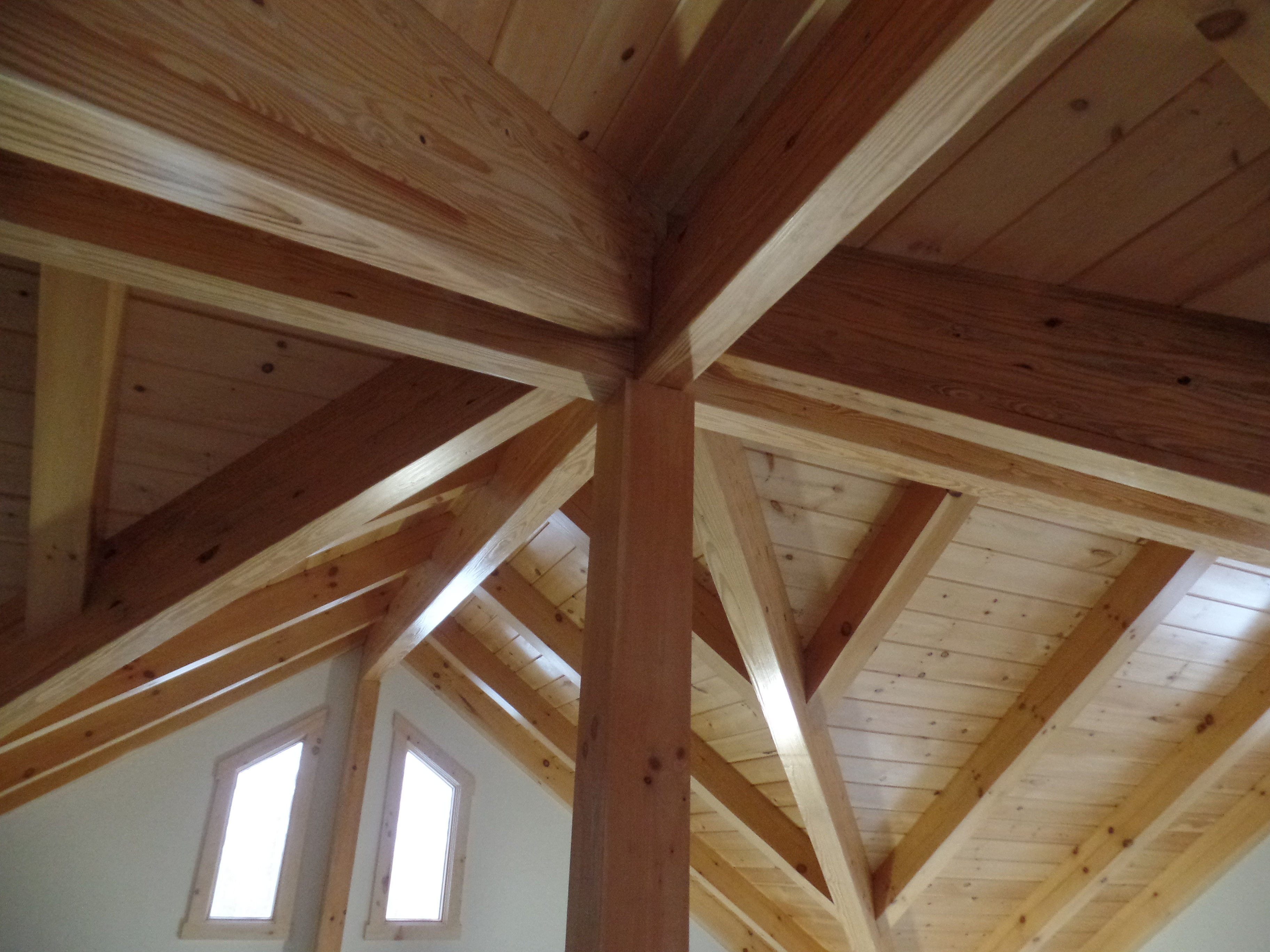 At the bottom of the mountain road that leads to Timberhaven's post and beam project, there is a "No Winter Maintenance" sign. Over the past few weeks that sign gave its fair warning to the condition of the untreated path to paradise. This week, for the first time in nearly two months, non-4-wheel drive vehicles were able to access the job site after the ice and snow have been cleared naturally by the sun and warmer temperatures.  Whohoo!
This winter has been long and hard in Central Pennsylvania – not like the scenario is any different for you – but we are thankful (let me repeat that….VERY THANKFUL) today is the first day of spring.  It's a great day and we couldn't be more enthusiastic for the many homeowners who will realize their lifelong dream homes in 2015.
Post and Beam Home – Interior Finishes
Atop the list of exciting projects is this post and beam home which will soon come to fruition. Let's take a look at the progress that has been made over the winter months.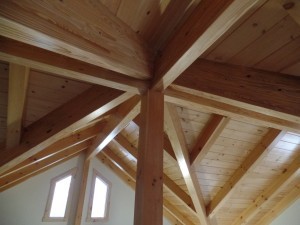 From the outside you won't recognize this home as a post and beam structure because of various exterior finishes like vinyl siding and stone.  However, when you walk in the front door there will be no denying what this home is made of.  White Pine. Heavy timbers. Natural posts and beams.  Wow!
As you can see, these posts & beams and tongue & groove have been treated with polyurethane.  This sealer protects the wood, allowing its natural beauty to reflect the light gleaming through the walls of glass.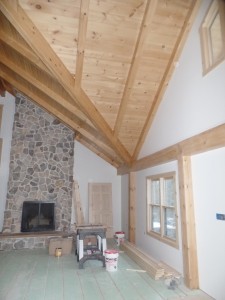 After the drywall is installed, joints are covered with premixed joint compound (better known as "mud") and sanded to ensure the walls are perfectly smooth and no seams exist.  Paint is next.
Chances are you experienced an overwhelming feeling of confusion the last time you looked at color options in the paint department at your local hardware store. Thankfully the final decision on color for this post and beam home's interior walls was rather simple: white.  In all actuality, the final outcome could be best described as simple elegance. There are such beautiful contrasting elements between the natural coloration of the White Pine heavy timbers and the white walls. We love it.
Post and Beam Home – Flooring
Hardwood flooring made out of 3 ½" planks of solid Hickory was installed in the bedrooms, hallways, and loft.  This flooring option complements the style of the remainder of the home very well.  This flooring option also solidifies the fact that this home was built to withstand the test of time.
 Post and Beam Home – Interior Doors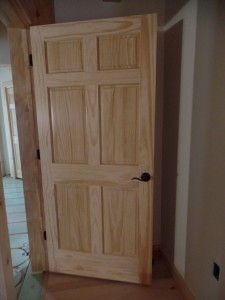 Next, solid-wood, raised-panel doors with Schlage hardware were installed throughout the home.  These materials (quality doors and name-brand hardware) are included as standard components in your Timberhaven post and beam or log home package.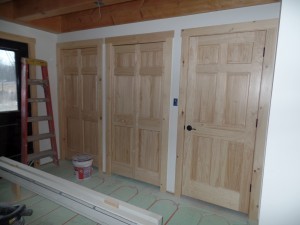 Post and Beam Home – Loft Railing
Lastly, additional standard package materials were installed upstairs.  These items include the loft rail materials – White Pine posts, railings and balusters.  This post and beam loft is perfect for creating additional useful space in any home.  Whether it's relaxing to read a book or watching the game with friends and family, everyone will want to hangout in this space.  Can't say we blame them.
https://timberhavenloghomes.com/wp-content/uploads/2015/03/SAM_2771.jpg
2736
3648
Bobbi Landis
https://timberhavenloghomes.com/wp-content/uploads/2017/07/timberhaven-logo.png
Bobbi Landis
2015-03-20 07:59:24
2017-07-31 09:16:08
Post and Beam Home – Interior Finishes