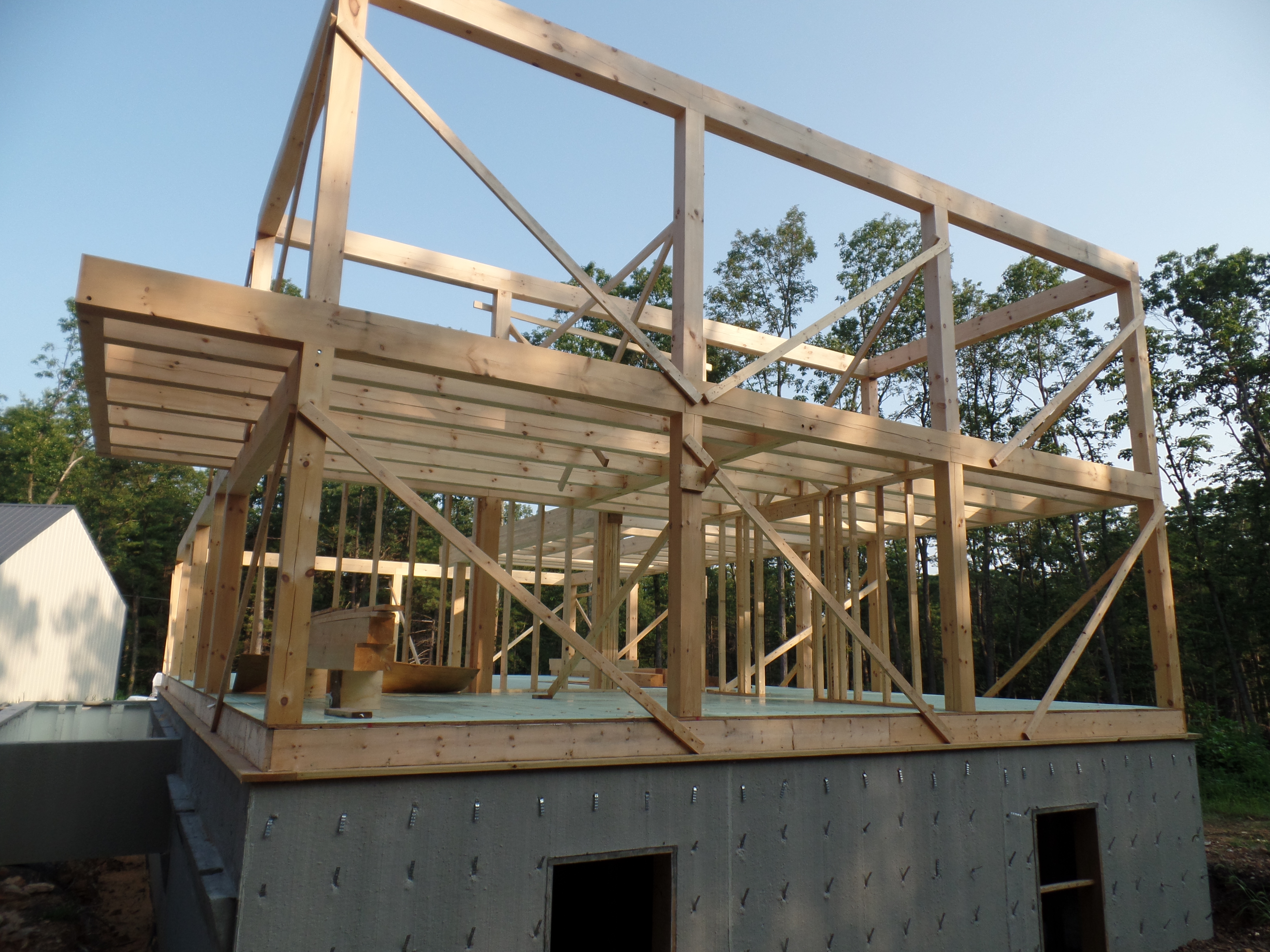 As I watch construction of this post and beam home, I can't help but think about the toothpick and marshmallow sculptures I assembled as a child.  The combination of the two materials provided a means to assemble a sculpture that was original and complex…ultimately, it was exactly what I had intended it to be.
Post and beam homes are just that…exactly what the homeowner wants it to be.  Timberhaven will work with you to design a home that accommodates your mile-long list of must-haves and will supply the highest quality materials with which to build.  While these custom homes are our passion, we encourage you to not just take our word.  See for yourself as the dream home for this lucky couple starts to take shape.
Post and Beam Home: Interior Walls…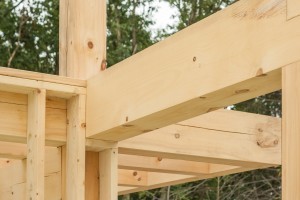 Before the contractor starts to assemble the second floor framework, he conventionally constructs what few interior walls are designed in this post and beam home.  First the builder will construct these "beam pockets."  Beam pockets are designed to receive the horizontal members of the home's framework.  It is the perfect joinery between post and beam and conventional construction.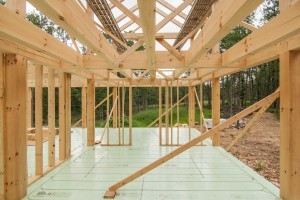 The interior walls look like this once they are framed successfully.  The two bedrooms on the first level that occupy the right side of the home are the only rooms on this level flanked by the conventional walls.  The remainder of this post and beam design is wide open, a common theme amongst post and beam and log homes alike.
Post and Beam Home: Wide open spaces…
Speaking of "wide open" spaces…in order to achieve this effect and provide ultimate structurally sound support for the second level, Timberhaven utilizes an oversized glu-lam beam.  If you're not familiar with the term, allow us explain.  A glu-lam is a manufactured product comprising of layers of dimensional lumber bonded together to create a single timber that is superiorly strong.  The glu-lam can be used as a vertical post or a horizontal member (as in the case of this post and beam home) and is massive in size and weight.   We think you'll agree – check out the size of this glu-lam below.  The actual length and thickness of each glu-lam varies from project to project and is contingent upon the span of the home, roof pitch, snow and wind loads, etc.  If your post and beam home requires a glu-lam, Timberhaven will supply this member in your package.
On the back side of this beam, the 6" x 12" loft joists are notched into the glu-lam with a Mortise and Tenon joint.  The joinery creates an indestructible frame yet is simplistically beautiful.
Post and Beam Home: Moving on up…
The second level framework for this post and beam home is currently being constructed as you can see in the photos below. The area to the right will contain the master bedroom suite complete with a fireplace, garden tub and walk-in shower, his and hers vanity, and a large walk-in closet with laundry chute.  This post and beam home may have an old world charm, but it incorporates the greatest of modern-day amenities.  It's going to be a sweet suite!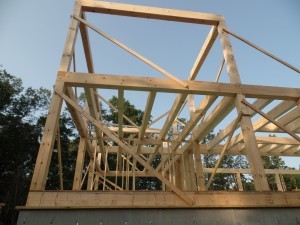 If this post and beam home has piqued your interest and you'd like to see how the finished product comes together, subscribe to the blog in the box to the right.  You'll be the first to see the next phases of construction. You won't want to miss it.
https://timberhavenloghomes.com/wp-content/uploads/2014/10/SAM_0137.jpg
3456
4608
Bobbi Landis
https://timberhavenloghomes.com/wp-content/uploads/2017/07/timberhaven-logo.png
Bobbi Landis
2014-10-10 09:57:01
2017-07-31 10:14:10
Post and Beam Home Construction: Part 3