Under Construction: Protect Your Log Home Investment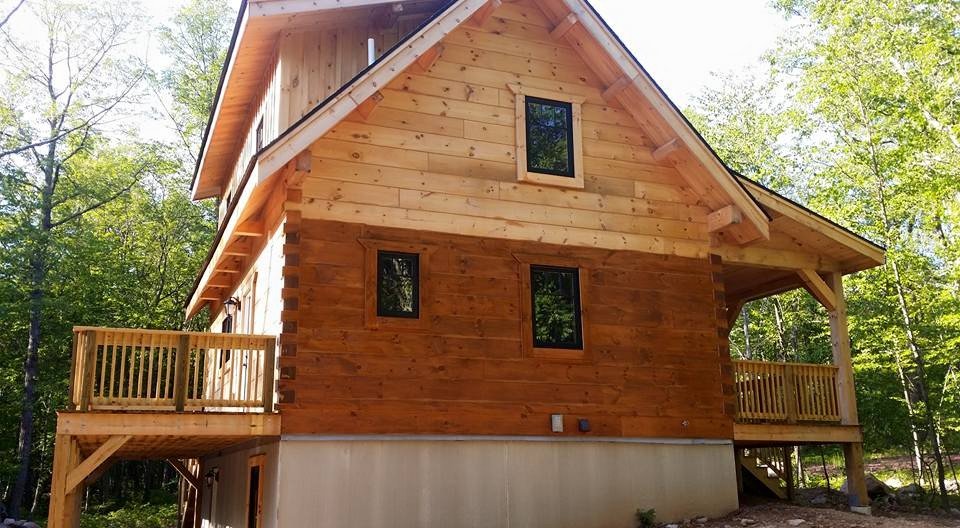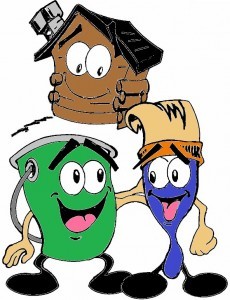 "An ounce of prevention is worth a pound of cure!" Those are the words of our Corporate Sales Manager, Brad Mercer.  He makes this statement when discussing exterior preventative treatments with his log home clients. In short, he means protect your log home investment. Similarly to your automobile requiring an oil change and tire rotation, the exterior of your log home will need preventative care.  Let's take a closer look at these details.
First, Timberhaven will supply CTA's Outlast Q8 Log Oil as a standard component in your Timberhaven log home package.  We will carefully calculate how much Outlast Q8 you will need for the initial application and the product will be delivered directly to your job site.
There is a wide variety of colorants available that can be added to the Outlast Q8. Here are some examples (left).  Additionally, "pre-mixed" Outlast Q8 is available in selected colors (right). Your local representative can show you a more accurate color chart of available options.   
The Outlast Q8 is an oil-based, one-coat application process. It is our recommendation that your log home be treated within 90 days of weather-tight construction completion. If your home is being built throughout the winter, you will want to wait until spring when the temperatures are steadily greater than 55 degrees.
That's what Jack and Bob did.  The DIYers waited for perfect weather to apply the Q8 to their log home.  They carefully followed additional recommendations to (1) commence treatment at the first log row, (2) work from side to side then (3) move on to the second log row and so on.  Most builders and DIYers use a pump-up garden sprayer for this application, or it can be applied by brush as well.
Because the logs of this new home are completely bare, they will greatly absorb the product during this initial treatment. Thus it is best to heavily apply the Oil to the point of saturation – your logs will thank you.
Using Light Pecan Oil, Jack and Bob repeat these steps until every wall, soffit, window and door trim, and porch ceiling have been treated.  The finished application looks like this.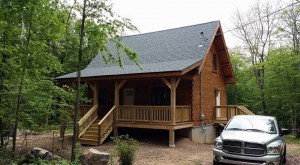 Long term, CTA Products Group recommends to repeat the Q8 application in 1-2 years after this initial treatment and then 5-7 years after that. To determine whether or not the treatment should be reapplied, throw a bucket of water onto the side of the wall. If the water beads up, then the Oil is still protecting the logs. If the water does not bead and the log color becomes darker due to absorption, then it's time to retreat.
For now, though, Jack and Bob still have to address their untreated porch/deck areas and the exposed foundation wall. Next week we will show you how they distinctively finished these areas.
https://timberhavenloghomes.com/wp-content/uploads/2015/10/11000826_699986873462748_7333409946651620629_n.jpg
528
960
Bobbi Landis
https://timberhavenloghomes.com/wp-content/uploads/2017/07/timberhaven-logo.png
Bobbi Landis
2015-10-02 09:31:11
2017-07-31 09:02:35
Under Construction: Protect Your Log Home Investment