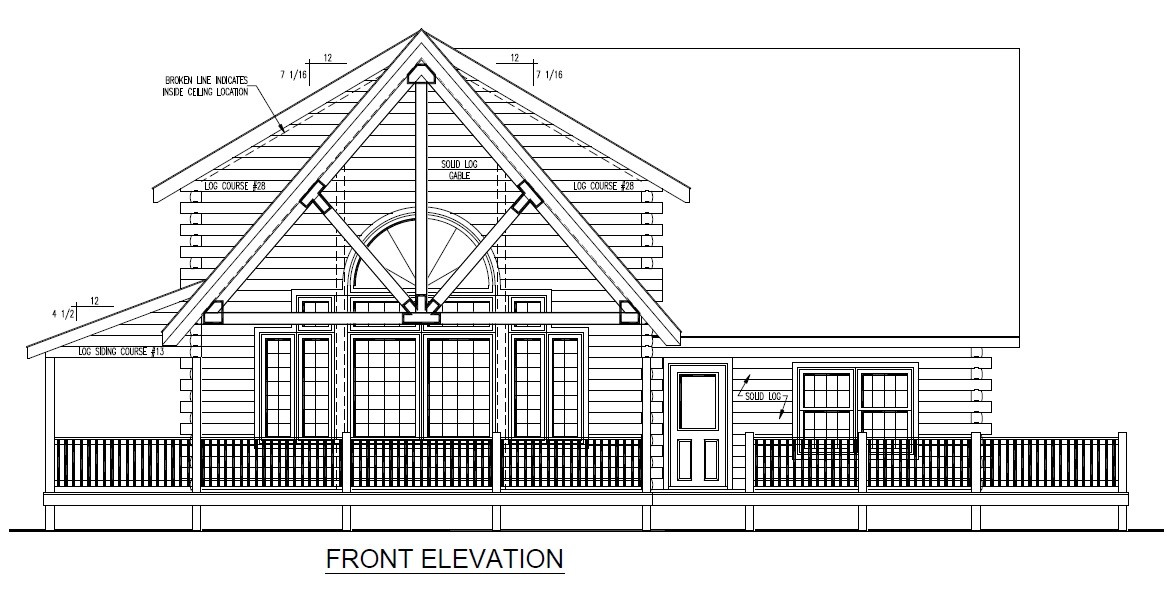 Rhode Island Log Home: Custom Design
As you're flipping through your favorite log home magazine or browsing images on the web, you see a particular log home feature that piques your interest – whether it's a window schematic, kitchen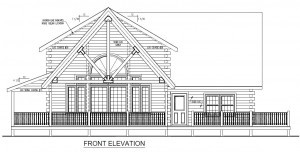 cabinetry coloration, mater bath design, or a unique hybrid finish application – you think, "Wow! THAT has my name written all over it."
That's the reaction we got from our Rhode Island log home customer when he saw this lovely custom creation for the first time.  We may be partial, but we agree. The custom wall of glass, massive King truss, wraparound porch, and varied roof lines create quite a first impression.
This Rhode Island log home customer is stoked about the completion of his new log home.  But for now he waits patiently and plays the role of an attentive audience as the building crew makes significant progress on his project.  Let's follow them along the way…
Rhode Island Log Home: Log Stacking Commences
After an 8" foundation wall is poured, Paul Flury and his building crew set the sill seal, seal plate, solid,  4" x 10" perimeter box, floor joists and ¾" OSB sub-floor.  They also organize their materials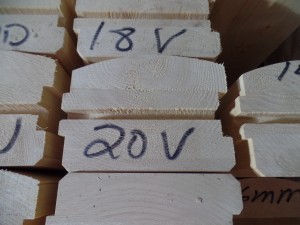 – lag bolts, Butylog, caulk, etc. – and mark the subfloor for electrical wiring locations.
They are ready to stack logs.
Every single log in a Timberhaven log home is marked with an alpha-numeric code that corresponds to detailed engineering drawings that are supplied with every package.  This is how the builder knows where to put each log.  It's like assembling a giant puzzle.
In less than 4 days' time the 8×8 D-shaped engineered logs (also known as laminated logs) are set to square.  When you're setting the inside and outside of the wall at the same time and using quality materials that are organized and prepped for application before they leave Timberhaven's facility, the process really does go rather quickly.
In addition to the coding of log placement, Timberhaven also pre-cuts logs to exact length and pre-drills the logs for lag bolt placement.  With a successful attempt of alleviating guess-work and costly miscuts on the job site, these features not only save your builder time but this also  manifests itself into a savings to your wallet.
Furthermore, Paul says, "Timberhaven also sets themselves apart from other suppliers by providing a 12-14 page set of construction plans.  For an equal design, other suppliers provide a 5- or 6-page plan. The cross sections and dimensions are extremely useful. This saves me time in planning and mitigates additional guess-work during the construction process."
Having said all of that, the next step is to place the home's massive support beam.  This particular beam is designed to support the log home's overall structural integrity. The 6×8 loft joists will get attached to this beam to support the second floor.  To do this, the craftsmen notch out the beam where each joist will intersect.  They set the beam.  (There were no extra hands available to take action photos of actual beam placement….that member is huge and heavy!)  Next the loft joists are set into the hand-made pockets.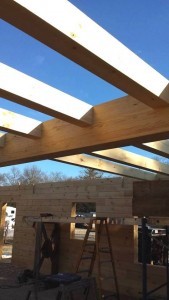 The final outcome of this process is rather impressive.  It's another one of those moments when you stop to take a second look at what's going on in the image and think:
"Wow! I have to have THAT look in my log home."
It's going to be beautiful, trust us. We can't wait to show you how this all comes together.
https://timberhavenloghomes.com/wp-content/uploads/2015/05/Front-Elevation.jpg
593
1167
Bobbi Landis
https://timberhavenloghomes.com/wp-content/uploads/2017/07/timberhaven-logo.png
Bobbi Landis
2015-04-10 10:05:26
2017-07-31 09:06:33
Rhode Island Log Home: Under Construction