Schlage Electronic Locks: The Future is Keyless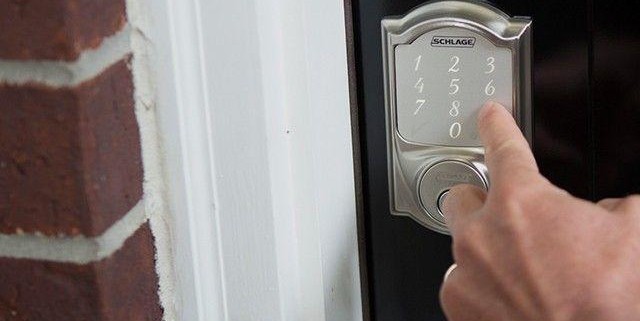 I often find myself wondering how it's so easy for my house keys to get lost at the bottom of my purse in the 10 seconds it takes to get from my car to the front door — ladies, please tell me I'm not alone!?  You'd think by now I'd learn to do something differently with the keys.  Instead, my hands are usually full, I have at least two bags on my shoulder, and I am always in a hurry so I just continue to make the same frustrating mistake.
Guys, albeit he is a bit elderly, my next-door neighbor locks himself out of his house at least once a month — maybe you can relate to him?  Ken found his continuous string of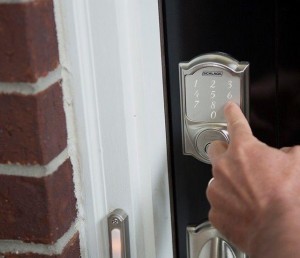 bad luck quite frustrating.  So much so, he now has a spare key at my house.
Schlage Electronic Locks: The Future is Keyless
Behold!  Schlage, a 95-year-old door hardware manufacturer, has come to rescue Ken and me from the age-old key debacle. With the Schalge Sense Smart Deadbolt, unlocking the door has never been so easy.  In fact, it is now keyless!  Wait, what?
That's right, this innovative "smart" system allows homeowners to unlock the door with their voice using Siri or by entering a secure access code on the keypad.  No more digging for keys at the bottom of your purse, or making the trek to your neighbor's place to locate your spare.  The Bluetooth-enabled technology can be used with your iPhone, iPad or iPod Touch and is compatible with Apple's HomeKit (whole-home technology designed to control lights, doors, thermostats, etc. from anywhere).  A separate wifi adapter is sold separately for Android users.
Personally, I'm not super-duper technically savvy, but this 1 ½ minute video helped me better understand the positive effects the smart deadbolt has on everyday life, especially for folks not unlike myself or Ken.  Click here to take a look for yourself.
Schlage Electronic Locks: Learn More
So whether you're building a new log home, log cabin or timber frame home – or looking to upgrade your existing space – consider the Schlage Sense Smart Deadbolt.  There's no denying this new keyless technology is really cool and the benefits will bring convenience and time-saving opportunities to your daily routine.  Visit Schlage online to learn more.  In the meantime, Merry Christmas, Ken!  I'm not waiting until December 25th to deliver your gift and return your spare key.
Timberhaven is proud to offer Schlage products in our log home and timber frame home material packages.  Contact us today for additional information.
info@timberhavenloghomes.com
#855-306-5678
https://timberhavenloghomes.com/wp-content/uploads/2017/09/schlage-sense.jpg
550
640
Bobbi Landis
https://timberhavenloghomes.com/wp-content/uploads/2017/07/timberhaven-logo.png
Bobbi Landis
2017-09-27 03:26:47
2017-09-27 15:26:22
Schlage Electronic Locks: The Future is Keyless