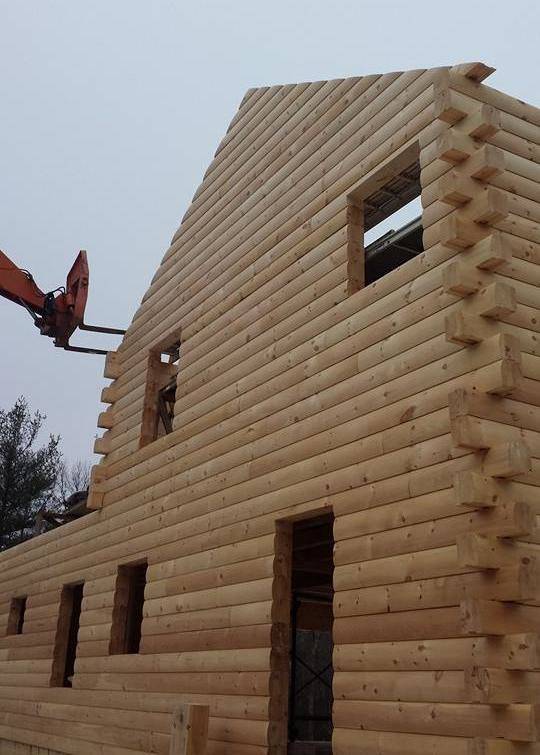 If we created an option list for your custom log home, it would be only a slight exaggeration to say the list is going to be a mile long.  Having options is a good thing but can sometimes be overwhelming.  Thankfully the professionals at Timberhaven have been through this process thousands of times. And are here to provide the information you need to make the best decisions for your family.
One of exciting features on the aforementioned option list is "gables."  The term "gable" refers to the part of a wall that encloses the end of the pitched roof.  The gables of your log home can be constructed of solid log or stick-framed and covered with an exterior finish wall covering of your choice (log siding is a popular option but you can select cedar shake, board and batten, stone etc).  The final decision is contingent upon your personal preference, design considerations and affordability.
For our Rhode Island log home project currently under construction, the owner selected solid log gables.  Paul Flury, of Flury Builders, and his crew have been busy erecting these gables – let's take a look.
Stacking Solid Log Gables
After two stories of logs have been stacked to square on this section of the home, the solid log gable is stacked.  These logs are cut to exact length and to the exact angle of the roof pitch so that when pieced together – log by log – the gable end is fully constructed, both inside and out.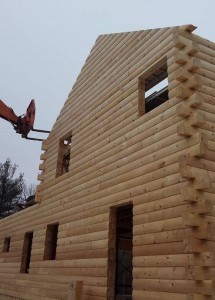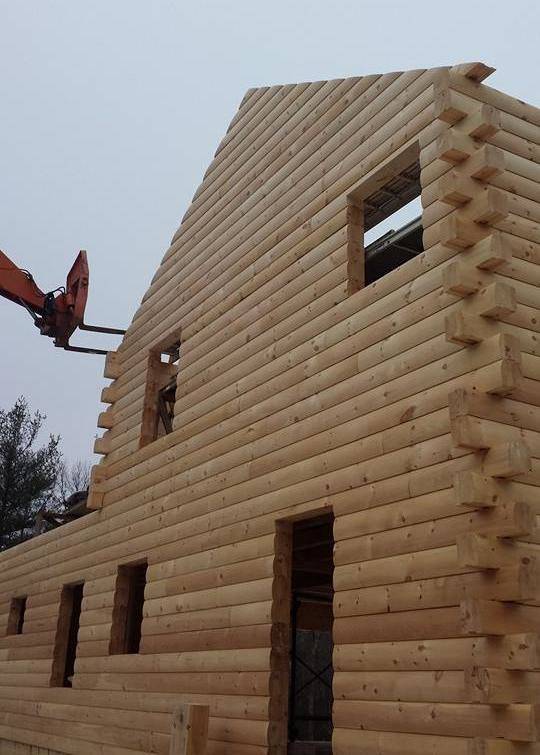 Solid log gables are not offered by every log home manufacturer. Log homes that require settling systems, for example, most likely do not offer this feature.  Because your Timberhaven log home is kiln dried, and our engineered logs contain an average moisture content of only 9%, the logs used to construct your solid log gables will not shrink, settle or twist. Not only do you get a solid log product, but you get to enjoy its aesthetic appeal too.  It's pretty, and the final outcome looks like this.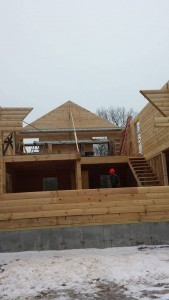 This overall home design is quite complex, as you can tell.  What you see here is the newly constructed gable in the rear of the photo (that of which we just showed you).
In the center of this photo you see the glu-lam beam and posts in place to support the second floor.  Also in this area, is a set of temporary construction stairs. This was a very smart move by the builder who understands utilization of stairs is safer and more efficient than that of a ladder.
In the forefront of this photo, solid log gable construction has begun on what will be the front of the home.  The front wall contains a vast wall of glass – the schematic includes a circle top window which extends into the gable end. It looks like this as it all comes together…
There is beauty in completion of today's solid log gable project….   Nice work gang!
https://timberhavenloghomes.com/wp-content/uploads/2015/04/10885192_904196869620350_1375715047090031726_n1.jpg
755
540
Bobbi Landis
https://timberhavenloghomes.com/wp-content/uploads/2017/07/timberhaven-logo.png
Bobbi Landis
2015-04-17 08:15:22
2017-07-31 09:06:18
Solid Log Gables: Log Home Under Construction