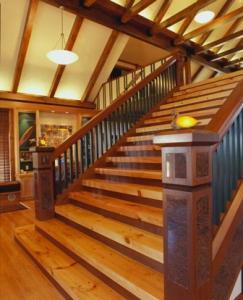 We are all familiar with the movie scene of an elegant woman slowly descending a grand staircase as a collection of spellbound admirers await her arrival in the room below.  The music may swell or lightly fade to make way for dialogue, but the general consensus on the faces of those waiting to greet her is simply, "Wow."
We can't all be movie stars, no matter how many times we may have rehearsed the scenes in our heads, but that doesn't mean we can't still have that beautiful staircase.
Log & Timber Stair Systems
Ever since our forefathers grew tired of having to pole vault every time they wanted to sleep in the loft or even get onto their back deck, stairs have been a standard fixture in home architecture.  From simple stepping stones to elaborate staircases with ornamental woodworking, stairs have made our lives easier.
Whether you are building a cozy cabin in the woods or constructing your dream home along a lakefront, more than likely, stairs will be a part of the equation.  And, just like the rest of our log and timber products, Timberhaven offers a wide variety of stair systems and railing options to fit any home.
Heavy Timber Stair Systems
The traditional approach to log home stairs is our heavy timber stair systems, constructed using milled solid or engineered timbers for a clean look and sturdy finish.  This affordable option is great for both interior and exterior use and can be finished with your preference of stain.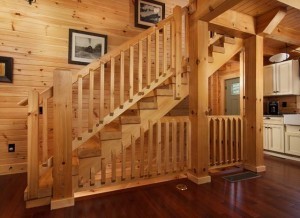 Log Stair Systems
For a bit of rustic charm, we offer log stairs to incorporate a bit of raw, natural beauty into your home.  These half-log treads are set into full log stringers and come either clean- or skip-peeled per your preference, making them perfect for a bit more of a rugged appeal.
Spiral Log Stair Systems
If elegant and rustic is more your style, our spiral log stair system is just for you!  Like our log stairs, these half-log treads can be clean- or skip-peeled, and they are braced with round, vertical supports.  Full log vertical ends complete the ensemble for the perfect mixture of natural and elegant.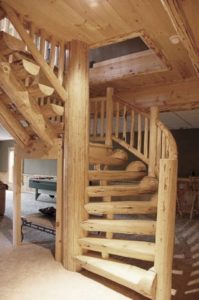 Timber Pegged Stair Systems
Elegance and skilled craftsmanship go hand-in-hand on our timber pegged stair systems.  Available in square- and bevel-end cuts, these 4-inch-thick stair treads are married to their runners by precision engineering and held in place with wooden pegs.  Unlike traditional stairs, timber pegged stairs require no bolts or screws to hold the treads in place, making them a truly beautiful piece of functional architecture.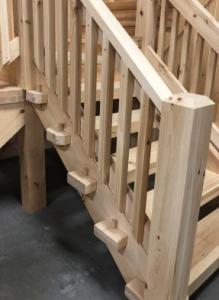 Log and Timber Railing
As a full compliment to any of our stair systems, we offer a variety of wooden railing options, from rustic and milled round spindles to square and traditional railing.  And, just like our stair systems, our railings come unfinished, giving you the widest range of stain and finishing options to suit your individual style and preference.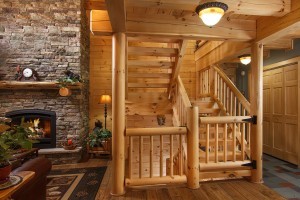 While you may not be Leonardo DiCaprio gazing fondly upon Kate Winslet as she descends the grand staircase aboard the Titanic, never give up on your dreams.  But, in the meantime, contact your Timberhaven authorized sales representative today to see how you can incorporate the beauty and mystique of a beautiful staircase into the movie of your own life.
https://timberhavenloghomes.com/wp-content/uploads/2017/07/Barth-Log-Home-Stairs.jpg
1500
1000
Bobbi Landis
https://timberhavenloghomes.com/wp-content/uploads/2017/07/timberhaven-logo.png
Bobbi Landis
2018-06-08 11:25:14
2018-05-29 11:33:24
Stair Systems: Unique Wooden Options for Your Home